We changed rooms. Every bit of luxury is precious now, especially a raindrop shower. Alex doesn't think so. He was a bit scared of his first shower. At least the glass doors have child friendly rubber edges.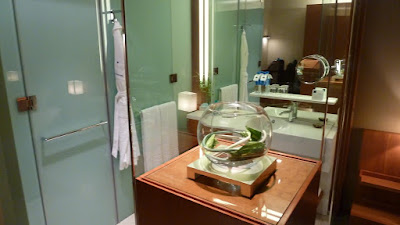 The pool and waterfall area in the hotel are gorgeous, designed with Feng Shui principles in mind.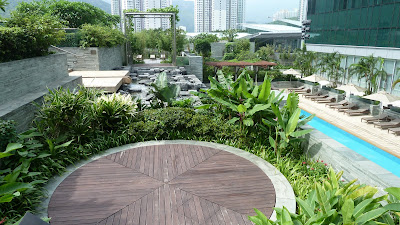 Today was a shopping day. The shops were still closed when we caught the MTR (railway) from Tung Chung, just by our hotel, to Hong Kong island. There is something different about Hong Kong to Shanghai, a different atmosphere (less smoggy for one). For one thing the cars drive on the correct side of the road (the left), unlike the rest of China.
Hong Kong proper is a maze of shiny skyscrapers, neon signs, and steep alleyways. My first mission was to lead us to Des Voeux Street with its dried seafood shops. However, we soon got sidetracked by a branch of H&M. But before entry, food was required. We found a restaurant selling some passable Hong Kong and western food, then returned to the shop.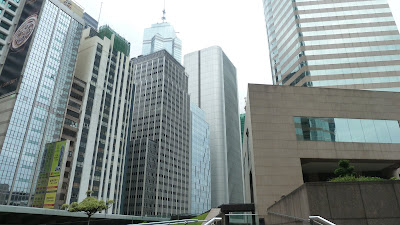 We spent ages there, B shopping, me standing around with a mostly sleeping Alex on my back.
Once we were finally out of H&M we began climbing the steep steps of Pottinger Street, lined with stalls selling sewing materials and rubber bums. To one side was a terraced park/seating area. We stopped there to change Alex's nappy and let him run around, chasing sparrows. He met a couple of other children there and it was great for him to interact. He's learned to say "hello" now, which comes out as a very cute and gentle "hewwo".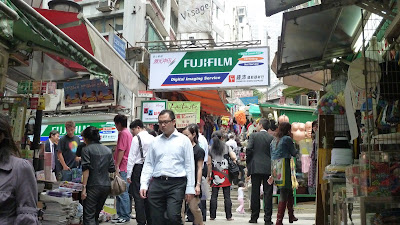 We continued on to Hollywood Road, which is lined with stores selling expensive antiques. It seems that every bit of ivory on display is "mammoth tusk". I hope that they realise mammoths are extinct now and a non-renewable resource. Hopefully elephants don't go the same way.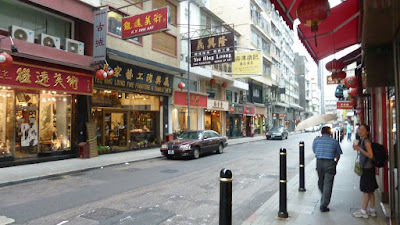 We purchased a couple of very pretty scrolls from one store. B started to haggle, but the shopkeeper gave in quickly once he noticed Alex. He then said "fish" and Alex suddenly mimicked him (Alex used to say "fish", but they became "sharks"). "Fish, fish fish" said Alex. He's just gone through another development phase and his vocabulary is expanding rapidly.
The heavens opened up and we were without an umbrella. We had purchased one in Shanghai, but left it there as it was too big to carry around. Now we raced from shelter to shelter, down the steps, until we found a 7-11 store and bought another umbrella. Alex was somewhat protected by a hood on the backpack.
From there it wasn't far to the dried seafood shops, where we bought scallops for B's mum.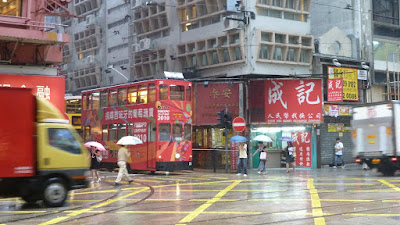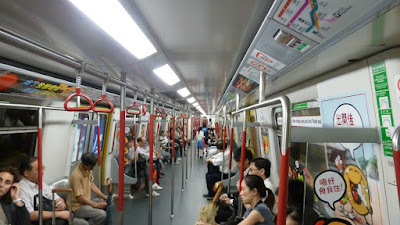 It was time to get off the streets and find proper shelter. An MTR ride to Admiralty took us to Pacific Place, an upmarket shopping centre. B found nothing much to buy there, although I saw one very cool (and very, very expensive) mirror that was actually an wifi equipped electronic photo frame running Android.
At least my wifi photo frame runs Linux.
Pacific Place has the swankiest looking baby change room that I've seen, Not so well equipped, but luxurious. No wonder there was a short queue.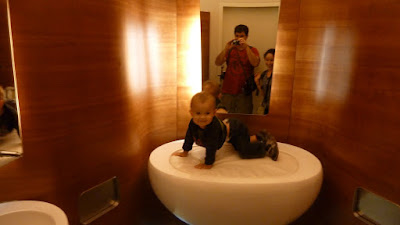 I was ready to go back to the hotel, but B wanted to do more shopping, so we caught the MTR to Mong Kok station, on the peninsula. The place was thrumming with activity, lots of young people milling around, shopping, the Ladies Market in Fa Yuen Street.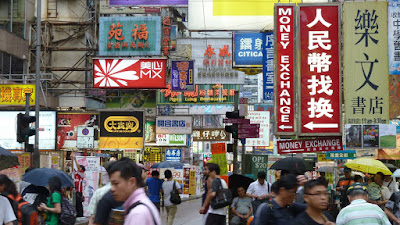 We found some shoes for me in a branch of Mirabell, the same chain where I had bought them twice before. A belt to replace the one forgotten at Sydney Airport security. But not much else. The majority of the items are of very poor quality.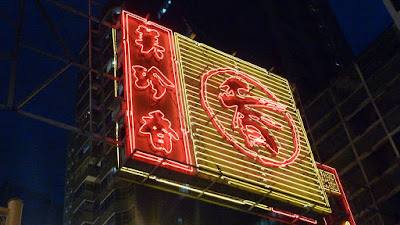 From there we walked along Nathan Road to the Temple Street night markets. There we had what I thought was a somewhat disappointing meal of meat, veges and seafood. I hate to say this, but I'm not in the mood for Chinese food at the moment, but rather something easy to eat and filling. I had been very hungry for 2 hours before we ate.
The markets were only just starting to get going at 8pm. I was tempted by some figurines to add to the office collection, but there was nothing really worth buying.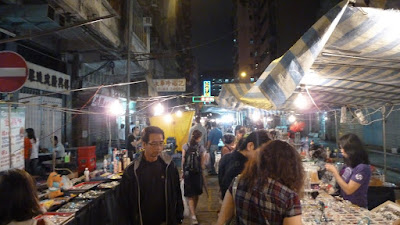 The MTR from Yau Ma Tei returned us, with one change, to our hotel. We like the new room. I hope to get a chance to enjoy it before we depart for Japan.