One of the pleasures of this trip is that I don't have to pay any attention to the antics of (certain political) redheads or those that seek to displace them. Except for today, that is.
Our AirAsia flight direct from Penang to Kuching, in Sarawak state on the island of Borneo, was scheduled for 7am, which meant we had to wake up at 4am. Breakfast was delivered to our room at 4.30am. We had booked Mr Veerappin to pick us up in his taxi at 5am, along with the two oldies.
During the drive through the darkness the driver chattered on about property prices, an all too familiar refrain for a Sydneysider, while packs of kampong dogs wandered along the roadside.
This time I checked in using AirAsia's non-touchscreen kiosk and then dropped our bags off with an unsmiling counter attendant.
Alex insisted on sitting at the window this time, until he got tired enough to swap to the middle seat and sleep on mummy's lap. After taking off just before the first glimmerings of dawn our pre-ordered food was delivered; two nasi lemaks and a couple of sandwiches. After our big hotel breakfast (not expected) none of us was hungry, so we took one nasi lemak away. The sandwich bread was stale; not recommended.
It was quite a pleasant flight above the clouds and blue seascape. I slept briefly before the captain's announcement woke me up. I could make out the flat coast of Sarawak, threaded by rivers and with just a few isolated mountains poking up through patches of cloud.
I was quite impressed by AirAsia. Fairly comfortable (though my legs were a little cramped when I relaxed), cheerful crew who were this time back in the red uniforms and skirts, and again we arrived early, this time by 10 minutes.
Kuching's airport was very nice, looking recently built and with quite a few shops. Plus the taxi to the hotel was a lot cheaper.
We've only stayed in a Hilton once before and I'm quite impressed by this one. There aren't many great hotel choices in Kuching and I really wanted one overlooking the river. I paid a little extra for a King Suite and I'm glad I did. A separate lounge room gives Alex's lots of space to play and the view from the bedroom is stunning.
The window looks over the river which splits the city in two. Opposite us is the ornate State Legislature Building. To one side the red lights of a Chinese temple. Old shophouses line the streets while sampans carry passengers across the river.
There is still a sense of colonial history in Kuching, of British rulers in the form of the White Rajahs, and of the Chinese migrants who settled here. The native Iban form a substantial part of the population, and there are the Muslims and the Indians as well.
We all took a stroll down along the riverbank, stopping by the free Chinese history museum. It's quite interesting and Alex enjoyed playing with the interactive screen describing the musical instruments on display. Then we crossed over the road and walked along the souvenir shops, stopping to buy some local kuih lapis cake. Get it direct from the shop rather than the stall outside.
In the Chinese areas there were still tinsmiths, gold sellers and, of course, the odd food centre. There are even Chinese gates.
We searched too long for food to satisfy M-i-L and finished up at a cafe eating Sarawak laksa, noodles, fried rice, and most importantly of all, drinks. The fresh lime juice and lemongrass smelled wonderful.
Then we had to hurry back for we had a tour booked through the hotel's travel agent. We piled into the van and headed off on a 45 minute drive through local Kuching, past concrete shophouses, sellers of pots and cars and even a decaying kampong.
The Semenggoh Wildlife Centre in Sarawak on the island of Borneo is famous for its population of semi-wild orang utans. These particular orange great apes have been rescued from captivity and rehabilitated to live out in the jungle, though they still receive human contact and feeding.
When we stepped out of the van we were told to be very quiet and to keep our water bottles closed. At the reception we were shown gruesome photos of the effects of orang utan bites on people who had got too close to them.
Fat crocodiles lazed lonely inside dingy cages down from the reception, but for views of the orang utans we had to traipse through the jungle, stepping over tall roots and other trip hazards.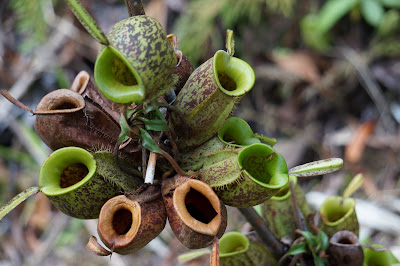 Carnivorous pitcher plants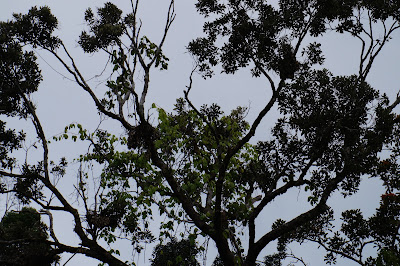 Orang utan nests
The height of some of the trees was impressive. Even more incredible was the site of nests of sticks and branches high in the tallest canopy. These are where the orang utans sleep, although they use each for only a single night.
A viewing area had been setup opposite a wooden platform which was laid with fruits. Thick ropes ran down from the trees to the platform. There is no promise of seeing these great apes on any given day and it was quite some time, and a lot of calling from the ranger, before the first movement was spotted.
The canopy heights that the orang utans reach and their agility with their prehensile hands and feet is simply incredible. We spotted five, one of those a baby clinging to its mother's coat. Black and red squirrels raced up and down trees.
The orang utans were fed bananas and coconuts. One of the apes broke the latter open by bashing it against against the trees. Others seemed to steal food from each other. Then climb back up to eat it.
It was a wonderful experience. It's just a pity that their existence is so threatened due to logging and palm oil plantations. Amazingly Alex had managed to be very quiet for the full hour that we had attended the park.
All of us were absolutely exhausted by the time we returned to the hotel. And very sweaty for the humidity of the jungle had been oppressive. After a little nap I took Alex for a swim in the hotel pool, but it is so much less impressive than the previous resort in Penang.
When we returned I admired the stunning sunset behind the mountains as dark grey clouds threatened storms and heavy showers.
Dinner was at a seafood food centre in Batu Lintang recommended by the taxi driver who took us there. Though it was yet more Chinese food, there were local twists, with sauteed midin fern and ambol razor clams served alongside crab and egg, char kway teoh noodles, fatty pork knuckle and a fried fish carved into an elaborate shape and served with a sweet and sour sauce.
Kuching means cat in Malay and the city's namesakes were wandering around our legs as we ate.
Alex ate quite a bit, then proceeded to make elaborate imaginary fountains out of his orange plastic utensils. He certainly enjoyed the extra space. He also ate most of the fruit platter when we arrived, devouring the apples, oranges and bananas. He certainly tries to keep himself healthy.
Looking forward to a lazy day tomorrow enjoying this lazy city.