I woke early this morning, so excited was I about our trip to Malaysia and Thailand. Without our dog Kita around the morning was quiet and I focused on packing the last of my gear. B, on the other hand, was reluctant to wake and we left the house a little late for my liking.
We lugged our backpacks up the street and flagged down a bus for the first leg of our trip – a half hour ride to Padstow station that would normally take us ten minutes in our own car. Then a train to the International Airport. Had we looked out of the window we may have seen B's Mum and her friend Keith waiting at Narwee station, their train cancelled.
They made it in the end and we met at the Jetstar check-in. It proceeded smoothly and we had some time to sit around in the food court while I got up frequently to take aircraft photos.
As we boarded our own flight B and I fought over the window seat. I want to take photos, she to lean on the window and sleep. She graciously conceeded defeat in the end and I began my happy snapping.
The plane rotated into a sky of scattered cloud, shaking as it passed through the cloud layers. I was calmed by the captain announcing that it would be a smooth flight over Alice Spring until we reached the coast at Broome, where tropical storms lurked.
He was true to his word. We were seated over the wing and what little view we had of New South Wales was obscured by cloud.
Eventually the landscape changed to arid desert, of red broken up by white salt lakes and dry river beds. I didn't see the flood waters flowing down from Queensland, it must have been too early for that. A couple of salt lakes did contain actual water though, showing that central Australia must also have experienced rain recently.
I had hired a AirVOD entertainment unit for the flight. B watched movies on it while I stared out the window, my eyes shielded from the glare by sunglasses. The movie selection had improved since our last flight and the machine didn't need a card to be swiped to reset it when it crashed (twice).
When B decided to sleep I took over and watched "Double the Fist" on the AirVOD. Can't wait to see the Fist team on TV again! I also rewatched some of the Jetstar "Going Places" documentary, but didn't recognise any of the attendants on our flight.
The cloud returned as we neared the coast. As we passed over the ocean close to Indonesia it extended high above our flight path, leading to a very bumpy ride. At one time it felt like we hit one of the many potholes that have appeared in Sydney's roads since the recent rains. I'm pleased to say that I coped quite well with the turbulence, though I still live in fear of "The Big Drop".
As usual the bad turbulence began while meals were being served. The egg and mayonnaise sandwich (for me) and the pot noodles (for B) that we purchased onboard for lunch were not sufficiently filling, so I ordered a light meal. It turned out to be a meat pie with accompanying tomato chilli relish and mangoes and cream Weiss Bar. Surprisingly good!
Despite the comfortable cabin and friendly service I was long tired of the flight by the time we finally began our descent into Kuala Lumpur's airport. The airport was big and airy and very quiet, apart from the occasional large group of subcontinentals, probably guest workers.

I was surprised to see Singapore Airline's huge Airbus A380 landing at the airport. What was it doing in KL?
Immigration formalities were performed with a big smile, we collected our luggage and caught the lift down to the KLIA Ekspress to Sentral Stesen. An attendant laughed when he heard me reading out a big Chinese New Year poster containing the phrase "balik kampung" or going home. How could I be when I had just arrived!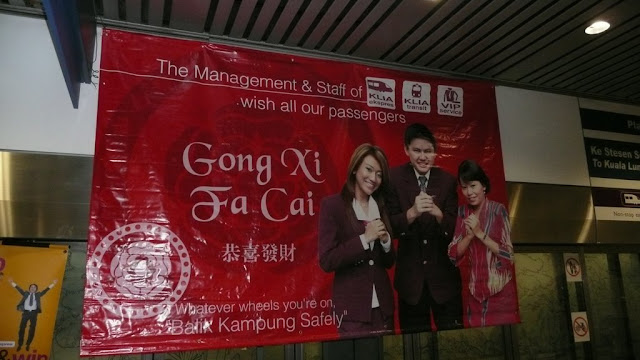 The train was very nice. I enjoy catching trains in Malaysia, racing past the palm plantations, the temples of the different religions and the fantastic architecture of Cyberjaya and Putrajaya.
I think we were ripped off paying 30 ringgit for a taxi from the station to our hotel, despite using a voucher. In the end it doesn't really matter – it was still way cheaper than in Sydney.
There was a lot of excitement in the taxi van as we took turns in recognising familiar territory rendered different by the passage of time.
We are staying in the Parkroyal Kuala Lumpur, conveniently located in Bukit Bintang. The Aunties had booked into the same hotel and when we checked in the receptionist told us that they were looking for us. We told her to keep it a secret, hoping for some peace and quiet upon arrival.
The room is very nice, with a view across to KL Tower and over the main street. It wasn't long though until we stepped out again (sans Aunties) in search of food.
The streets are lit up with red lanterns, presumably to celebrate Chinese New Year. Buildings and trees are lit up with other colours, giving the streets are rather magical appearance. The Petronus twin towers and KL Tower are also magnificently decorated with light and loom like tall jewels above the skyline.

We walked down to Jalan Alor, famous for its food. In a change from before waiters relayed our orders to the stalls (previously we would order directly with them). Our table was filled with sticks of satay, grilled stingray, rojak salad (fruit in a salty sauce), noodles and other delights. Our stomachs were entirely sated by the end of the meal. It's fun to be back!