Hilton. Not the city, not the hotel. Well, sort of the hotel. Okay, for a smaller sum of money than we would pay for many a three star hotel in Sydney we booked a room in the Hilton Kuala Lumpur. It's our first ever time in a confirmed five star hotel and it sure is nice. Soft bed, raindrop shower and a bum washing toilet. 42 inch plasma facing the bed with a mini-screen so that you can watch television in the shower. And the pool! Have to try that tomorrow before we check out!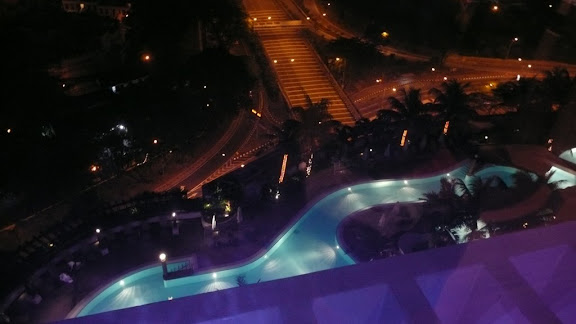 So we checked out of our still very nice (and definitely more quirky) Siam@Siam this morning and in the remaining time before leaving for our flight took a walk down an adjacent street to Jim Thompson's House. Jim Thompson was an American ex-secret agent who was responsible for bringing Thai silks to the rest of the world. In the process he became rather rich before dying mysteriously while walking in Malaysia's Genting Highlands.
Jim Thompson brought various traditional teak houses from across Thailand and had them reconstructed and connected together next to a canal in Bangkok. The only way to view the interior of the house is with a guided tour. We didn't have enough time to join a scheduled English tour this morning but they kindly provided a much shortened personal tour for the two of us, though our guide spoke little English, specialising in Japanese.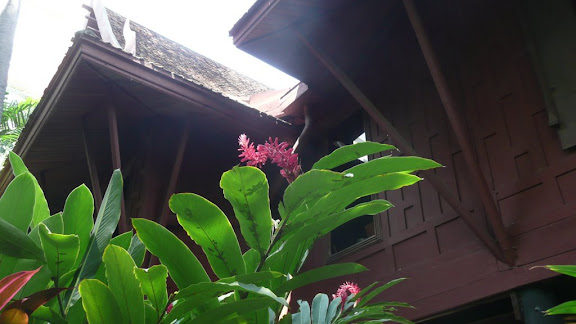 The house and gardens are very tranquil, an antidote to the Bangkok insanity outside. We were a little delayed by the gorgeous silks on sale in the shop, then by some last-minute souvenir purchases from a couple of vendors lining the road. Fortunately, our ride to the airport was also delayed.
Bangkok's shiny new Suvarnabhumi Airport is so much nicer than KLIA LCCT, though the check-in procedure was still very long. My big backpack was just under the AirAsia luggage limit of 15kg by 600g. We had lunch at Skyloft, overlooking the runways, before making the long journey to the gate.
Again it was a race to the aircraft, though this time through a jet bridge. We snagged seats in row seven, one behind our previous AirAsia flight. It was a pretty smooth and pleasant flight, although somebody started eating durian or durian sweets at one point, really stinking the cabin out.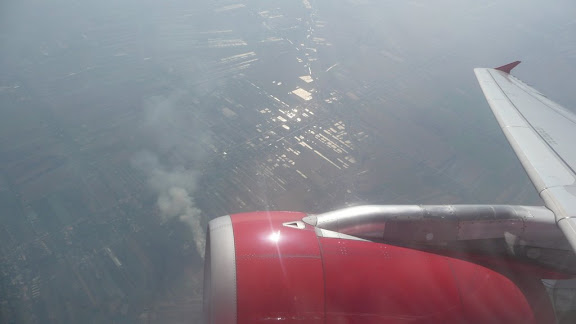 B was desperate to eat, so she wanted the quickest route to our hotel. We caught the green transfer bus from the LCCT to the main KLIA terminal, from where we jumped on the KLIA Express train to the city. The transfer bus was awful. Old, dirty and with nowhere to stow our luggage. In contrast the train was clean, fast and comfortable.
We had to buy tickets at our destination, KL's Central Station, as the train was about to depart when we arrived at the platform at KLIA. As we got out we noticed a Hilton desk just in front of the ticket office. They provided a free shuttle service between the station and the hotel, though it is only five minutes walk between the two.
After quickly admiring the room we departed the hotel and caught the monorail to Maharajalela station, from where we walked to Petaling Street. B was desperate to eat her black Hokkien noodles, which really were quite nice, especially with sambal belachan and lime. Our kuay man wasn't there, but B did find a shop selling Korean soap opera DVD's. Then her eyes lit up in delight (and my nose in disgust) when she spotted a street vendor selling durian fruit. They chatted away in Bahasa Malaya while my nose shriveled in disgust at the stench. Oh well, better she eat it on the street than bring it into our house!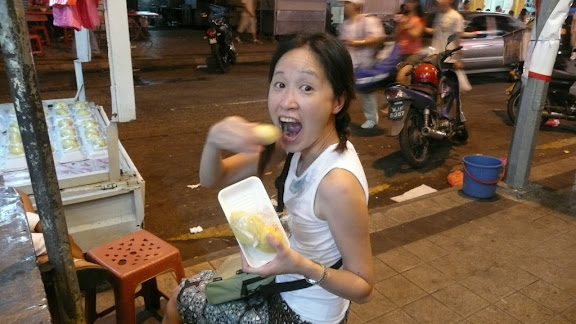 Tomorrow is our last day in Malaysia as we are flying back to Australia in the evening. Hopefully it will be a smooth flight and I shall post again upon our return.