A week after my flights to Melbourne and I am back in the air again. Not through choice mind you, but when the boss says "Come with me to a team meeting in Canberra" what am I to do?
There's one flight to Canberra that I'm interested in doing and that's on a Qantas 717, simply because I have only flown that aircraft once and that was before it was refurbished. But no, the cheapest options are the Virgin Australia ATR72 turboprops and so that is what I have to book. Just like last time.
As I have said many times before, the short flight between Sydney and Canberra sure manages to pack a lot in. Sometimes that means beautiful scenery and fireballs in the sky. Other times storms, winds and turbulence.
Checking the weather at booking and things looked okay for Tuesday. A few days later and it is the worst day of the week to fly with 90% chance of rain and storms. The weather gods hate me, that is obvious (expecting a cyclone en route to Japan in a few weeks' time).
I was woken before 5.30 am by Alex who wanted to go to the toilet. At least we all had a snuggle for a while afterwards. As I walked to the bus stop the first hints of the morning light were visible in the East. By the time I reached Padstow train station it was now a fire in the sky, an orange glow in the clouds above. A double rainbow was visible as a few drops of rain spattered on to the asphalt of the station platform.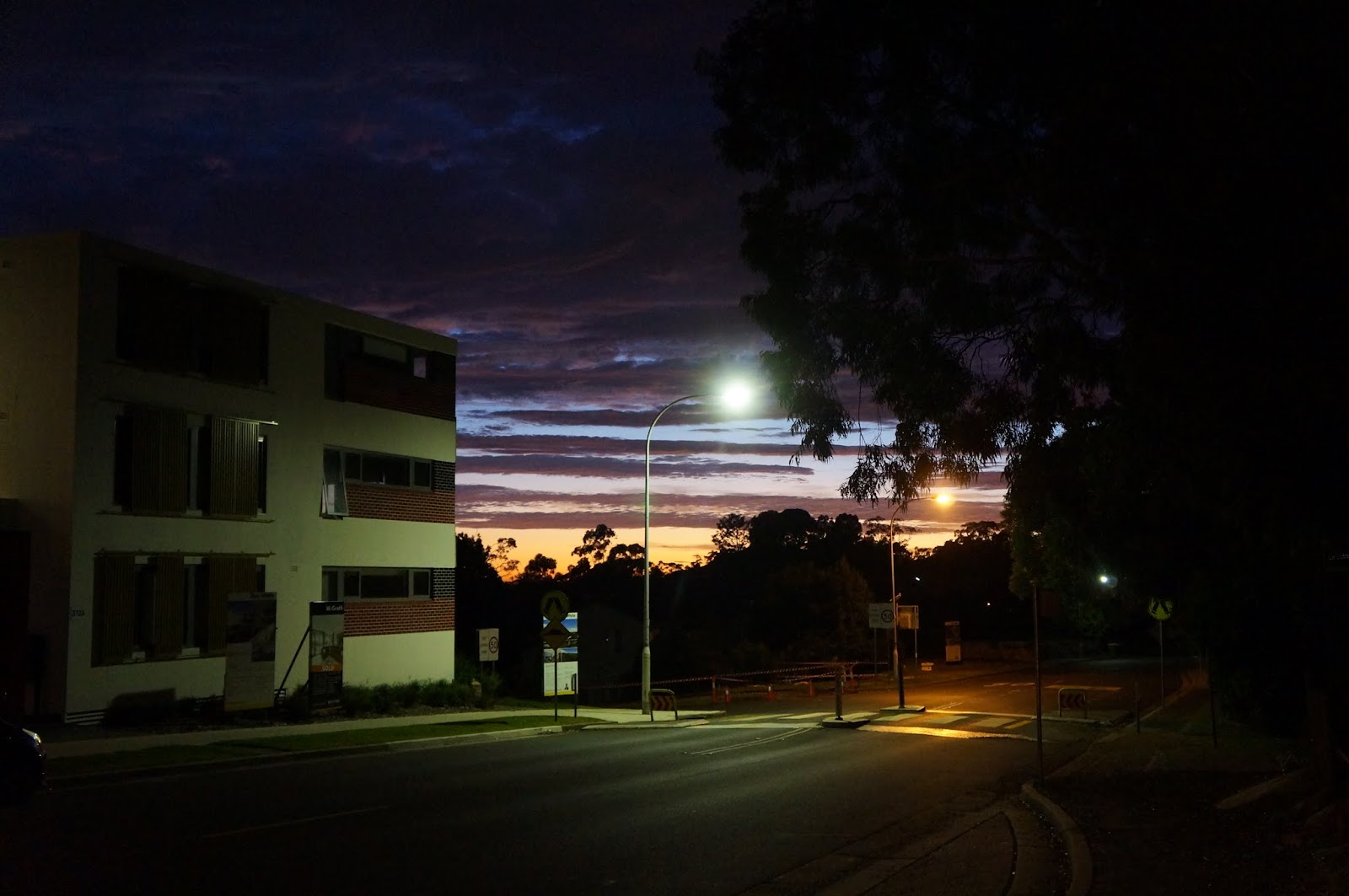 At the bus stop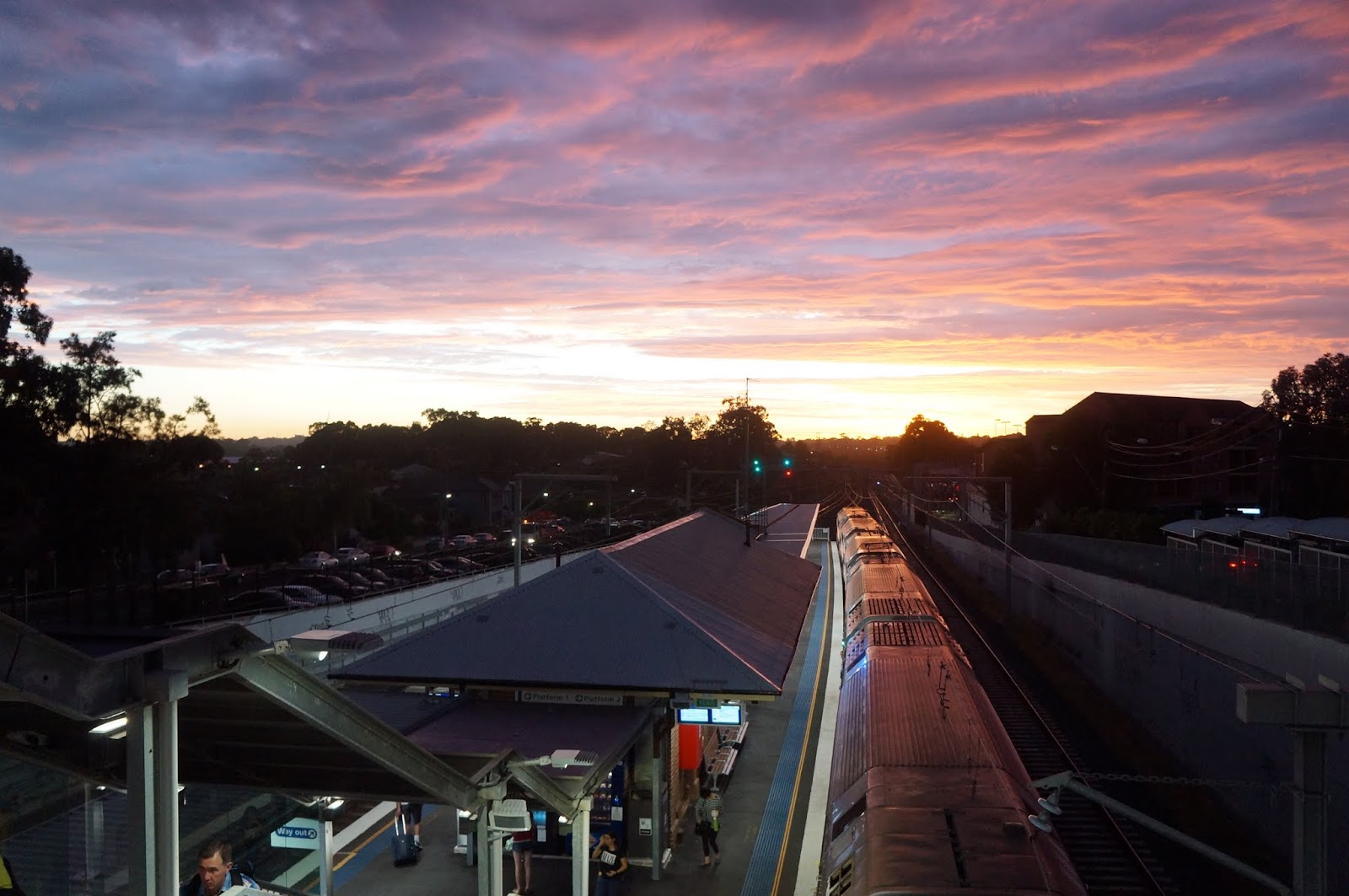 Padstow Station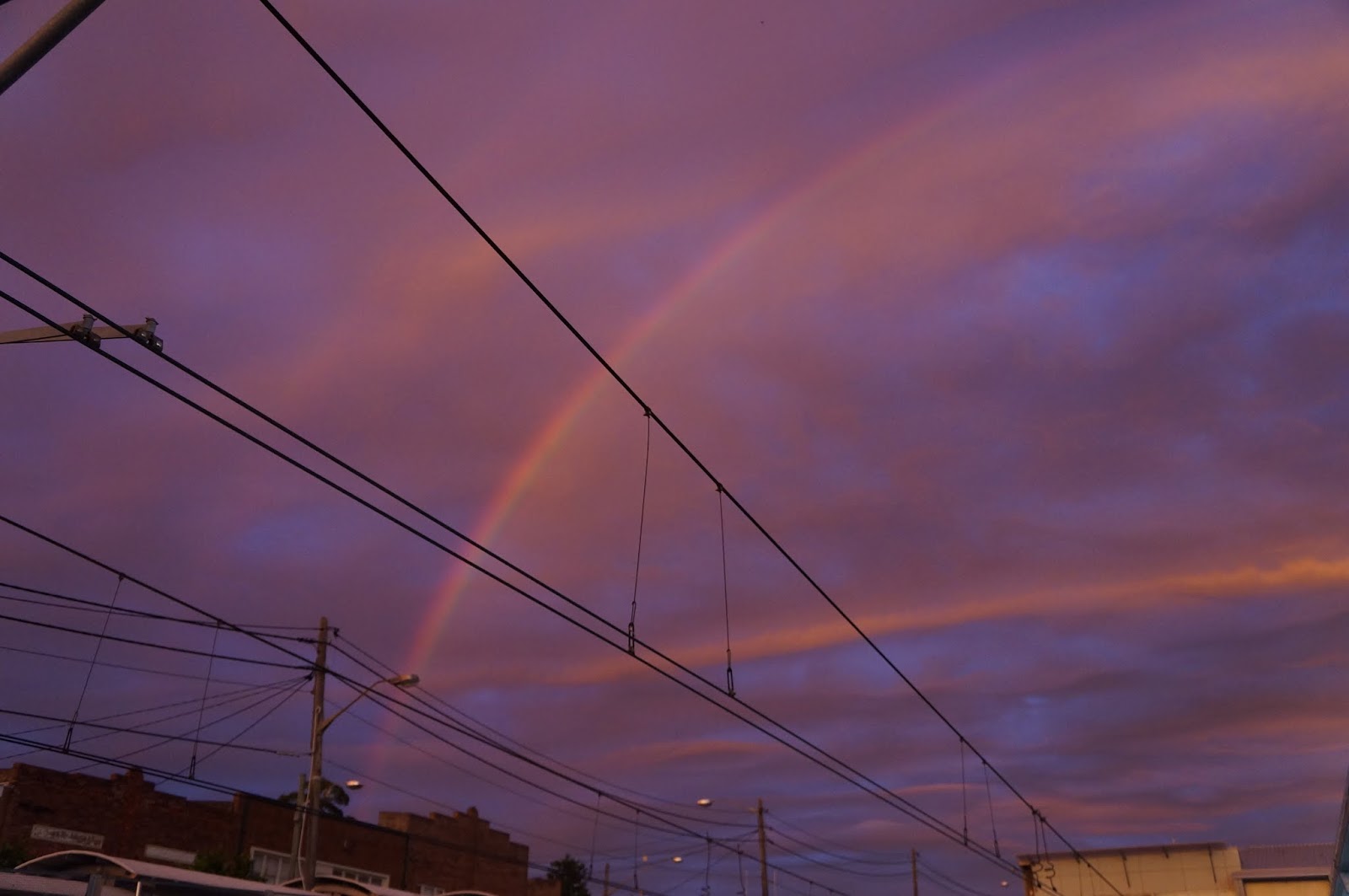 Rainbow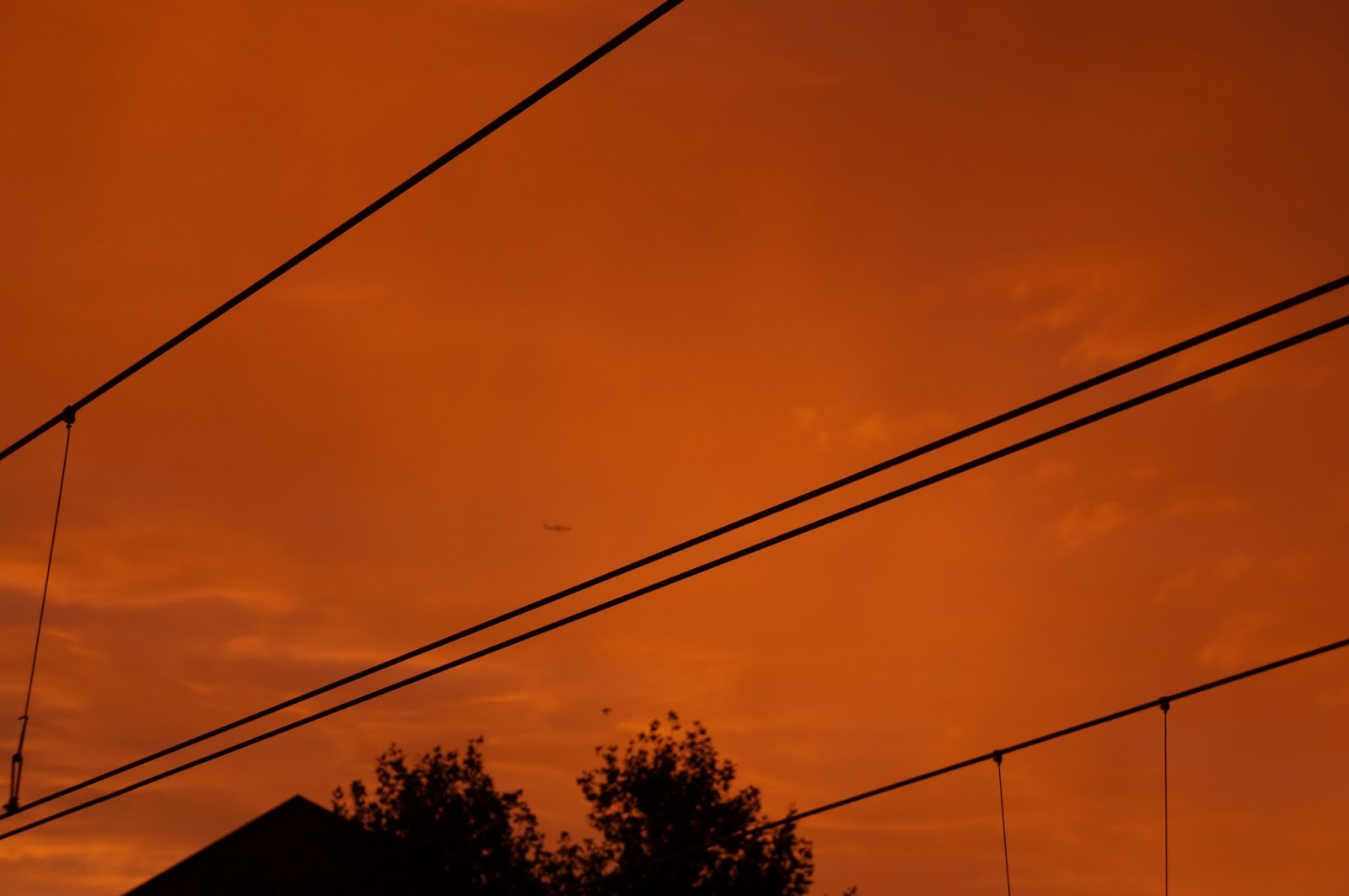 Another Virgin Australia ATR72 flies through an orange sky
With my special government fare booking I was unable to check in online, so I used a kiosk at the airport to print out my boarding passes, then quickly through security and off to the gate, where I met my boss.
My turboprop, Christies Beach, an ATR72-600, lay waiting on the tarmac. We had to walk across the tarmac to board through the rear stairs. I took my place at 10A and attached my action camera to the wall. Unfortunately, with everything set to flight mode, I was unable to check the alignment and the recorded video was quite poor.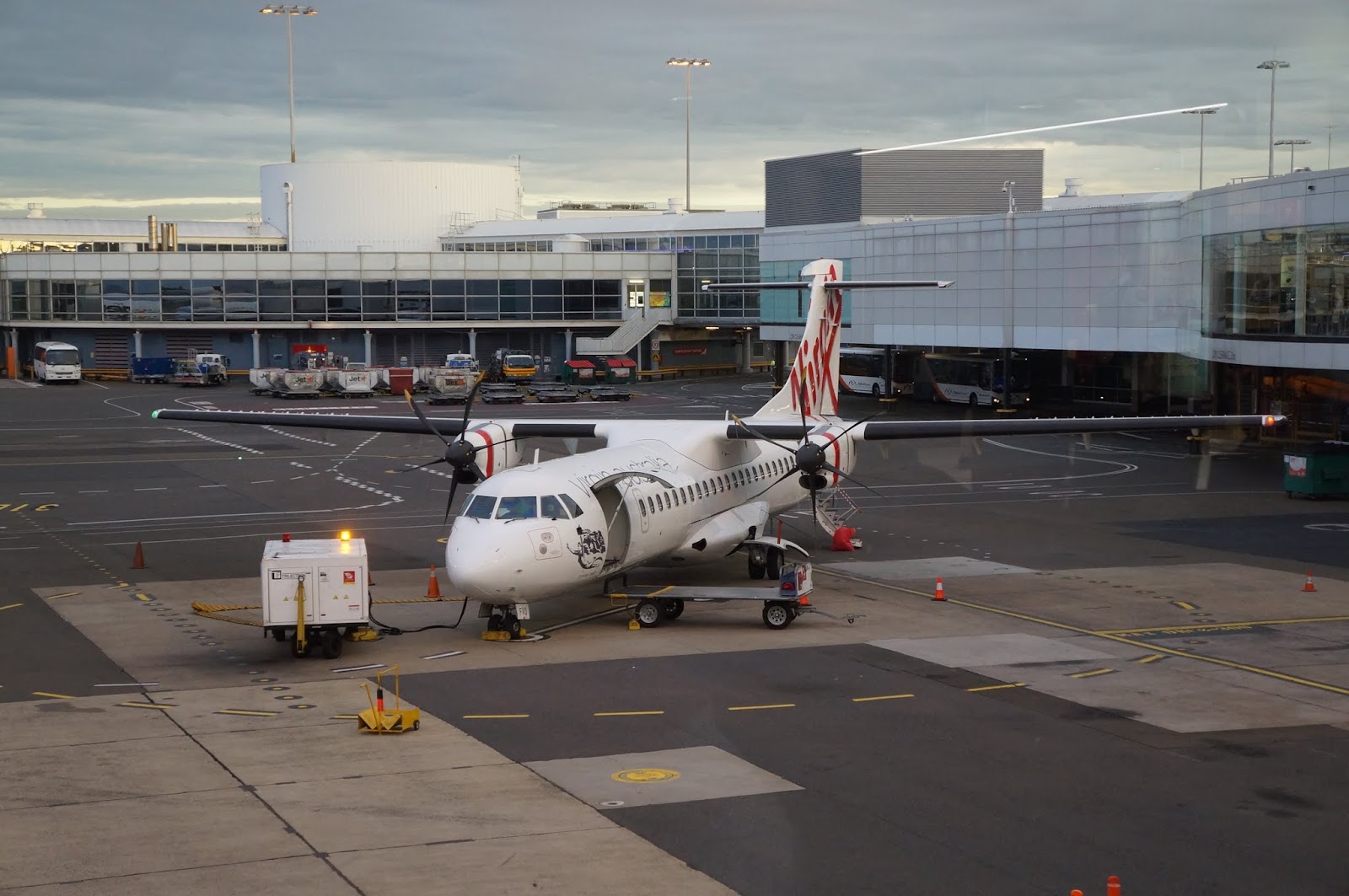 VH-FVQ – Christies Beach
As before, we were told that Virgin were still seeking permission to allow the use of handheld electronic devices for the entire flight. Pity, because I could have done with some music to calm the nerves. Actually the restriction was only supposed to be enforced once the doors were closed, so I did have a chance to check the action camera alignment, except it was already switched to flight mode and I couldn't be bothered.
Captain Ivana Kazimirova, with her strong Eastern European accent, an unexpected sound, welcomed us aboard and warned us that there would be some "light turbulence" along the way. Okay, I was determined to cope, was confident that I could.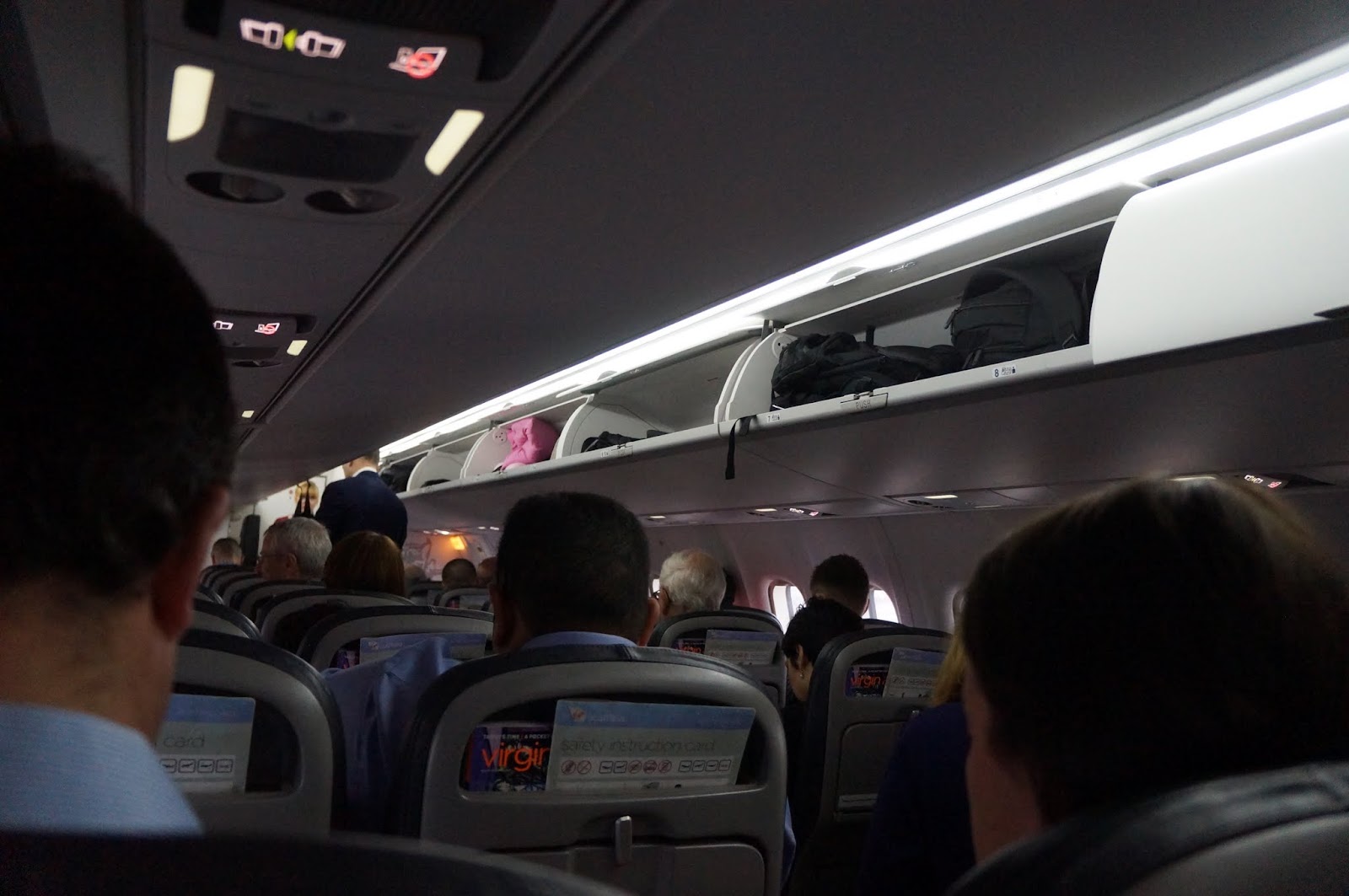 Inside the cabin
After the safety demonstration, we taxied to the main runway for a take-off towards the South. After a fairly long roll we rotated into the sky, then turned right so that we crossed Botany Bay and the Western extent of the Kurnell Peninsula, the devastation of sand mining so apparent from the air. We continued West of Cronulla and across the Royal National Park and past Wollongong, before making another right hand turn to head inland.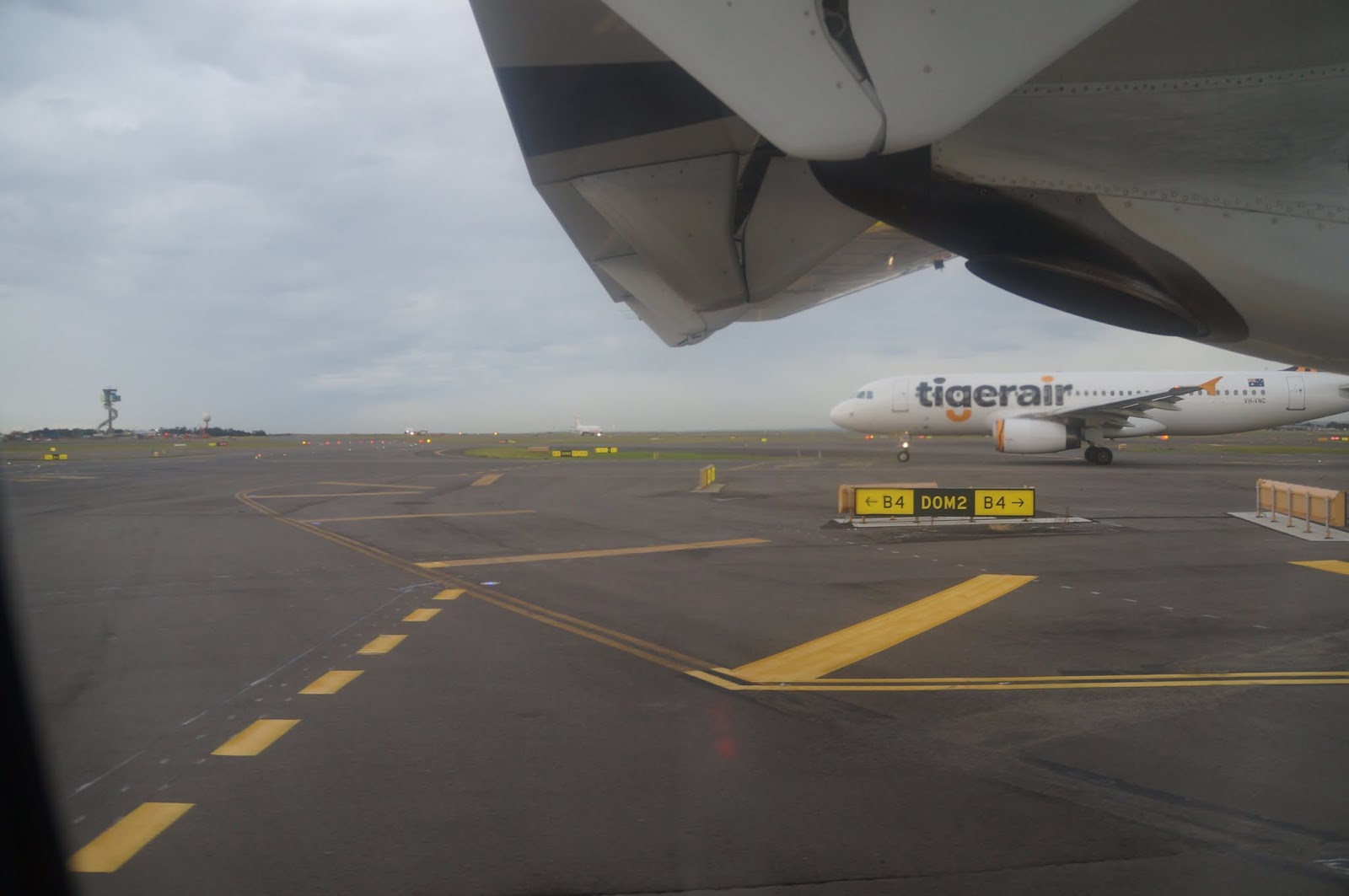 Some Virgin owned pussy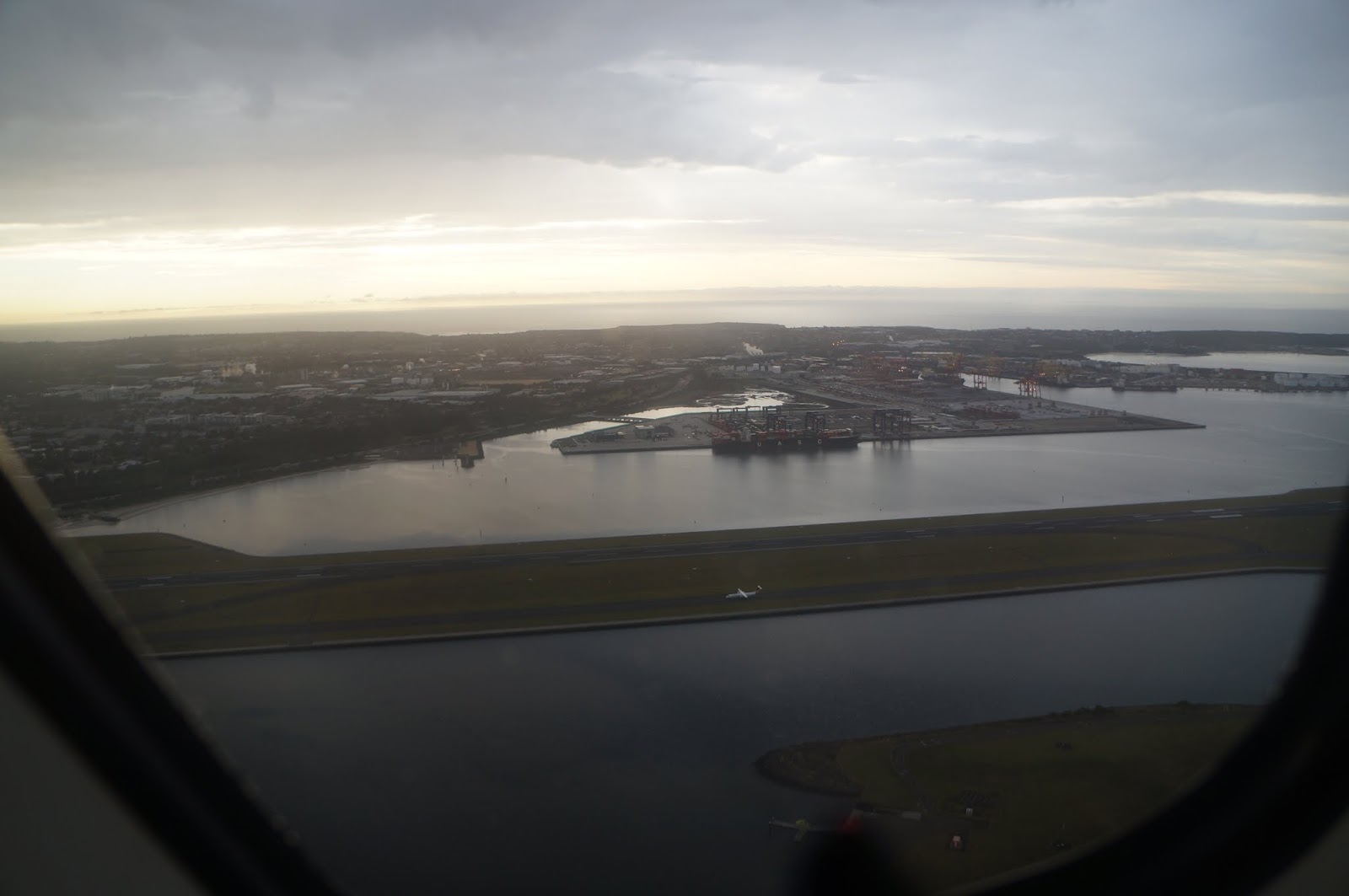 The Third Runway and Port Botany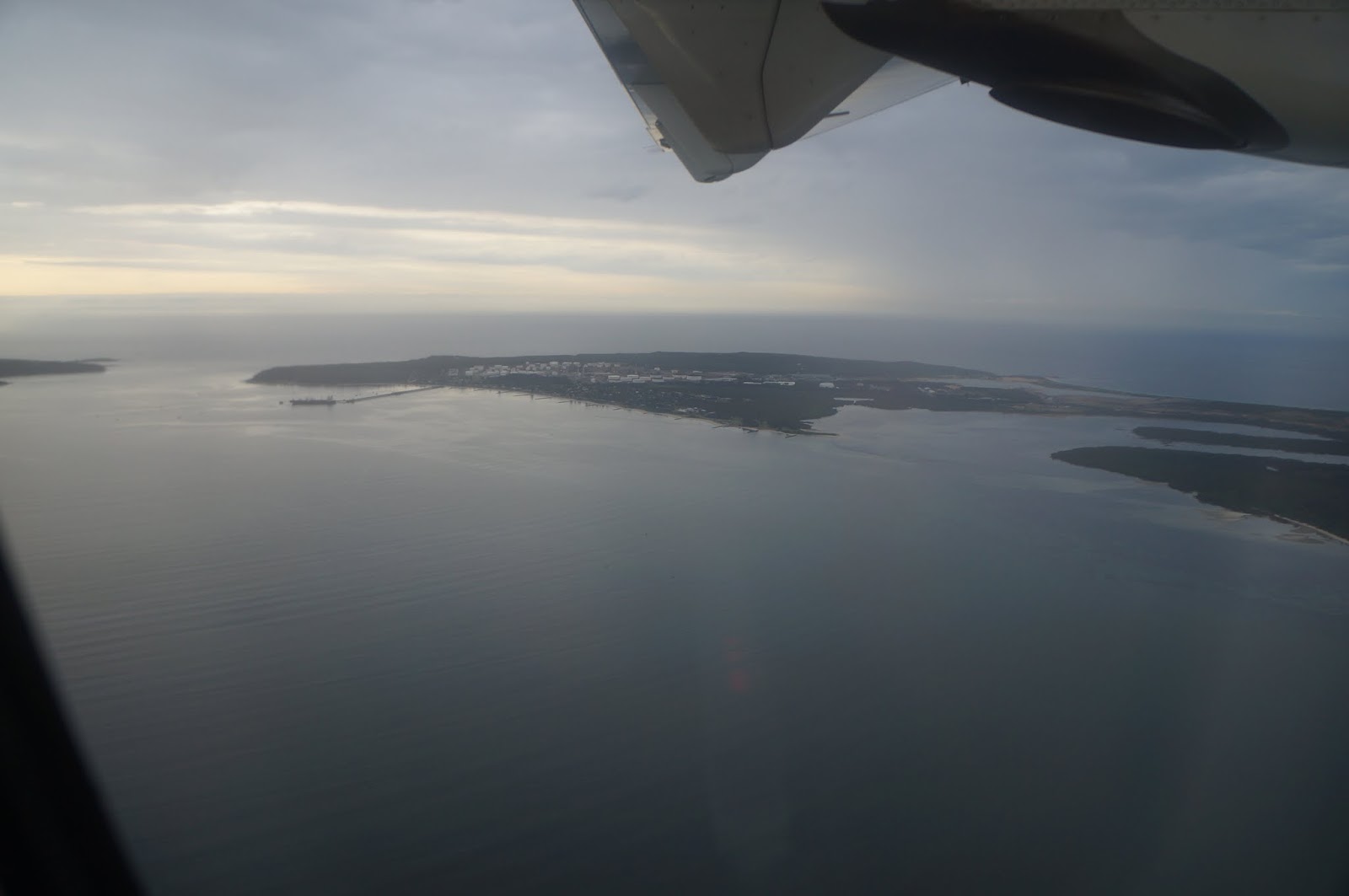 Across Botany Bay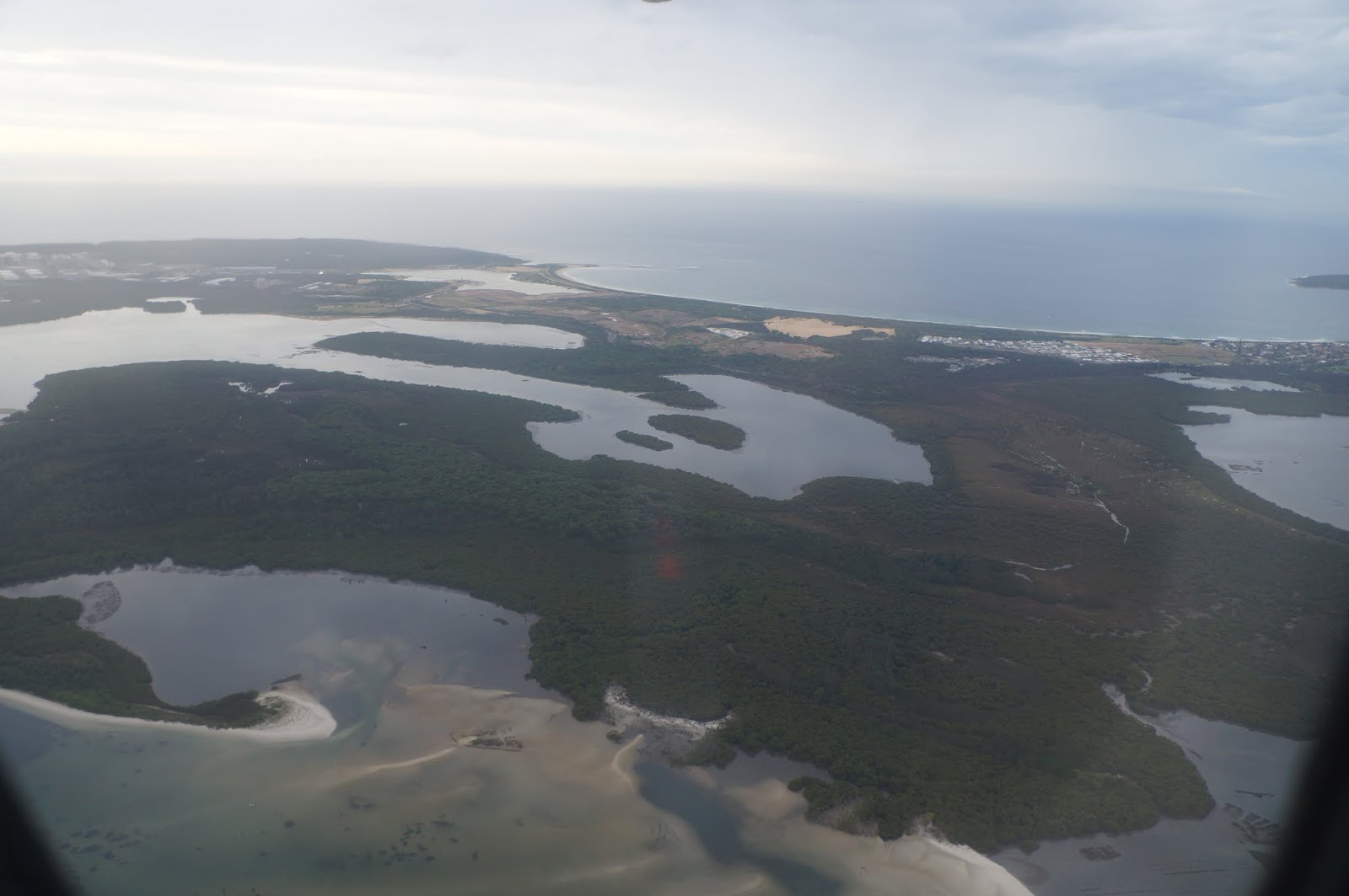 Kurnell wetlands and North Cronulla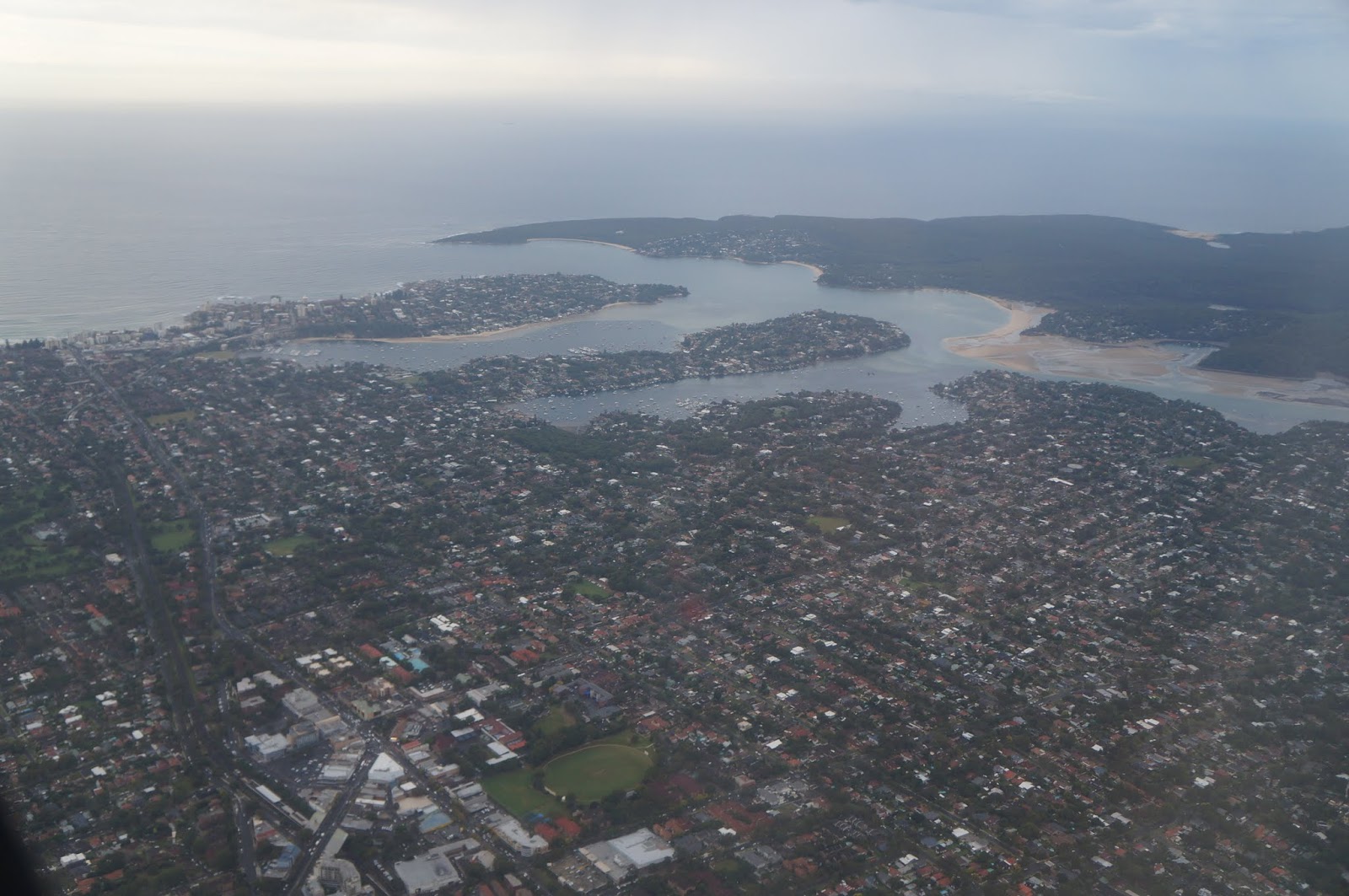 Cronulla and the Hacking River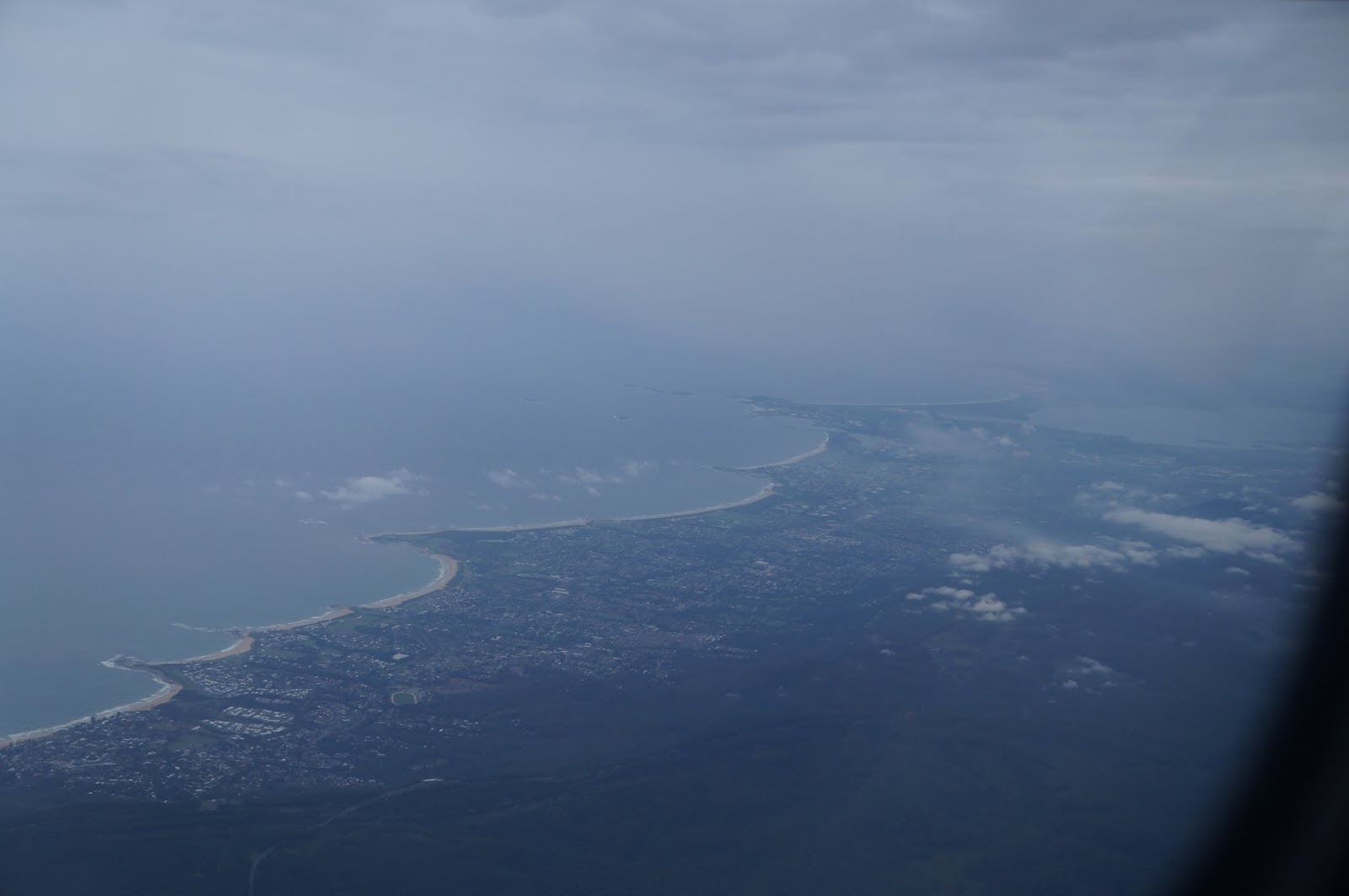 Wollongong
There had been a few bumps as we rose, but finally the electronic devices light was switched off and the crew started serving the refreshments. One pushed a cart carrying biscuits, juice and water and behind her the other attendant served tea or coffee. I just had a juice and that was my sole breakfast.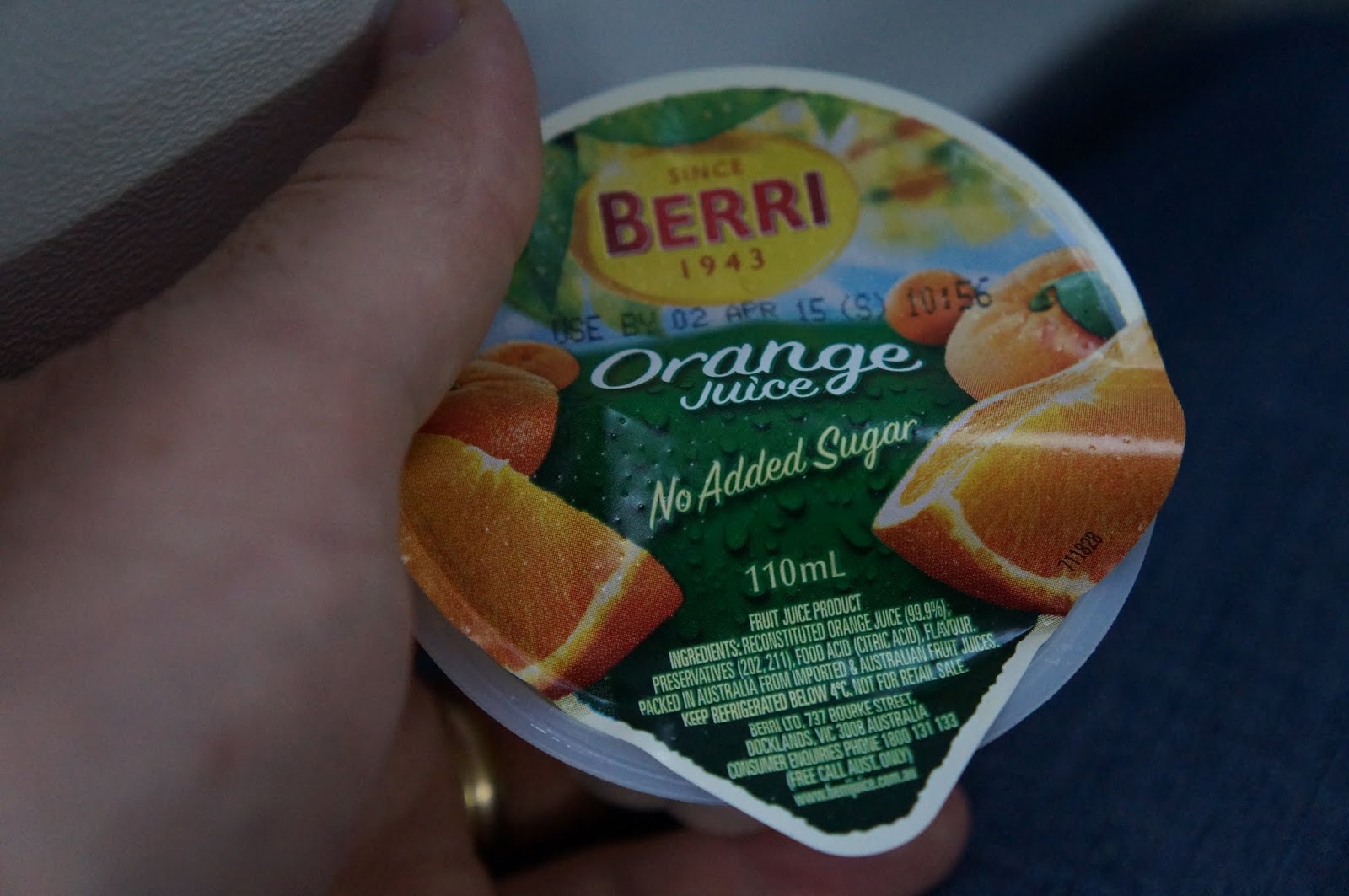 No screw top bottles like Qantas usually serves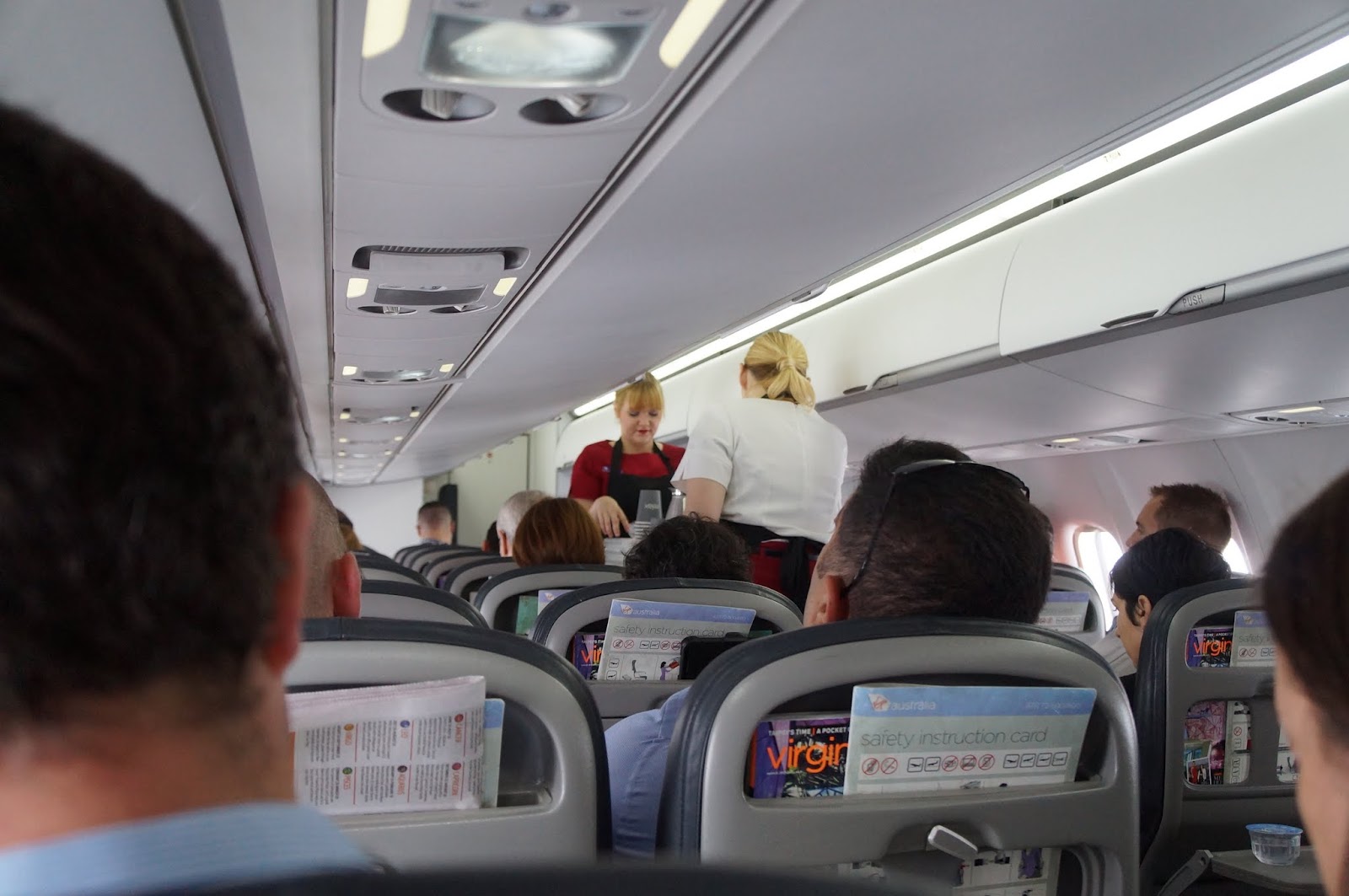 Service
We were above the cloud for a short while, but soon entered more cloud. The seatbelt light was switched on again, things got bumpier and the view outside was almost entirely white cloud. About half way into the journey and as I think we began a slow descent there were some gaps in the cloud, but then we hit more cloud. Suddenly the seatbelt warnings became more strident and we really started bumping around, rising up, then dropping down. This was beyond light turbulence, at least moderate if not bordering on severe according to the definitions of the Australian authorities. Certainly there was some momentary loss of control by the pilots.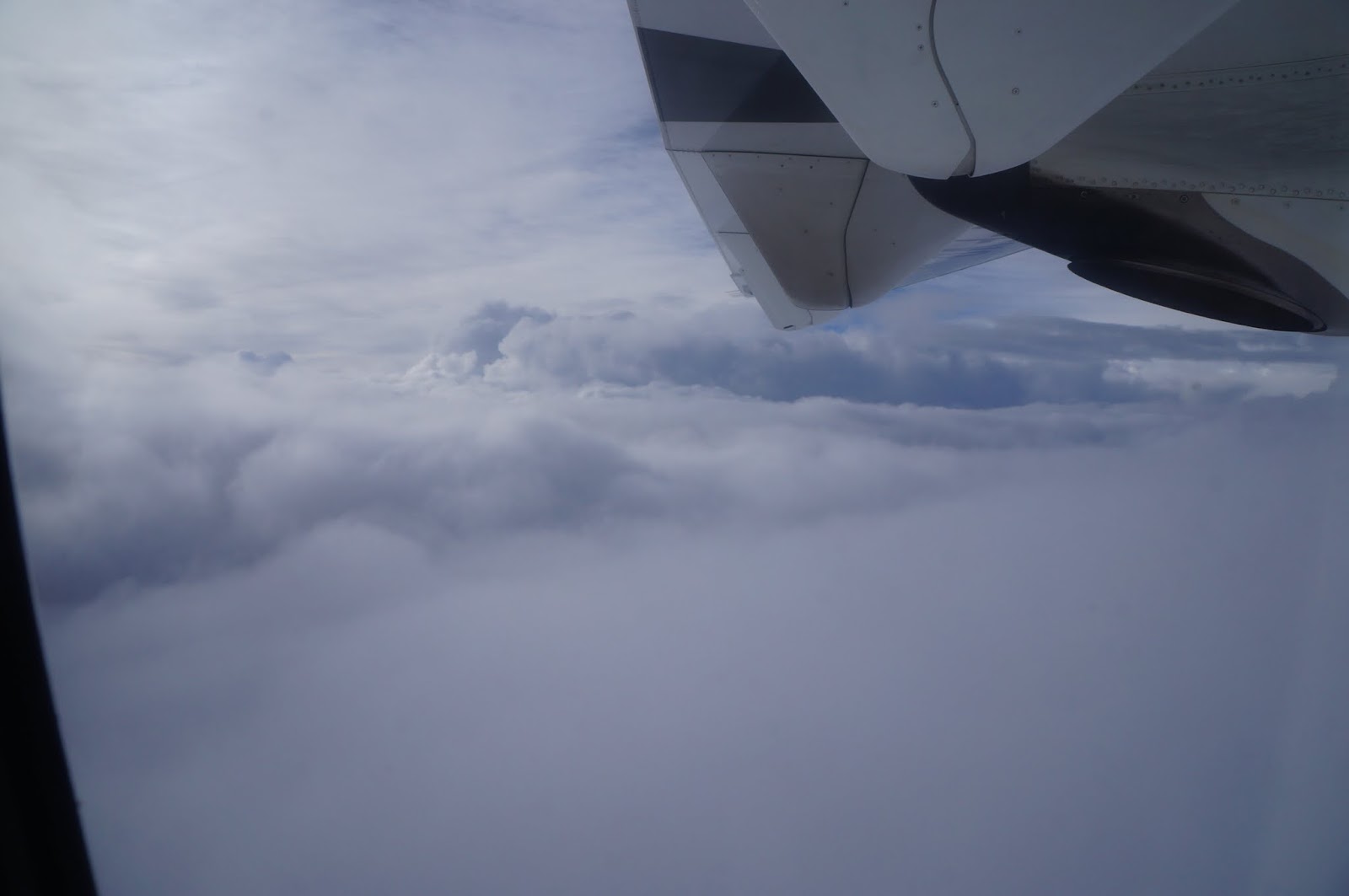 Entering a cloud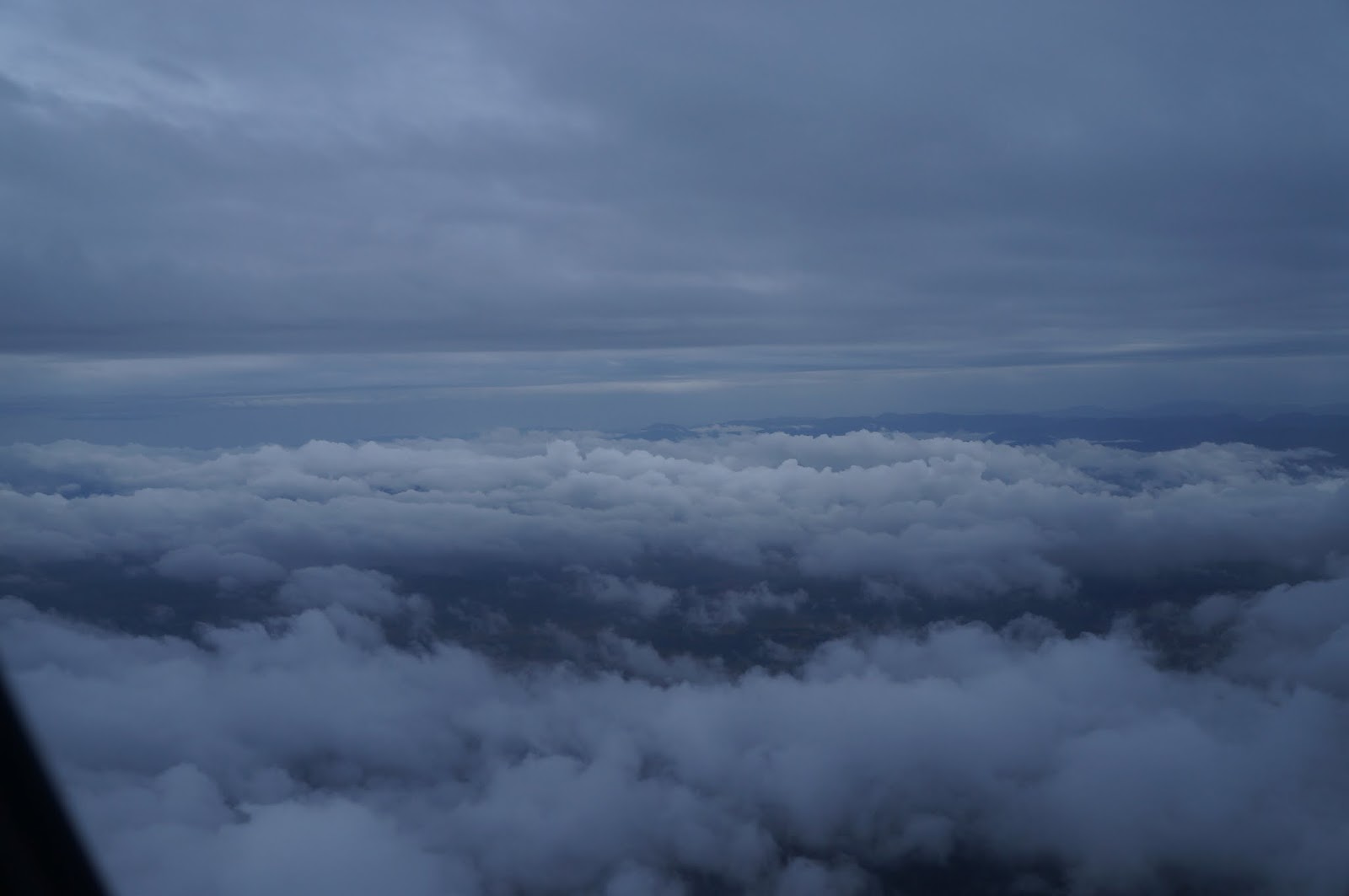 Descending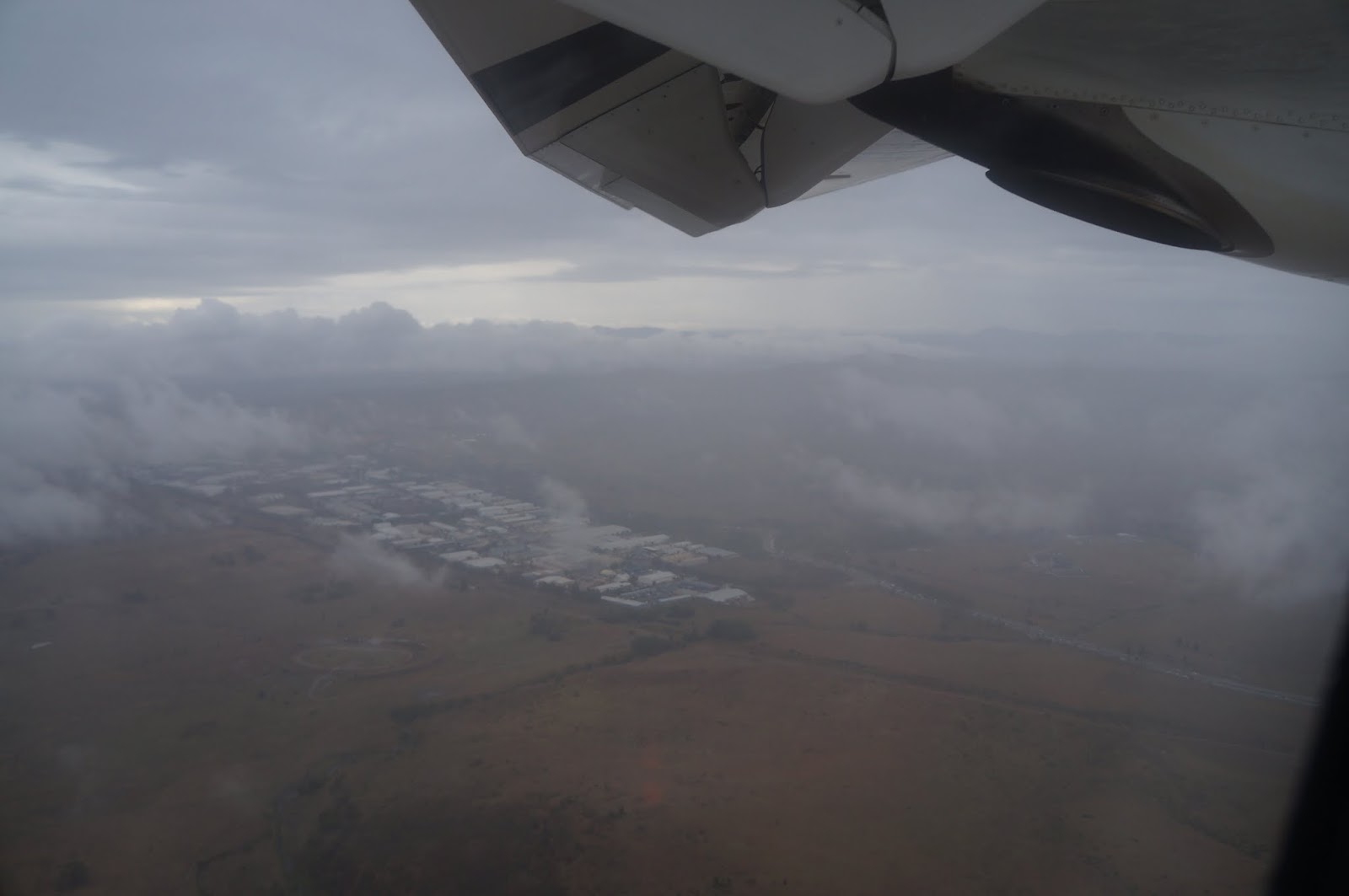 Almost there
After what felt like an eternity we passed through the cloud and the ground was visible between the scattered low cloud. Finally we lined up to land and made it on to the ground. It was raining lightly as we walked across the tarmac between the aircraft and the terminal. I was glad to be off the aircraft, but I think I handled the turbulence pretty well, though I was not eager for more.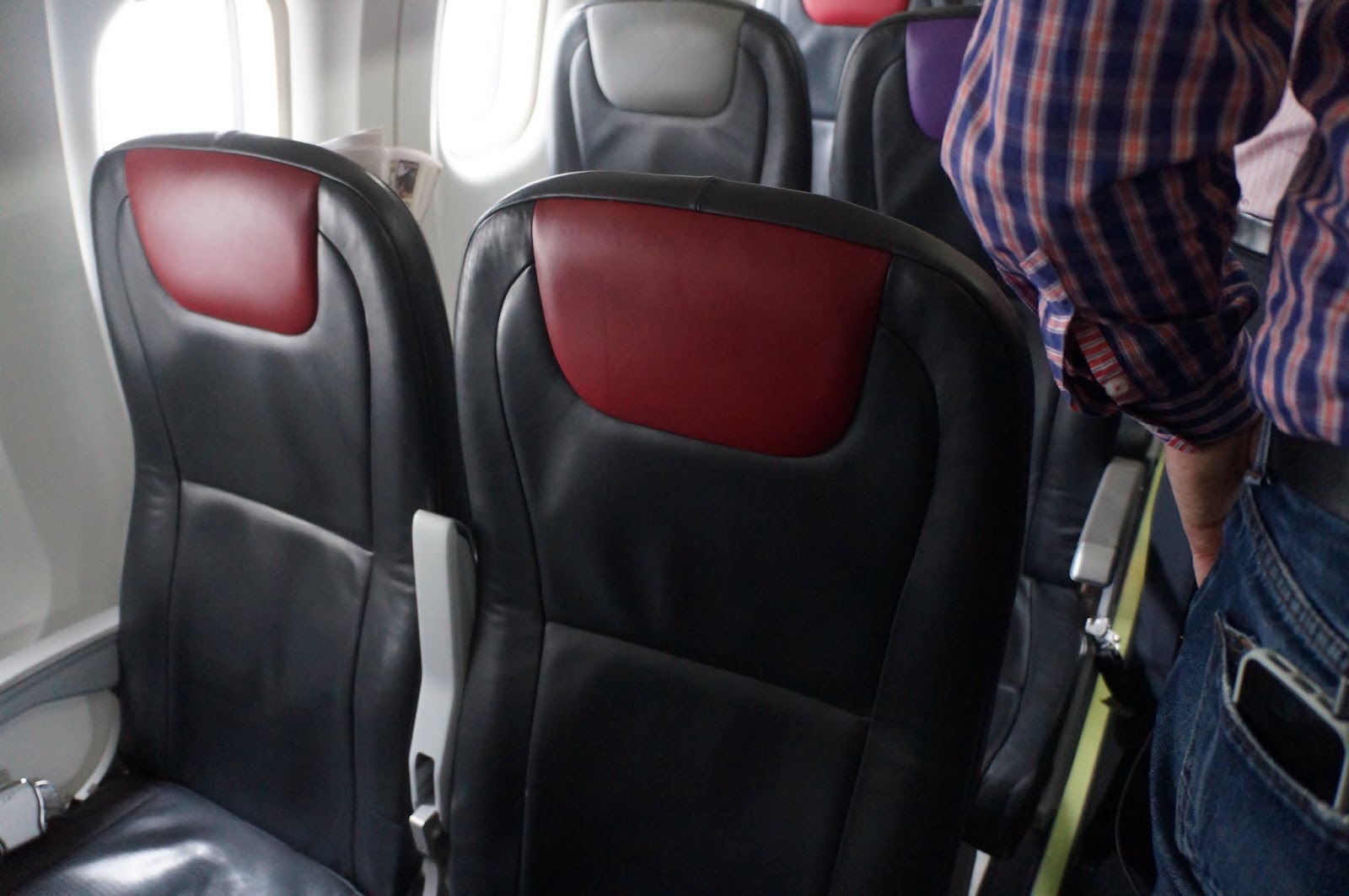 Seats inside the cabin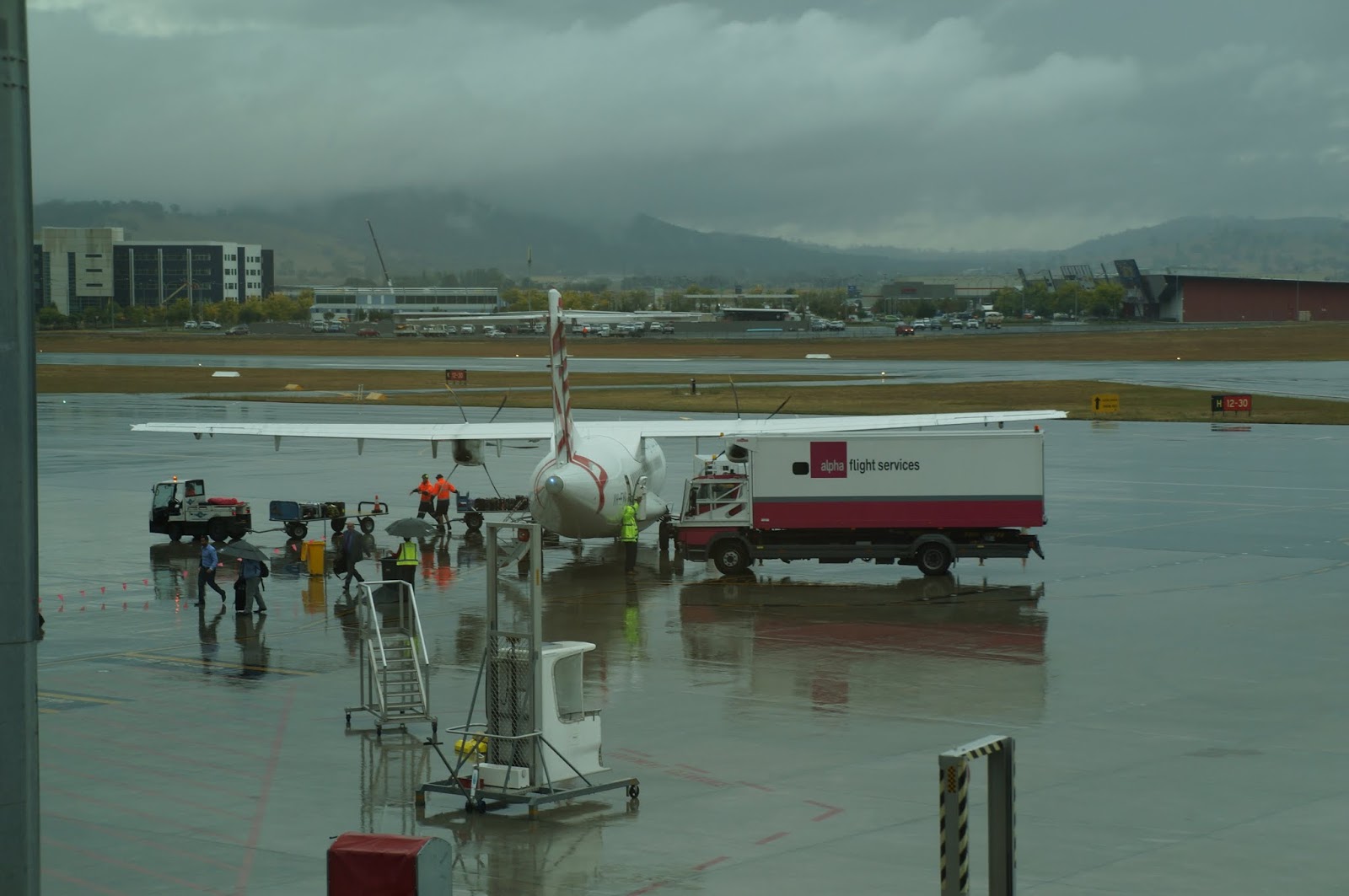 On the tarmac in Canberra
We caught the taxi to our meeting, where I kept a close eye on the weather radar. However, it was not until we were at the airport for our return flight that I decided to cancel my return booking. A rain and storm front was passing through from Canberra to Sydney. Though the clouds over Canberra didn't look very thick I thought about the journey. Aircraft were taking the long way into Sydney Airport, looping around to approach from the north. It might be rough, would probably be rough, without much of a view. I could cope, but would it be the trigger that set me fearing flying again? I'd get home faster, but no, I didn't want to spoil my upcoming holiday again, at least not if I could help it.
I'm just not a thrillseeker. I like quiet and boring. My favourite part of a flight is not the excitement of take-off and landing but the long quiet stretches cruising high over a desert landscape or a carpet of cloud. That's the problem with Canberra flights, they are so short that it can be all pain no gain. In the turboprop we'd probably never get above the clouds, not even five minutes of cruise.
Instead I decided to do something I'd wanted to do for a while – catch the train.
Canberra train station is not grand. Indeed it may be one of the least inspiring stations on the line. None of this ornate brickwork, just a semi-modern building. Few other passengers were there. A young Asian couple, another older couple from the Subcontinent and a man who looked a lot like a homeless bum. The type that usually sits next to me on an Australian train. Great.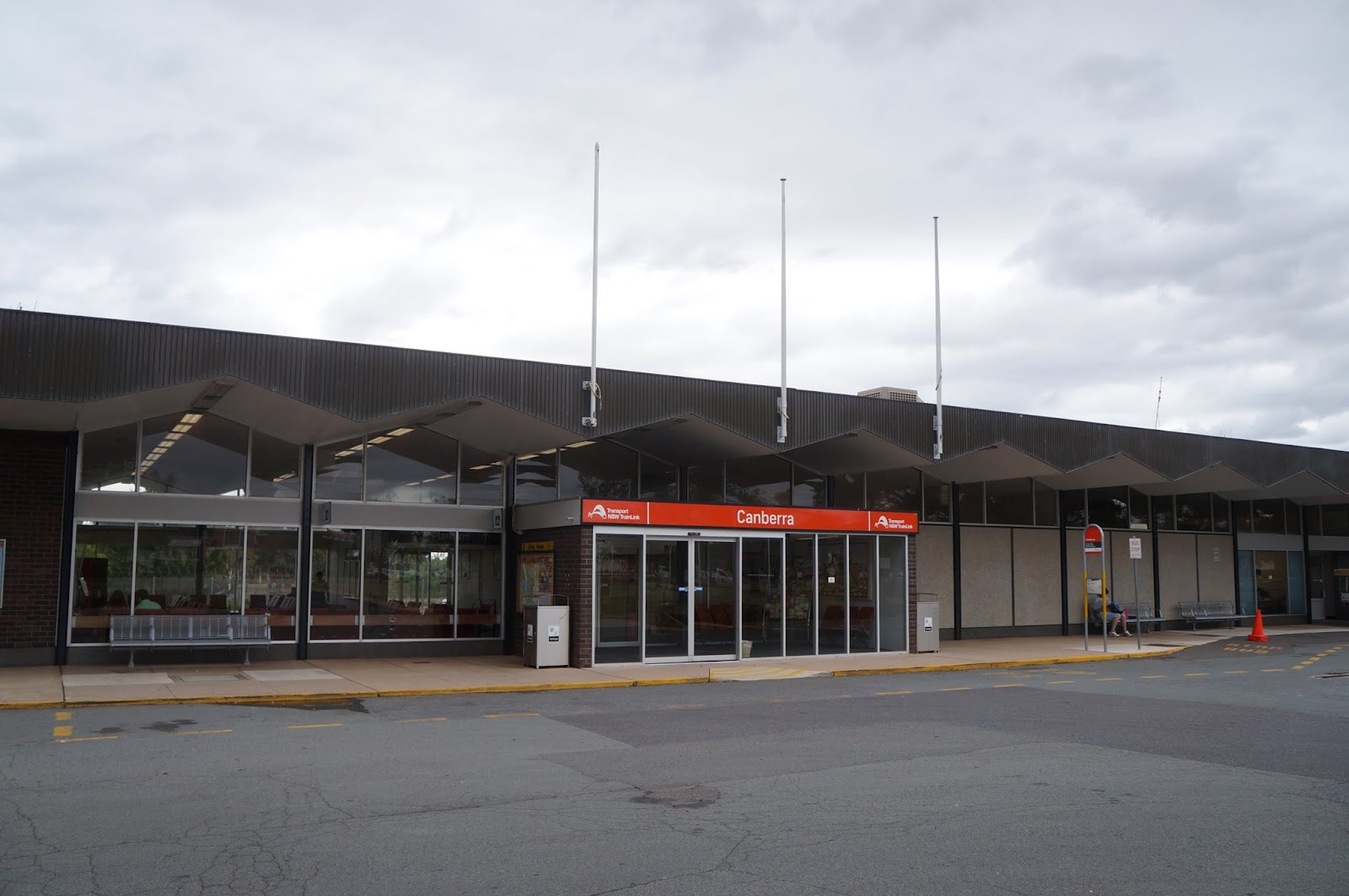 Canberra Station
I walked out to the platform, spotted a few kangaroos nearby a yellow flowered wattle tree. Now that is the capital of Australia for you!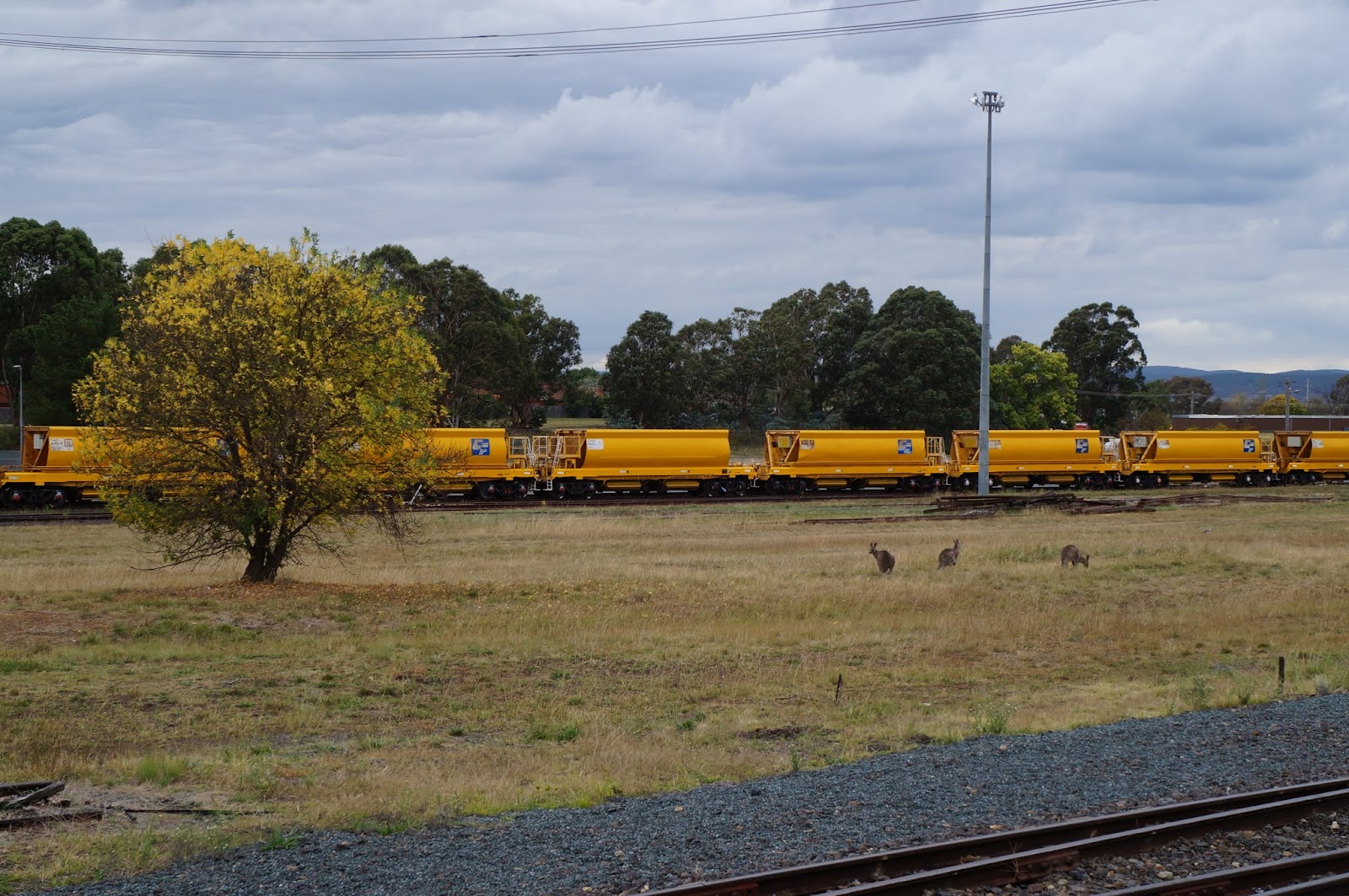 Wattle and 'roos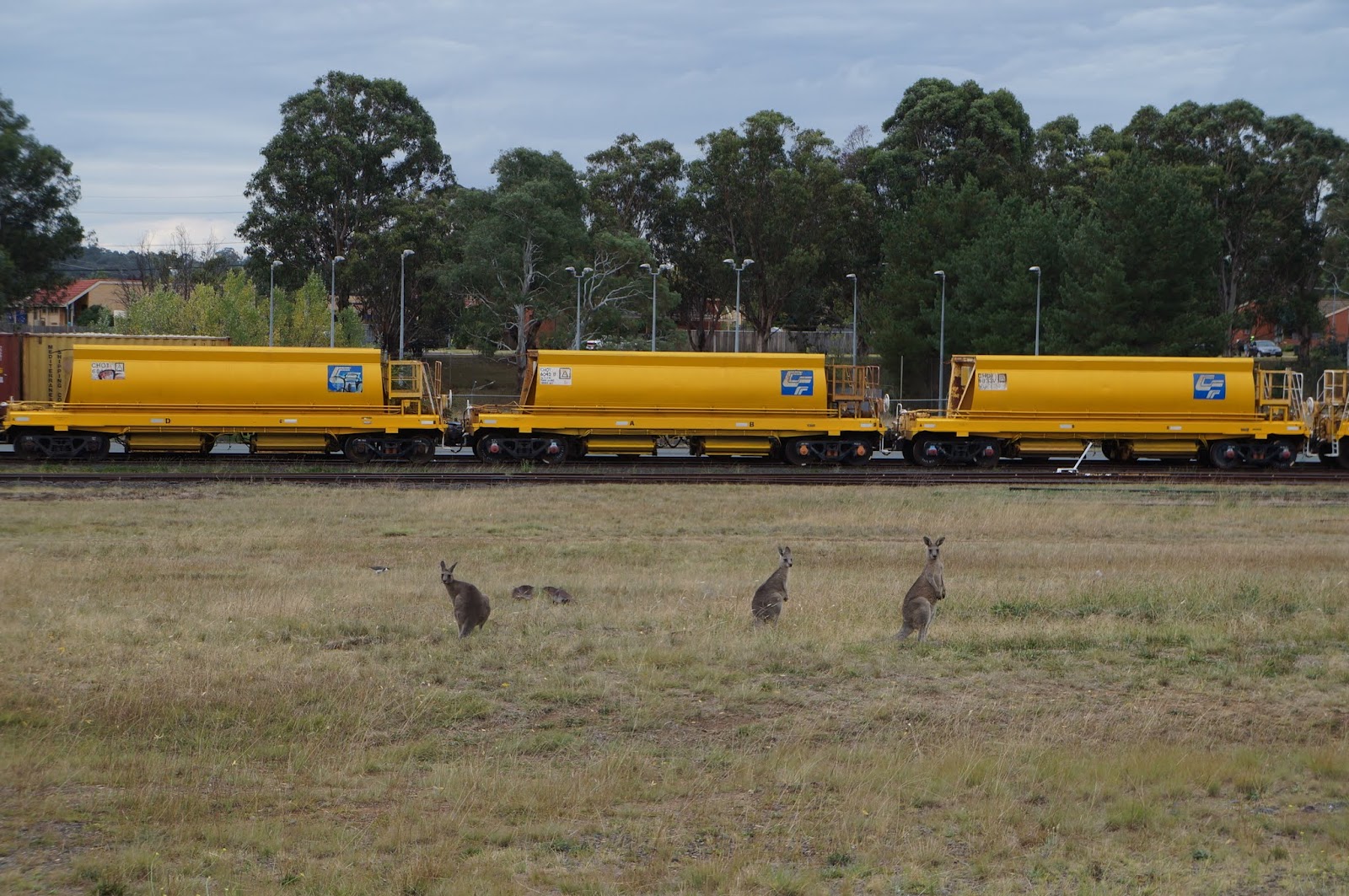 The greys are watching me
Eventually the train from Sydney pulled up and disgorged its passengers, many who waited for the coach to Eden. The waiting room filled up with more passengers now.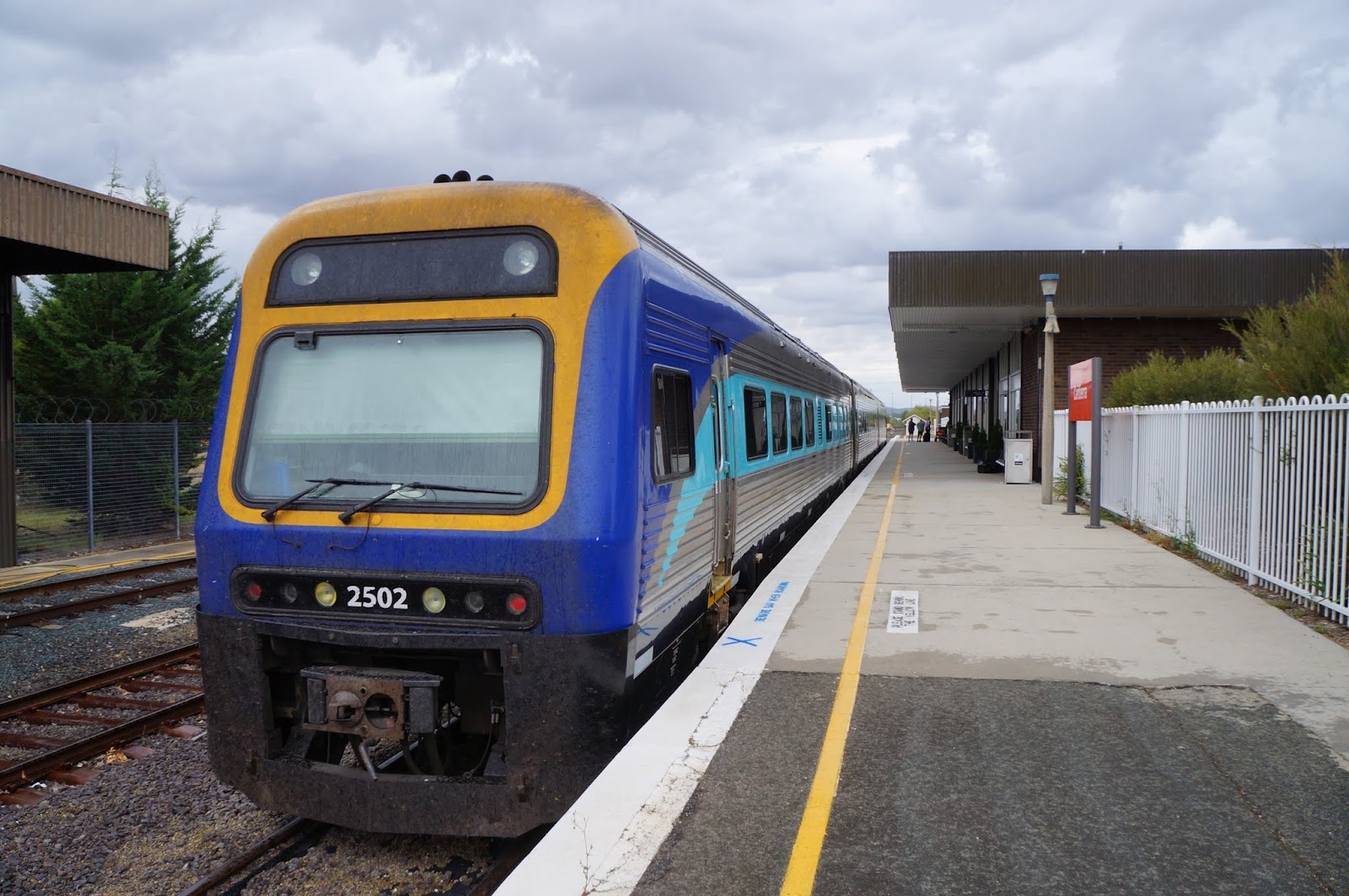 Xplorer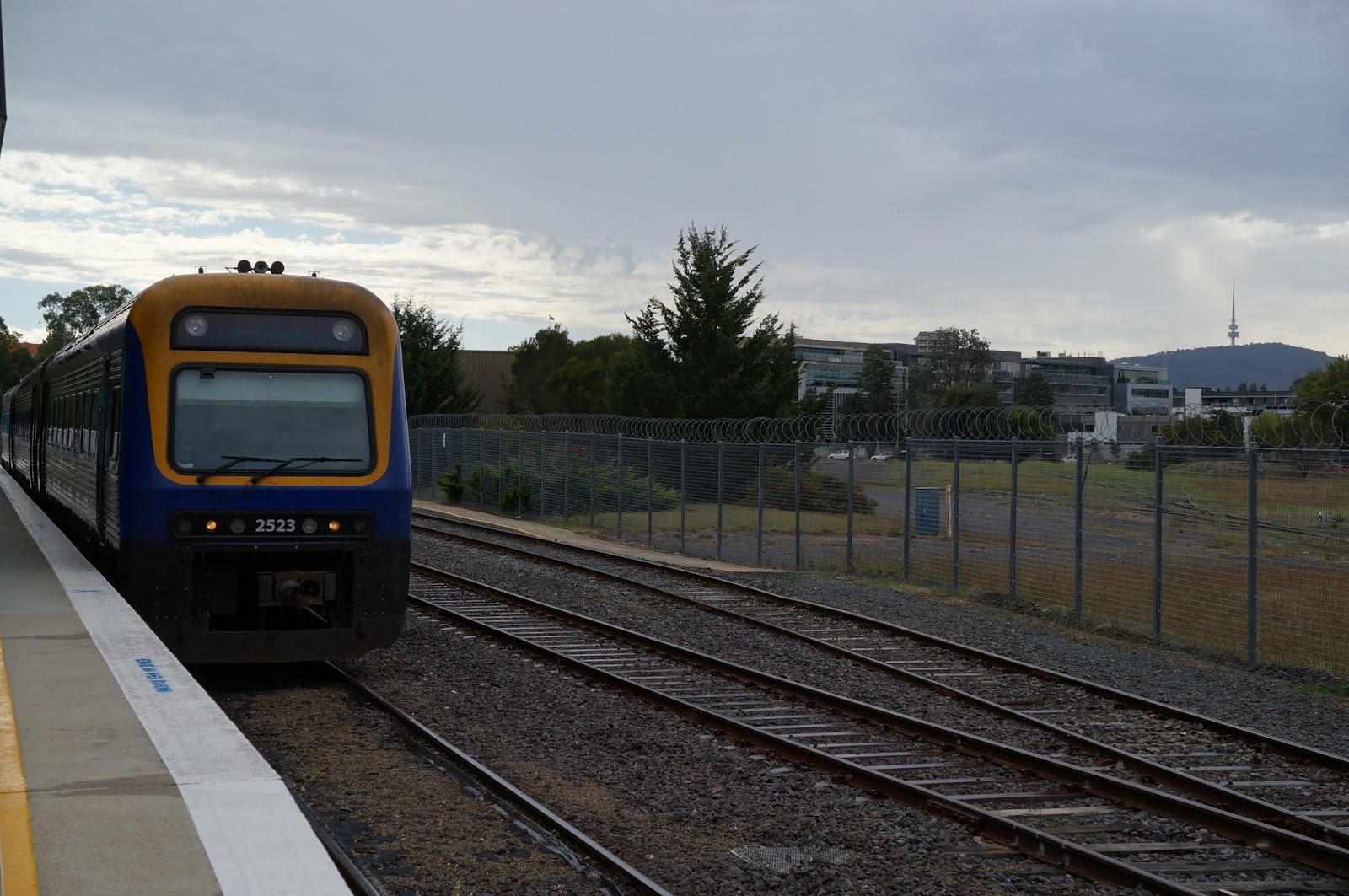 Xplorer with Canberra Tower to the right
Our train was a three car Xplorer diesel set. The same train that had carried me so many times between Sydney and Canberra as a student. The interior at least looked like it had been refurbished, with seat covers a lot like those often seen on Sydney suburban services, only on more comfortable chairs. Well padded, with a metre of seat pitch, decent width and 28 degrees of recline this was more comfortable than flying!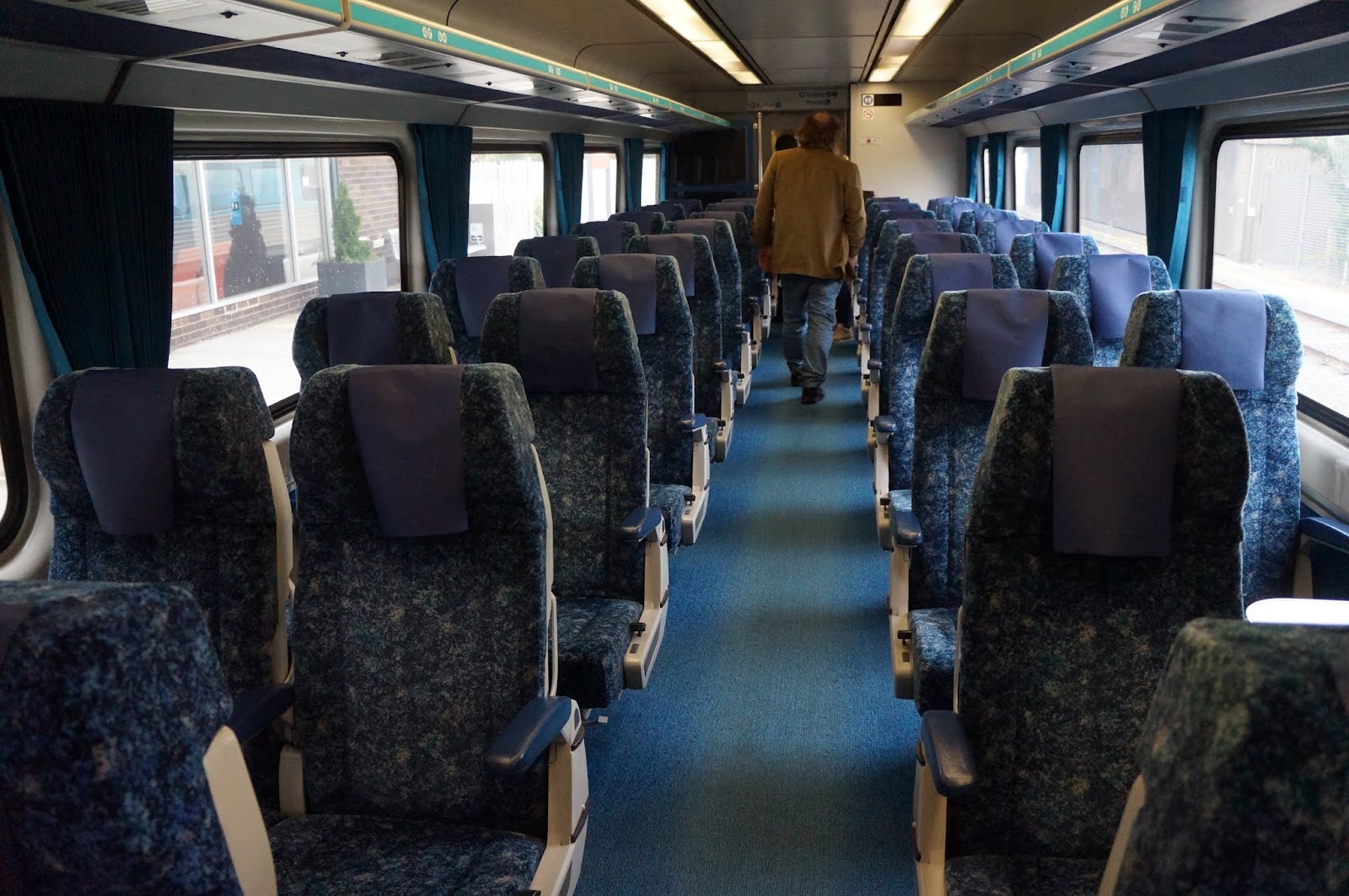 The cabin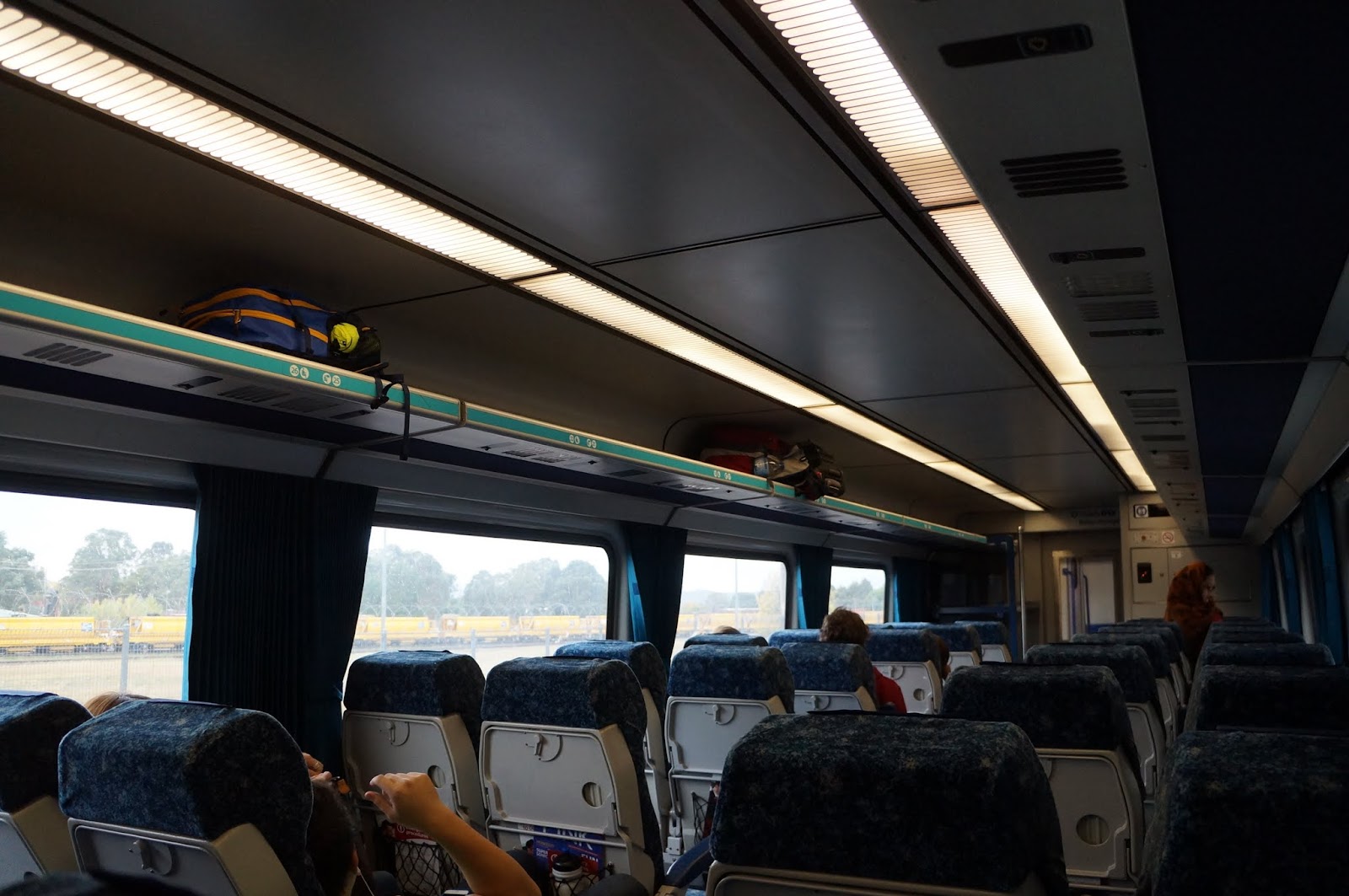 Rear view
Just like in the morning, a rainbow glowed in the sky while the land lit up with the passing of the clouds. I put Michael Kamen's soundtrack to Robin Hood: Prince of Thieves on my phone, just like when I was a student heading off on the first leg of my long journey to back to Rockhampton. Then off we set.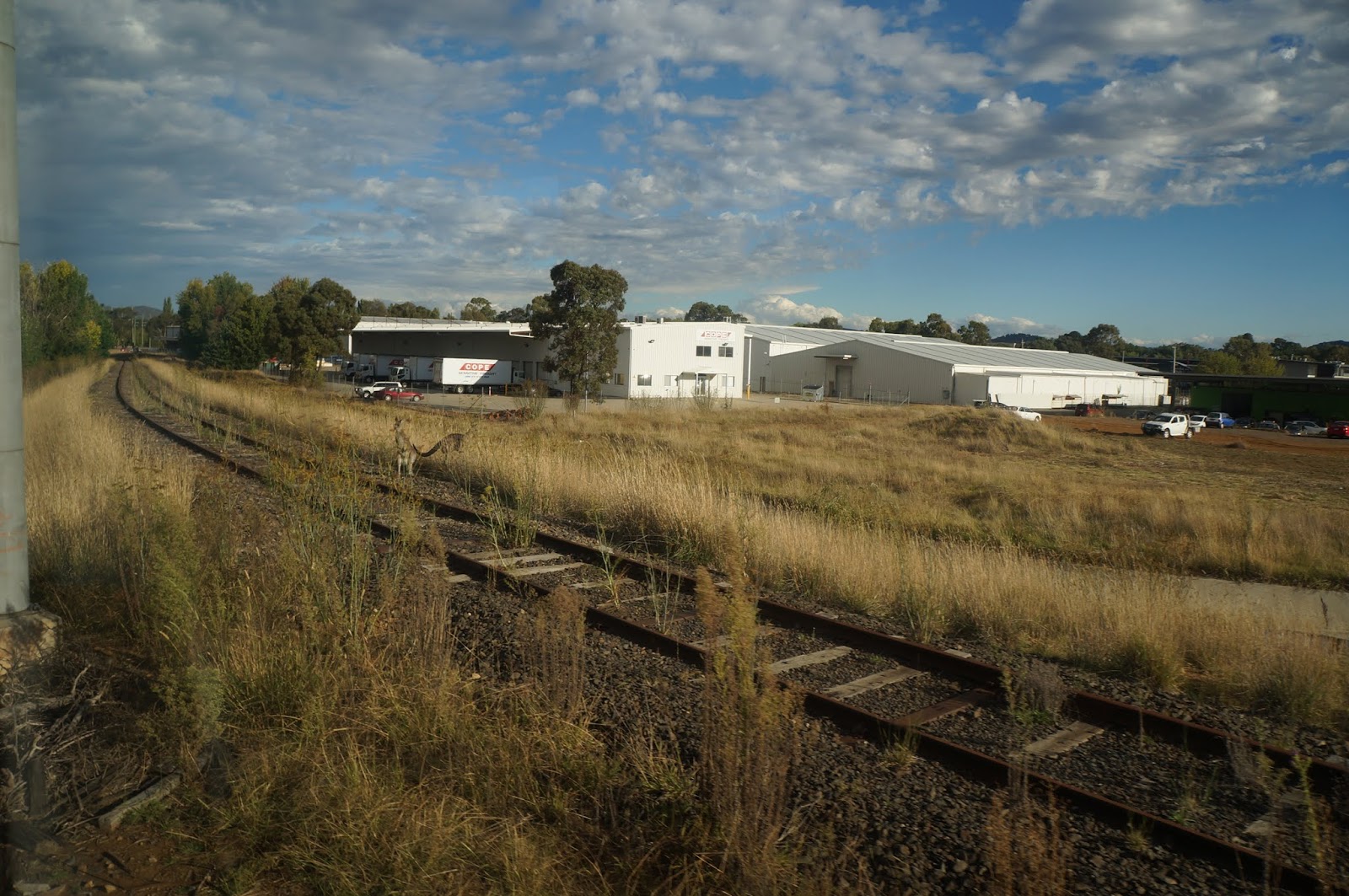 The abandoned line south to Michelago and Cooma. More kangaroos
What stunning scenery! The golden late afternoon light gave the rolling hills a beautiful glow. This was rural Australia at its best, open stretches of grassland punctuated by isolated tree, mobs of kangaroos, flocks of sheep, herds of cattle, and apparently some alpacas as well. Then bushland of gnarled gum trees. Small Southern Highlands towns with historic buildings and English trees starting to yellow with Autumn.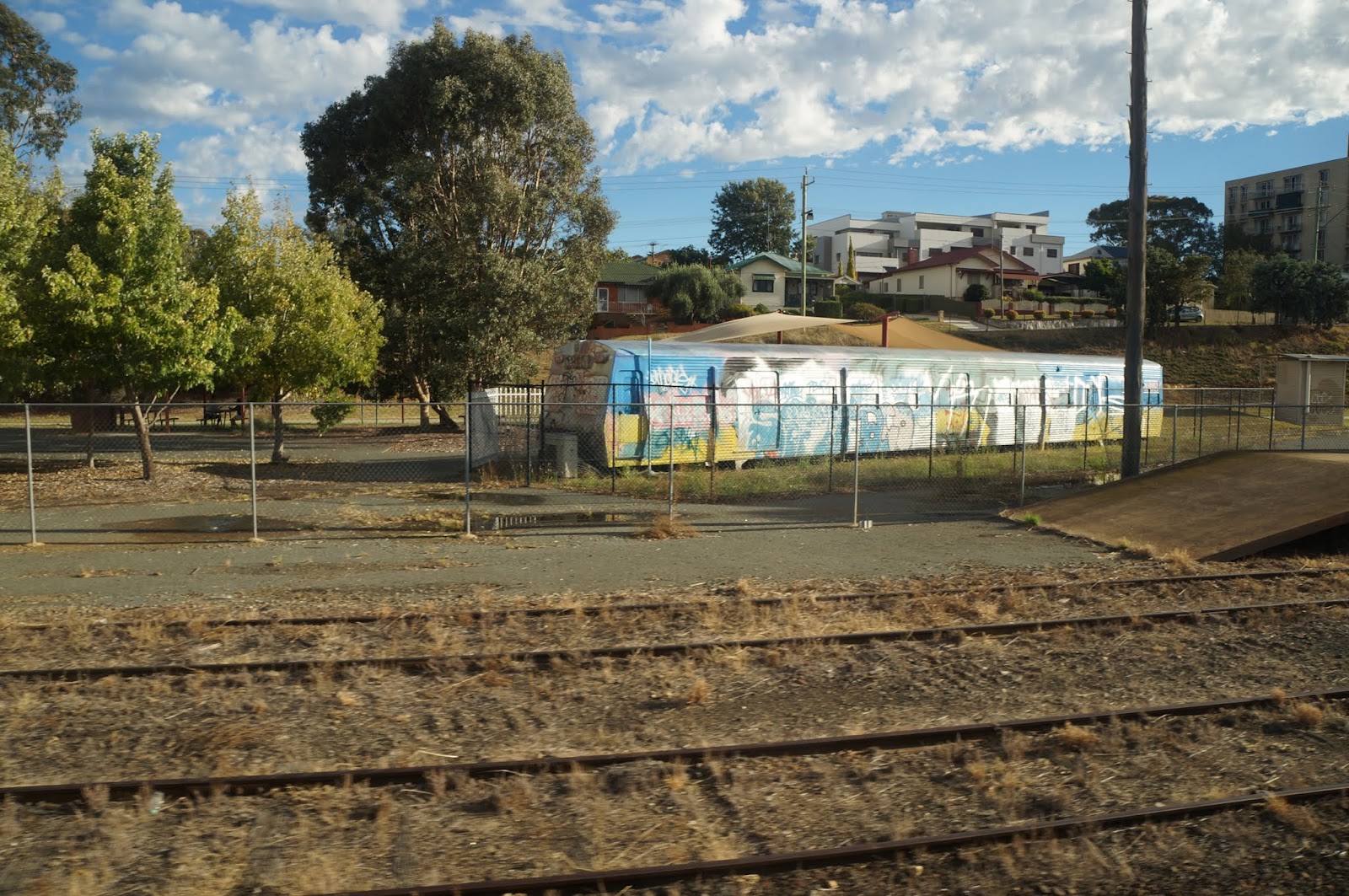 Graffitied Hitachi suburban train from Melbourne, at Queanbeyan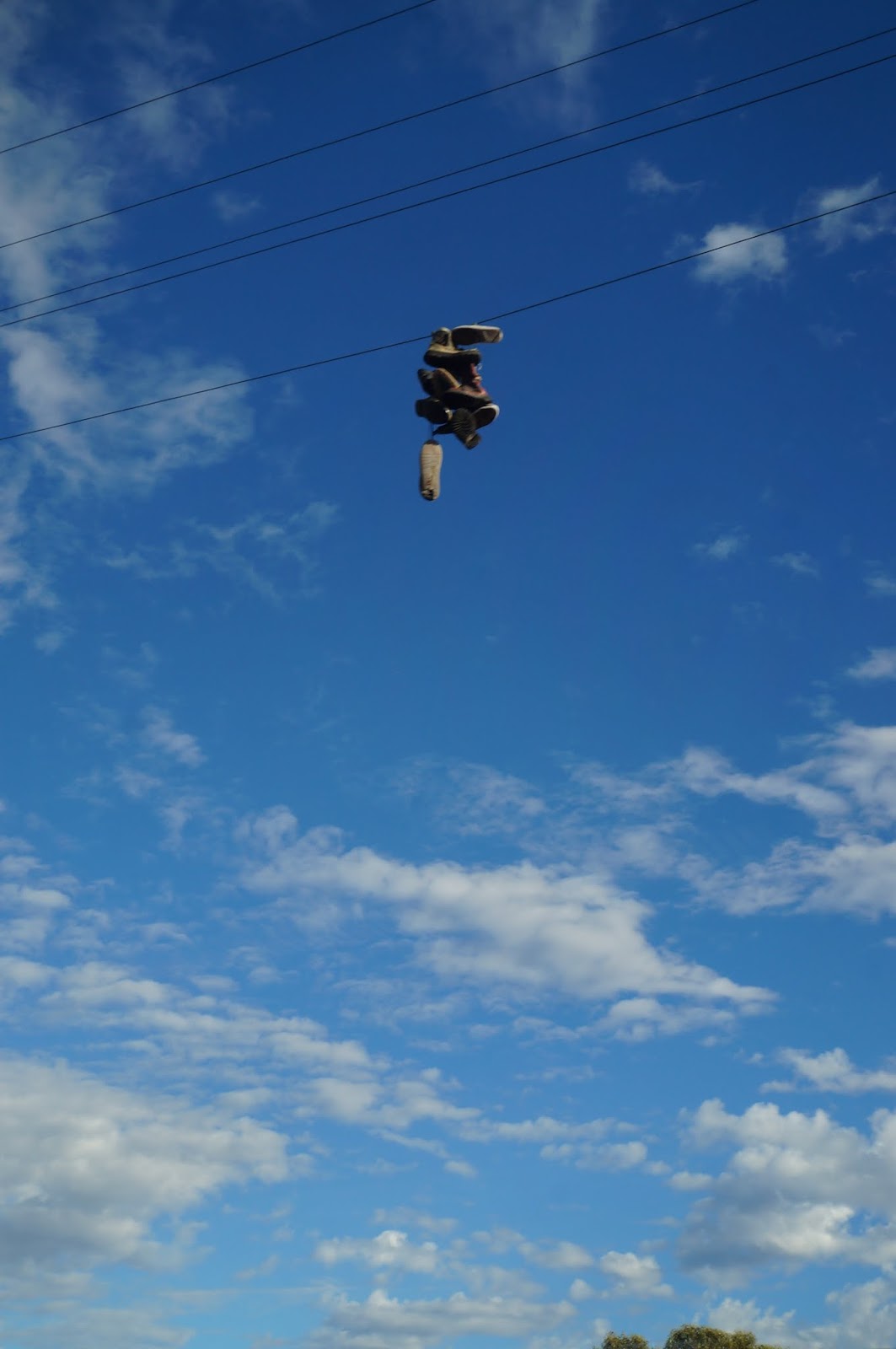 The Imelda Marcos of power sneakers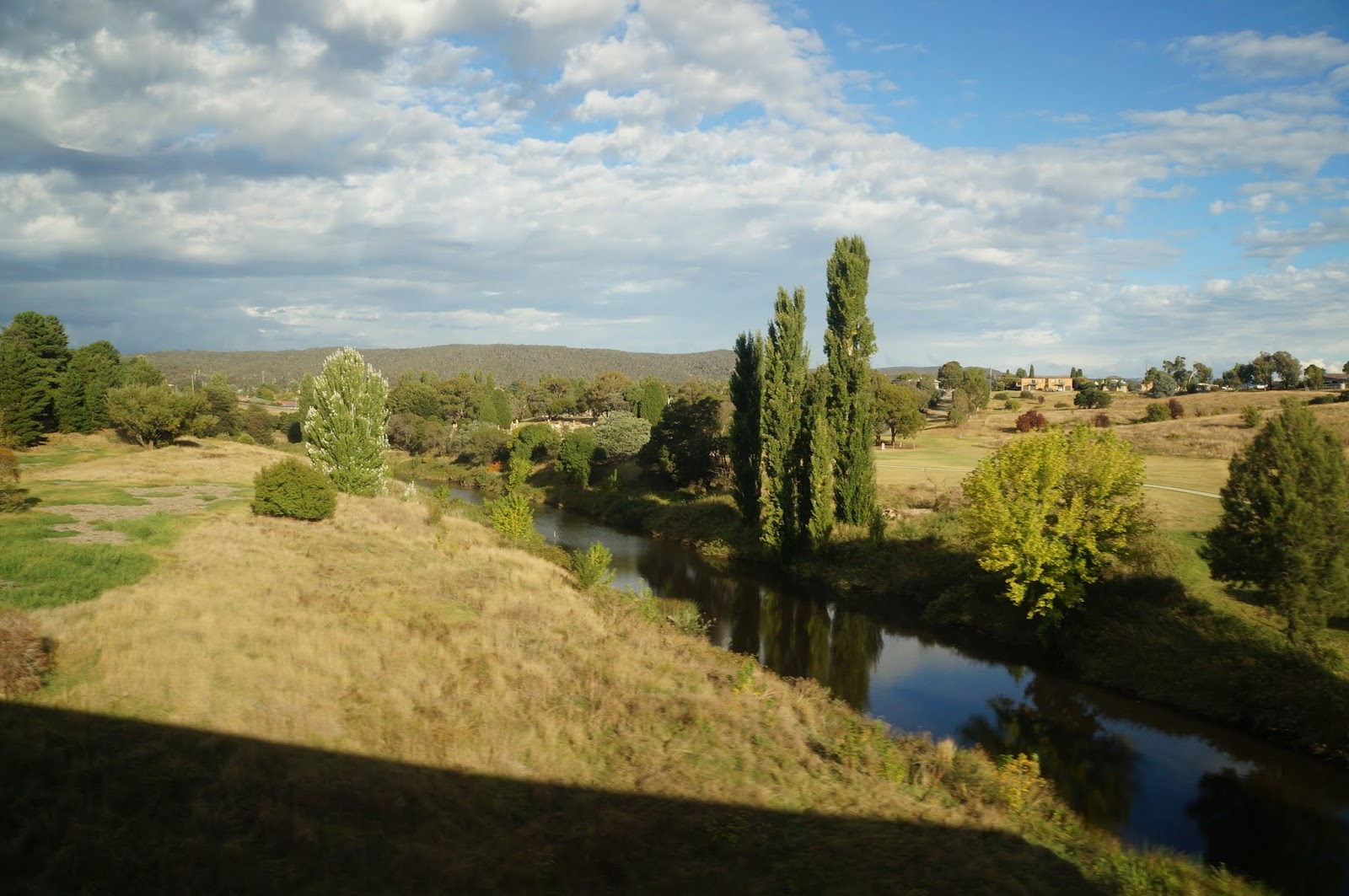 Queanbeyan River
We worked our way up along Molonglo Gorge, stony river scenery below, past the plains and hills around Lake George, ridges lined with spinning electricity generating windmills. On the other side, signs protesting windfarms, undoubtedly the product of hypochondriacs or more likely by those surreptitiously sponsored by the fossil fuel lobby.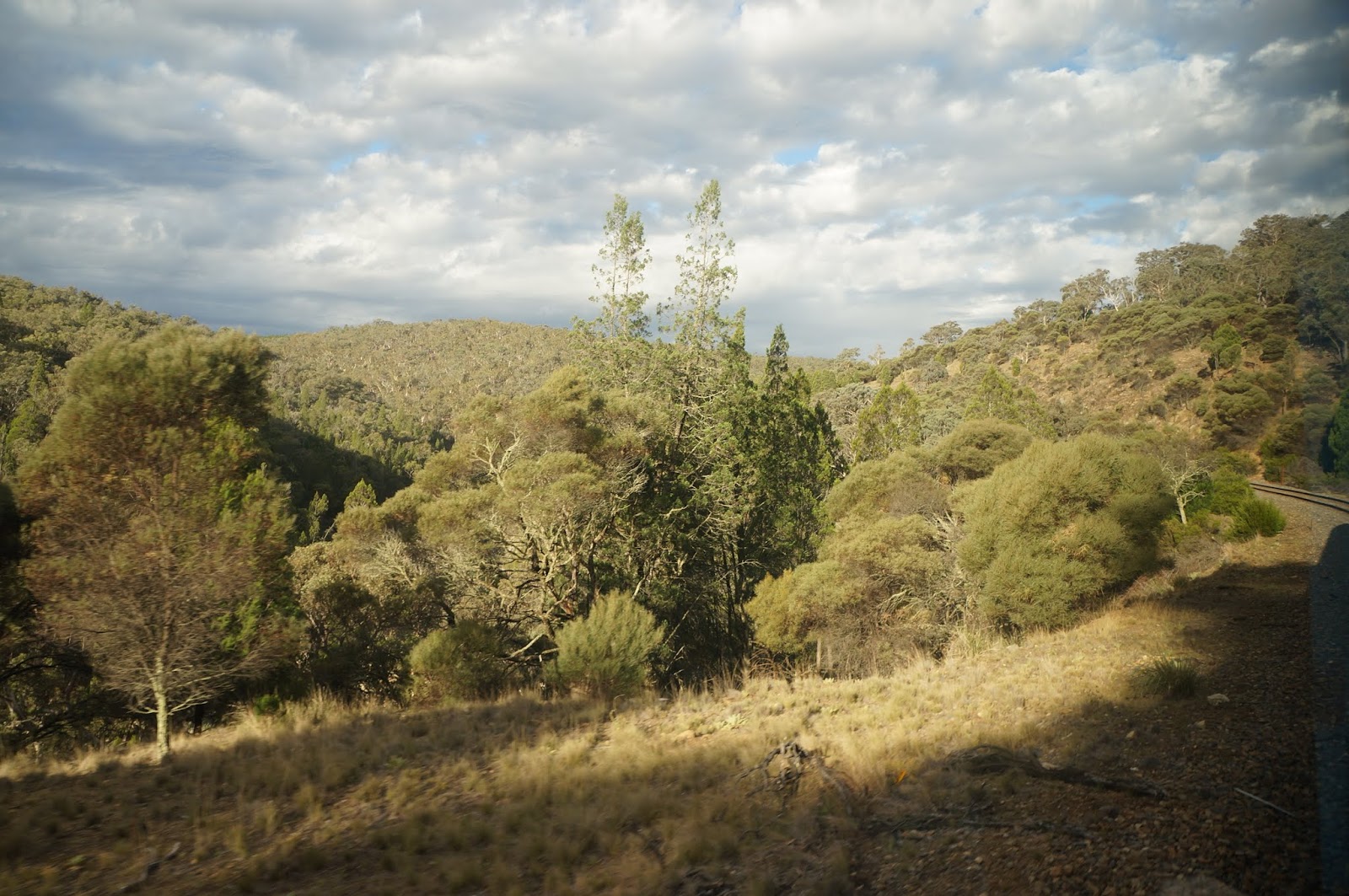 Winding around Molonglo Gorge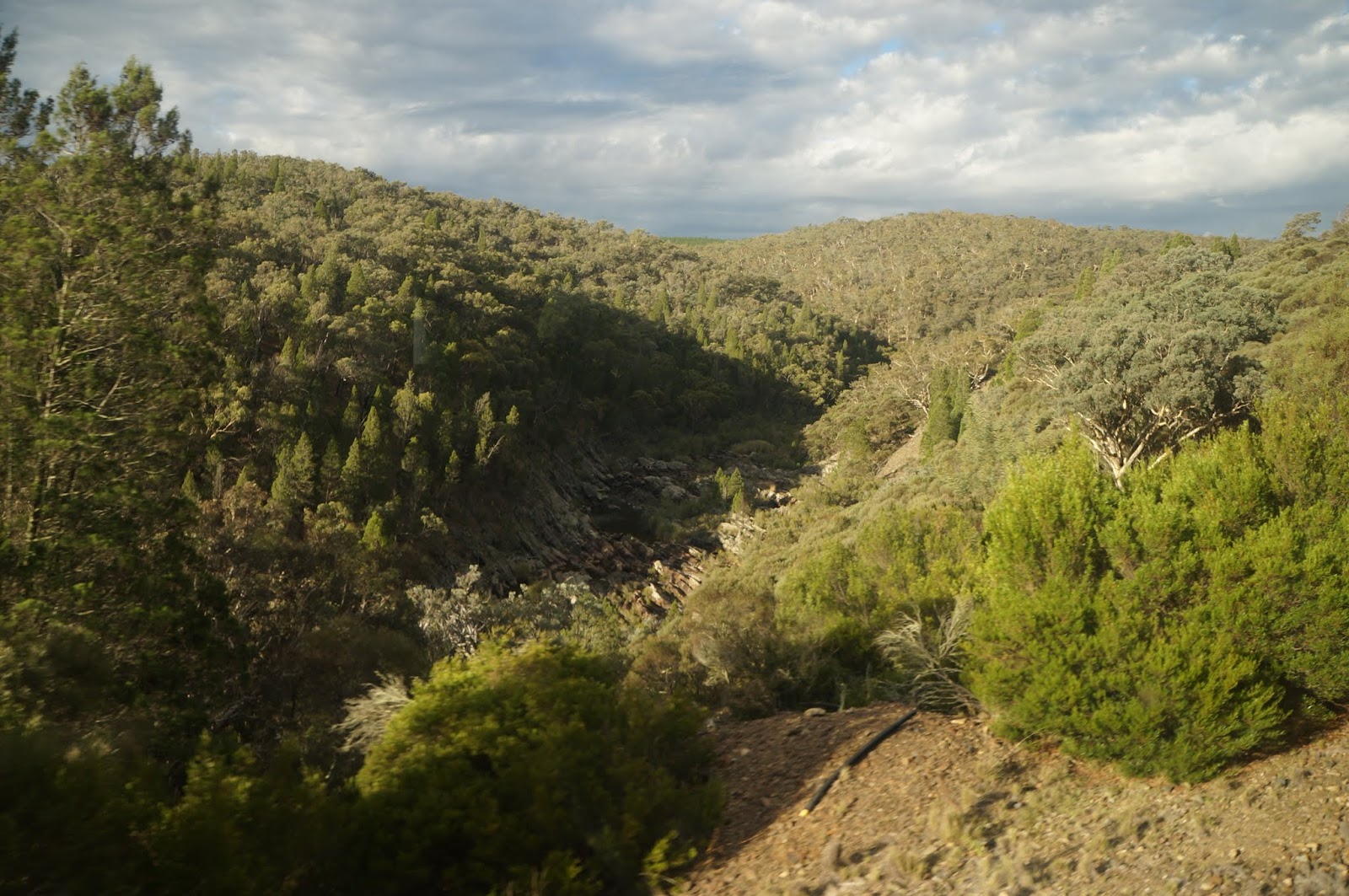 The Molonglo River is below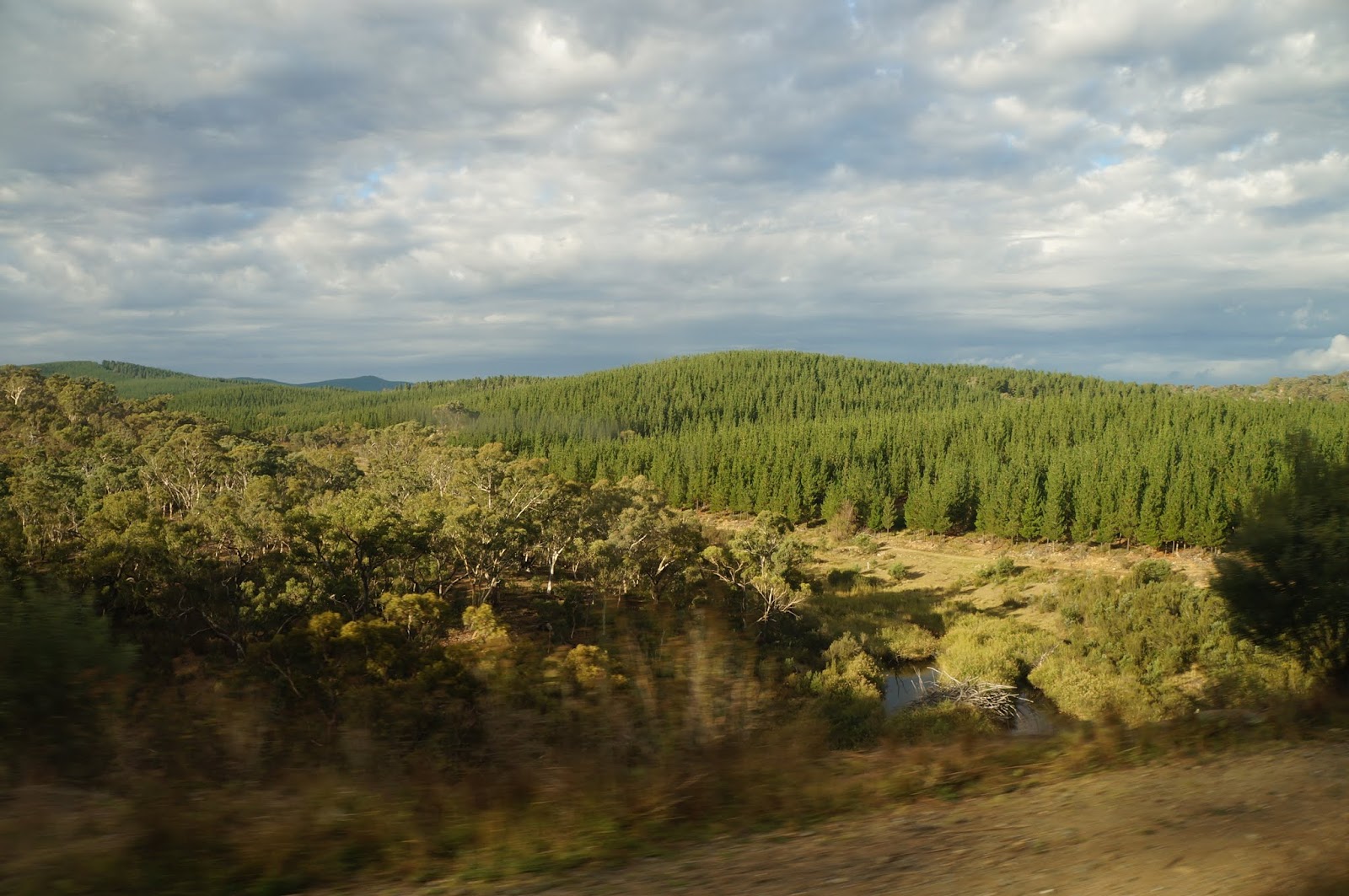 Pine plantations by the river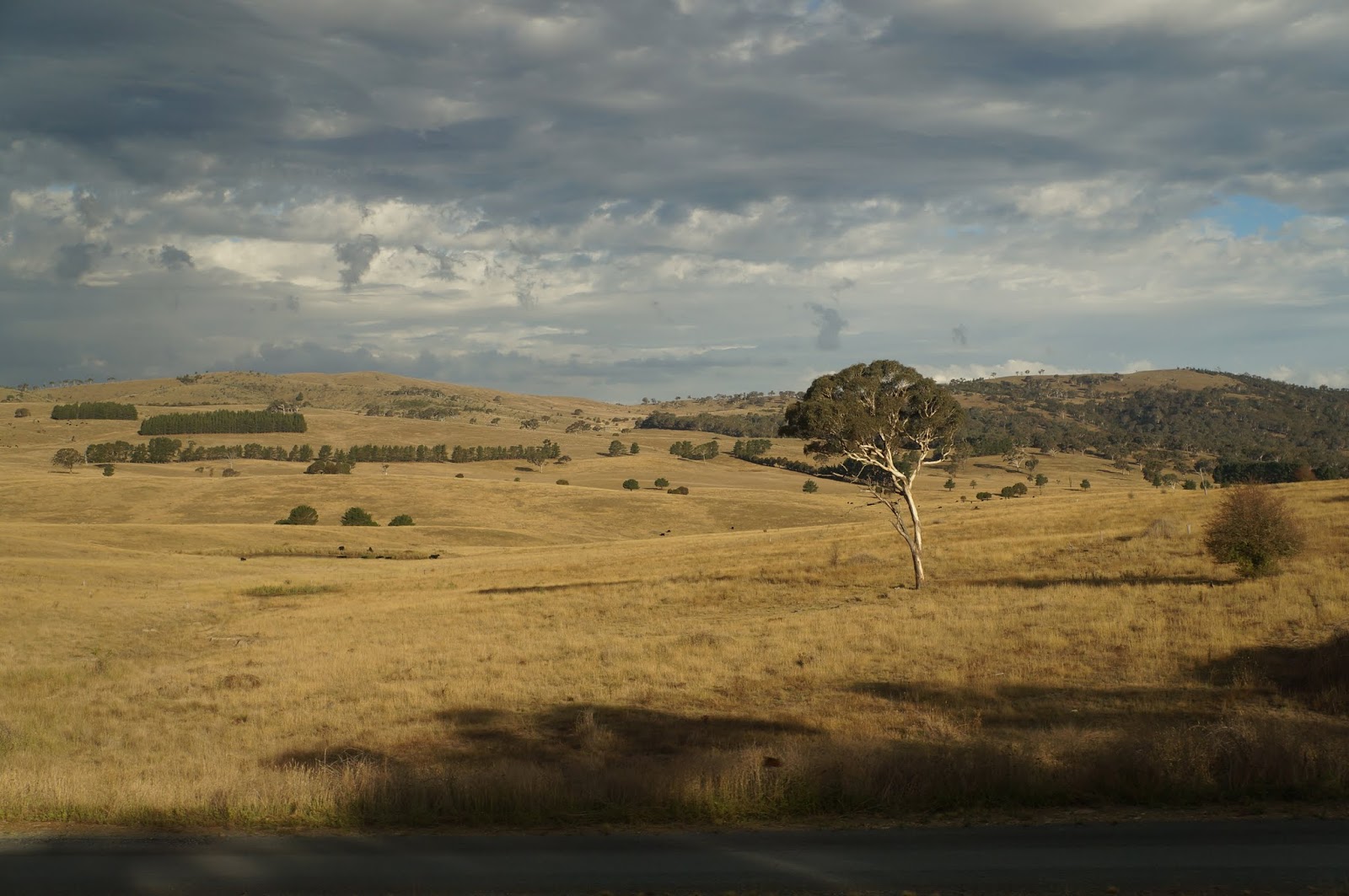 .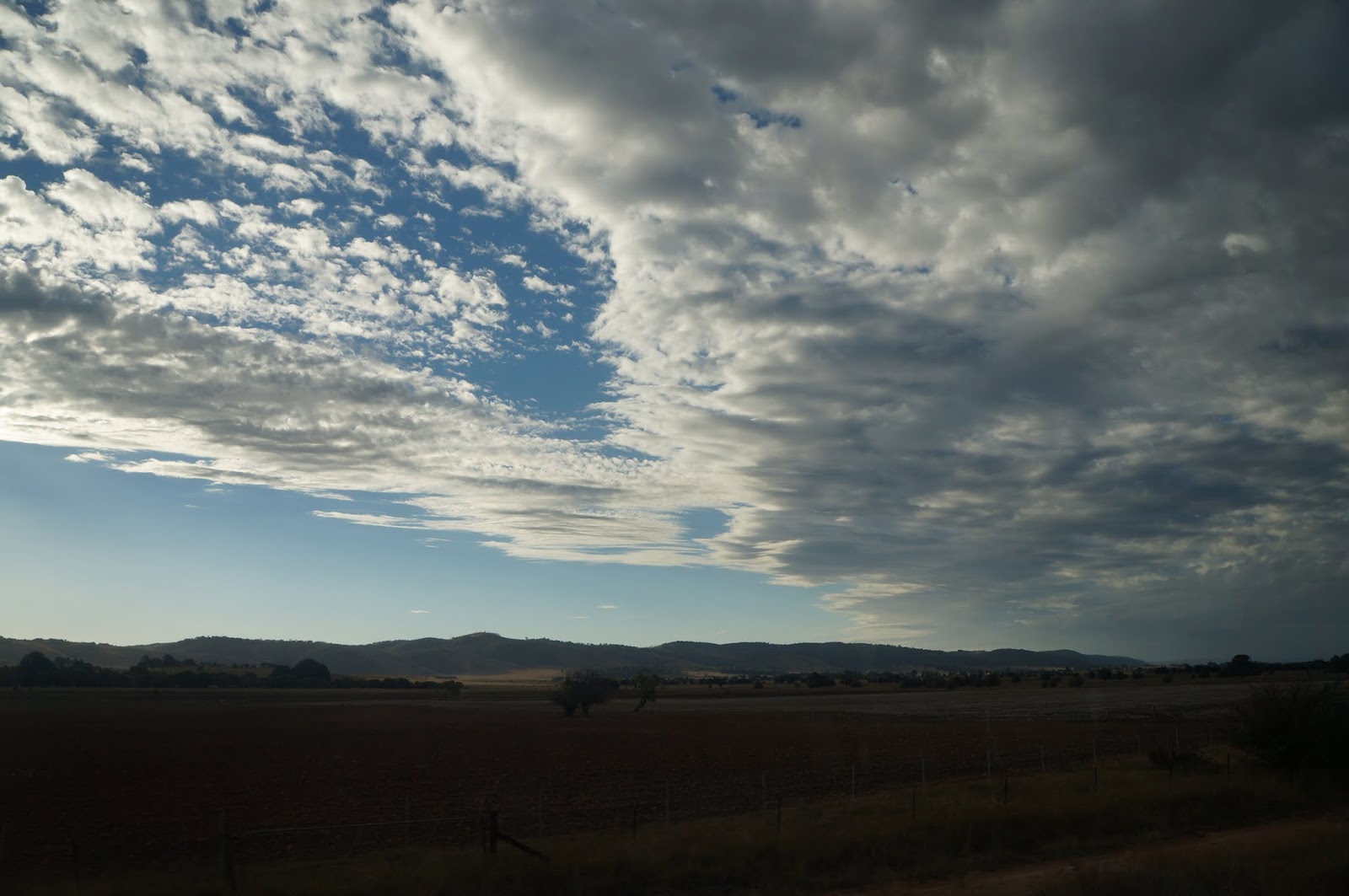 The back of the front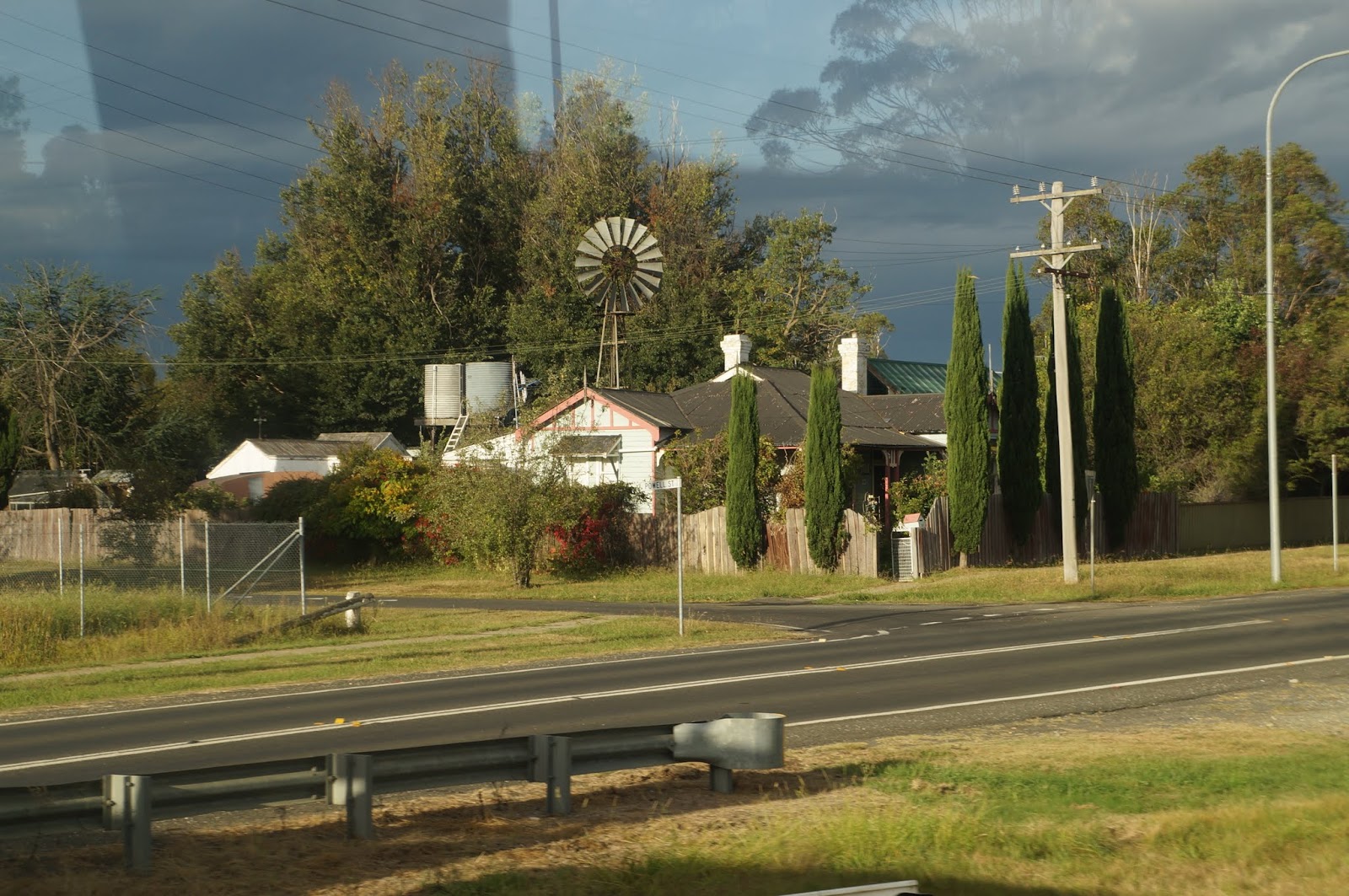 Bugendore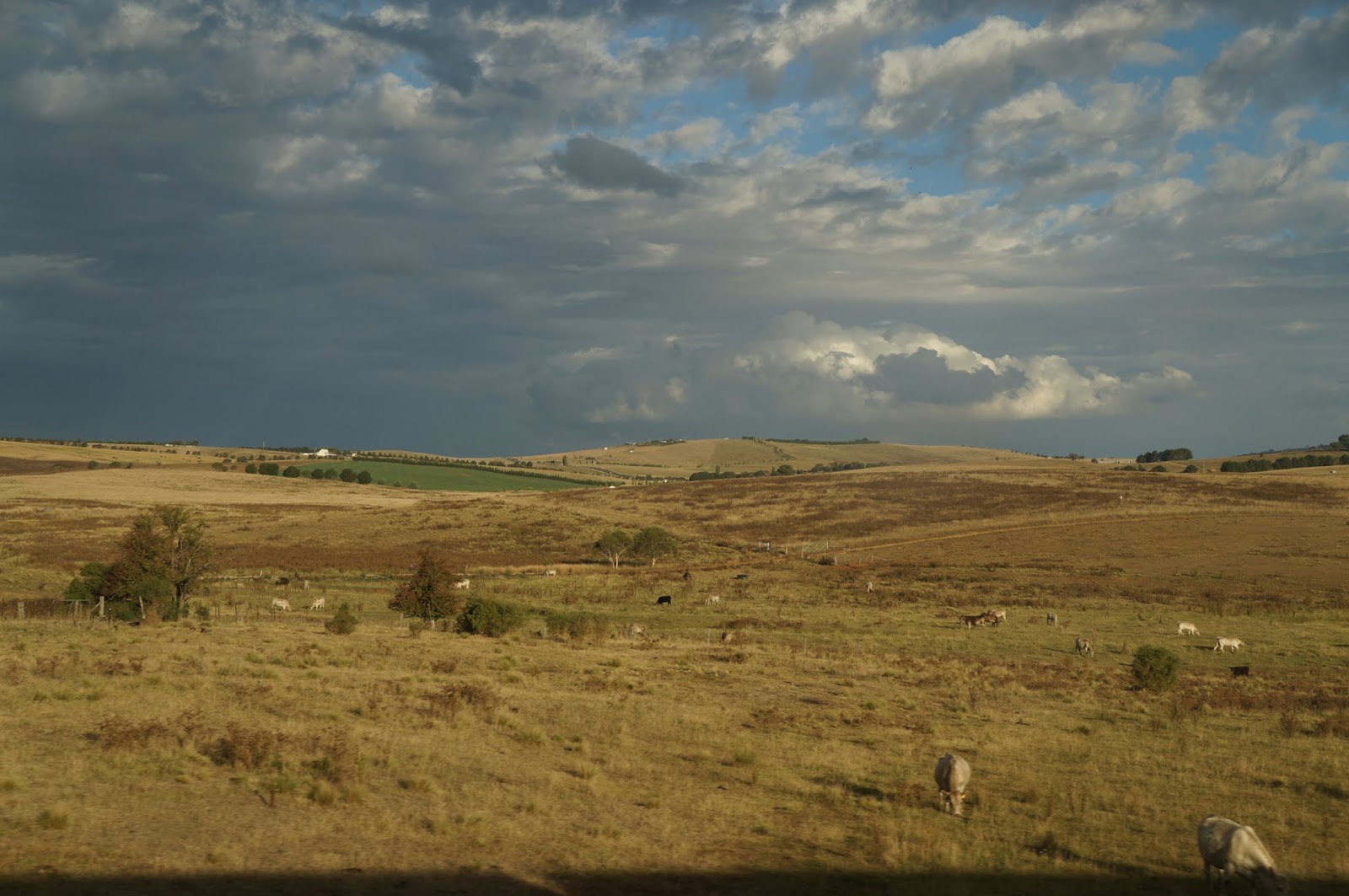 Sheep grazing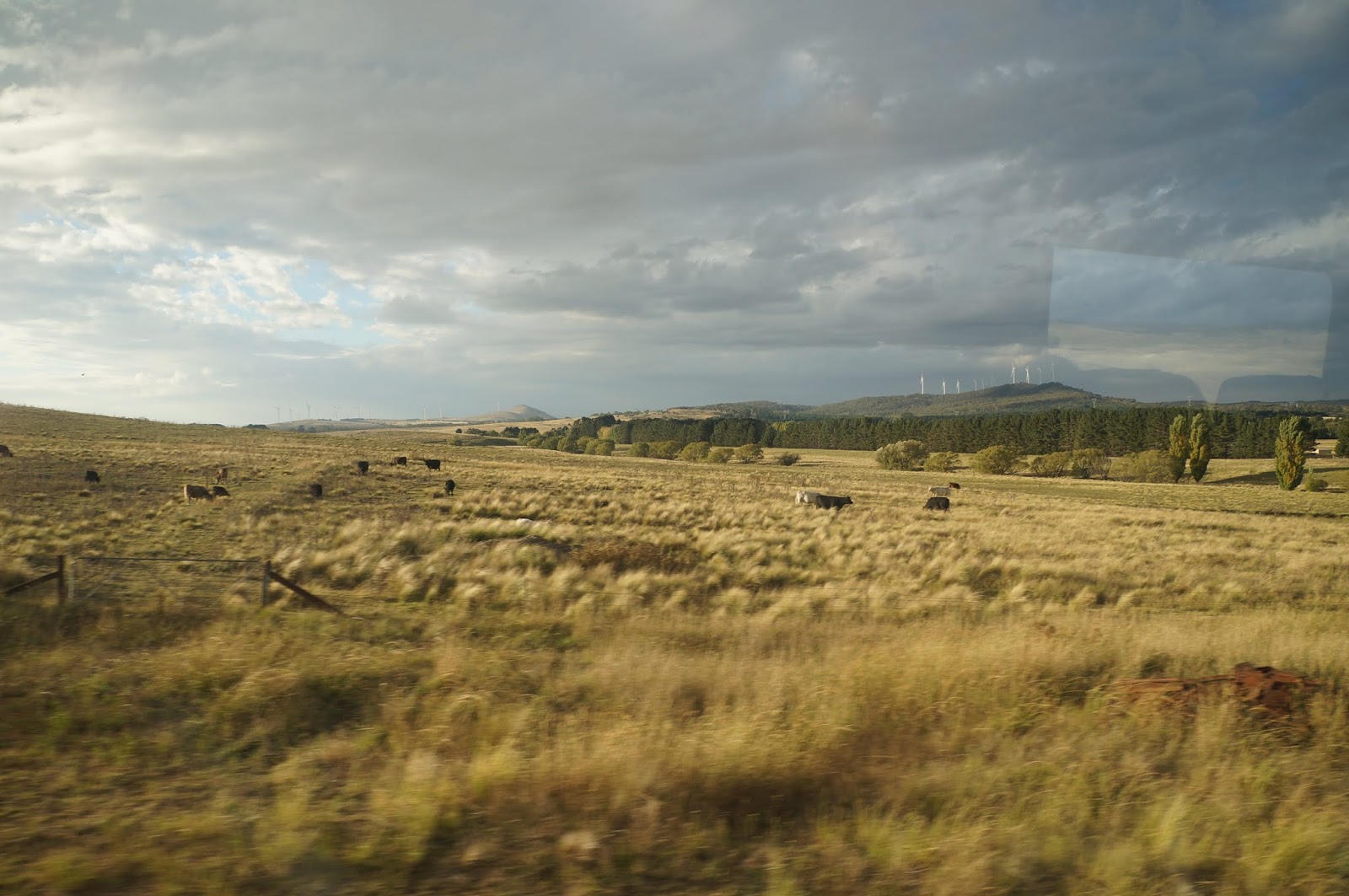 Wind farm in the distance
Dam and windfarm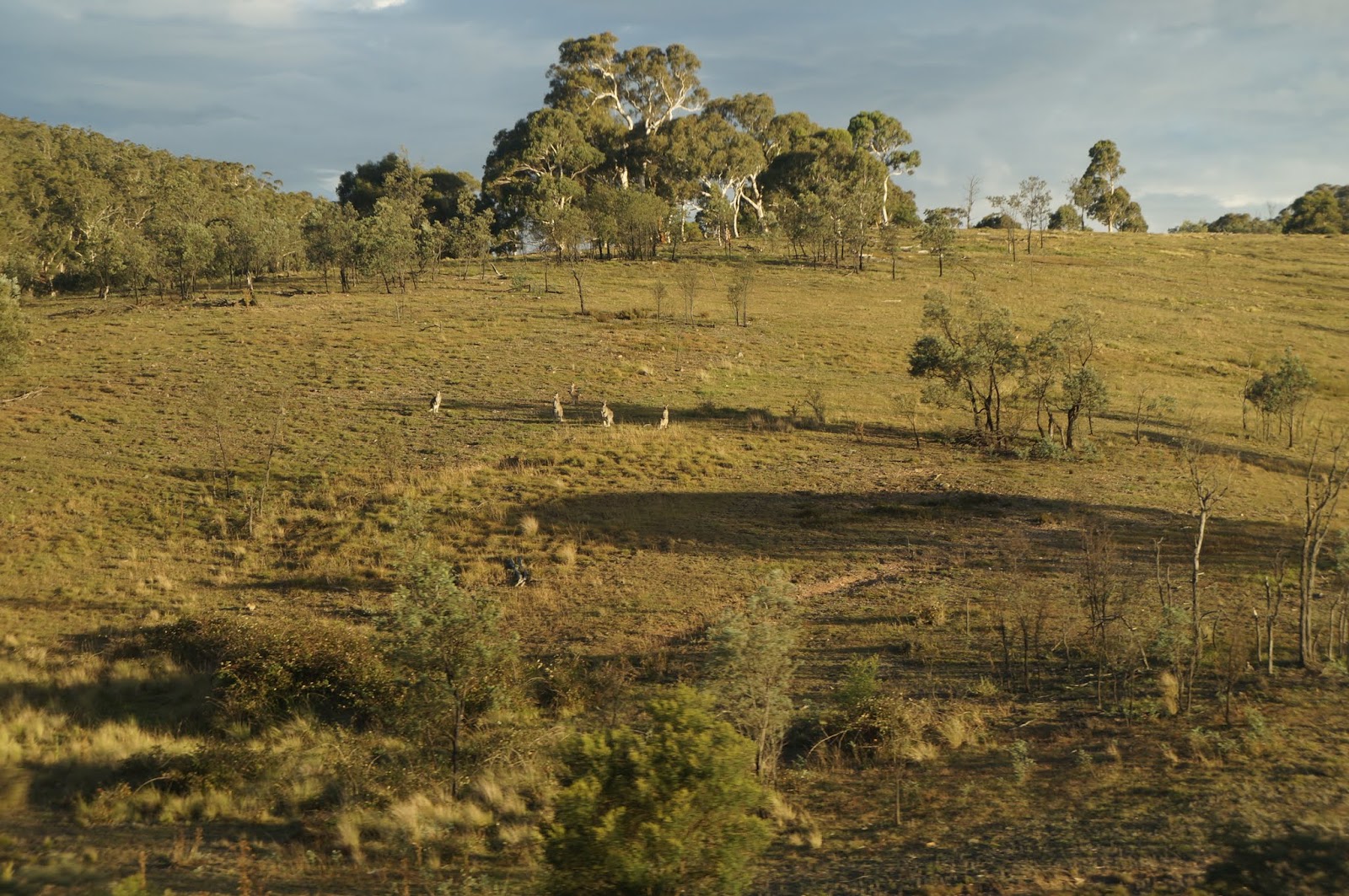 Kangaroos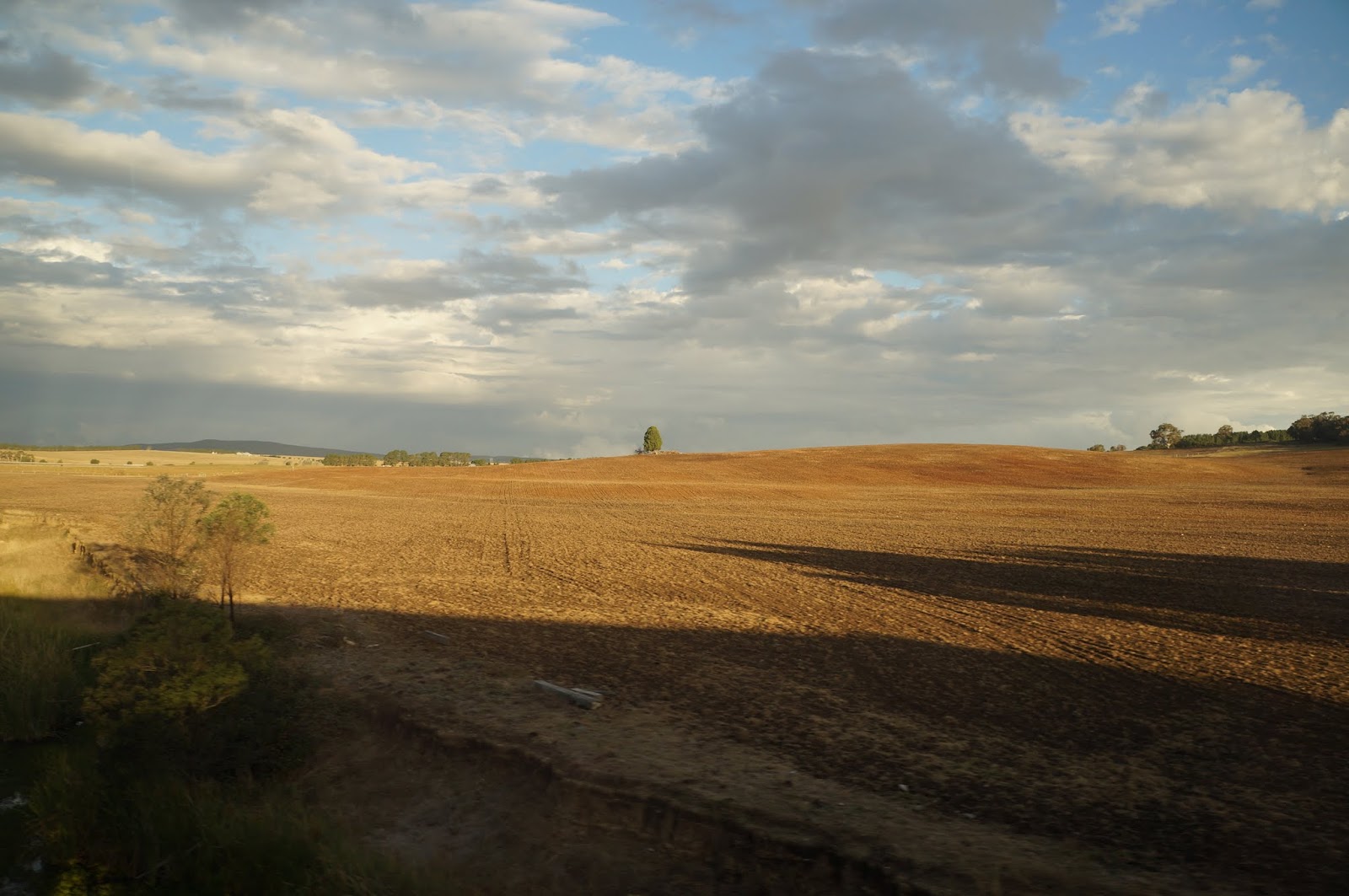 Cultivated fields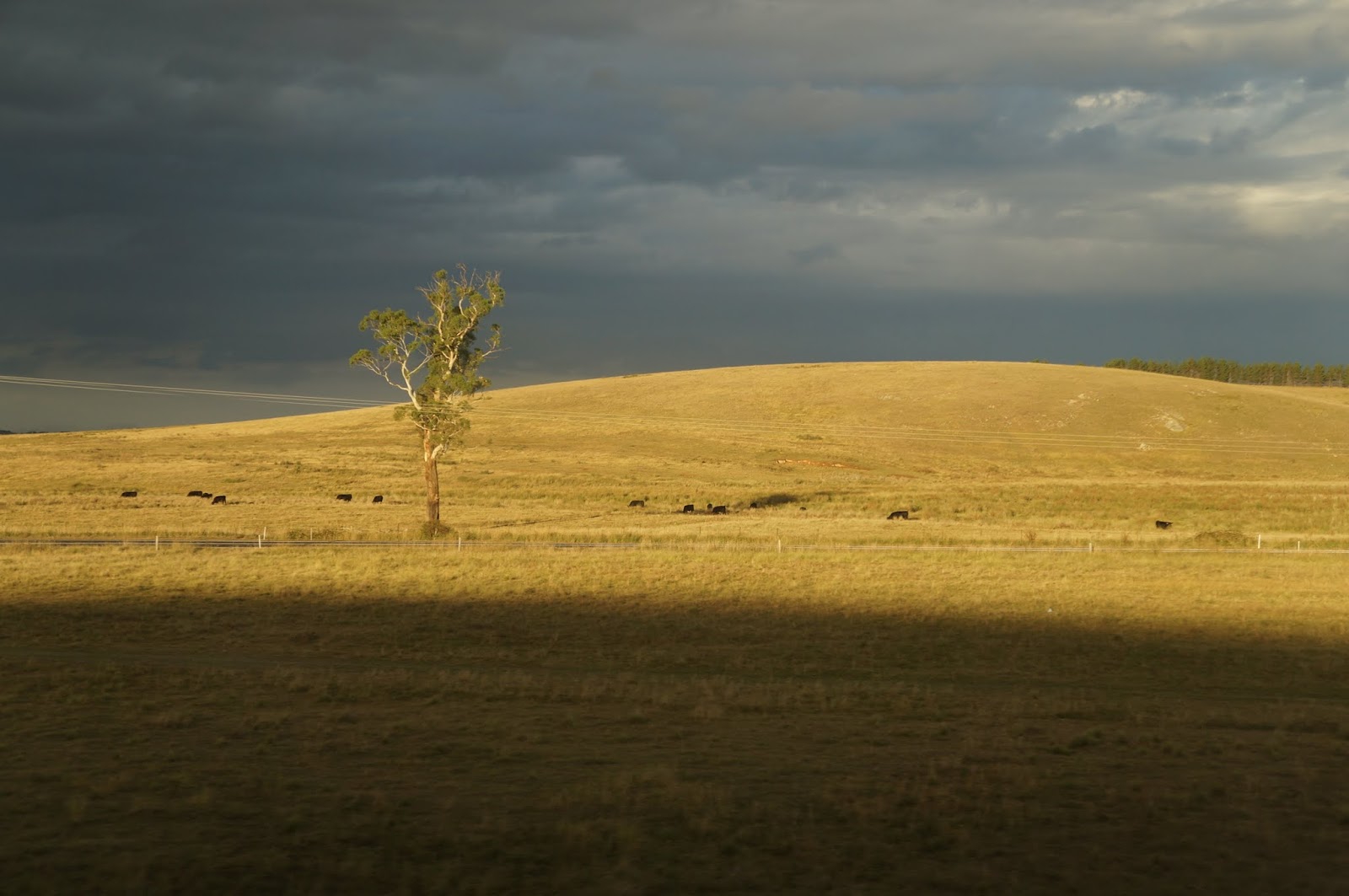 .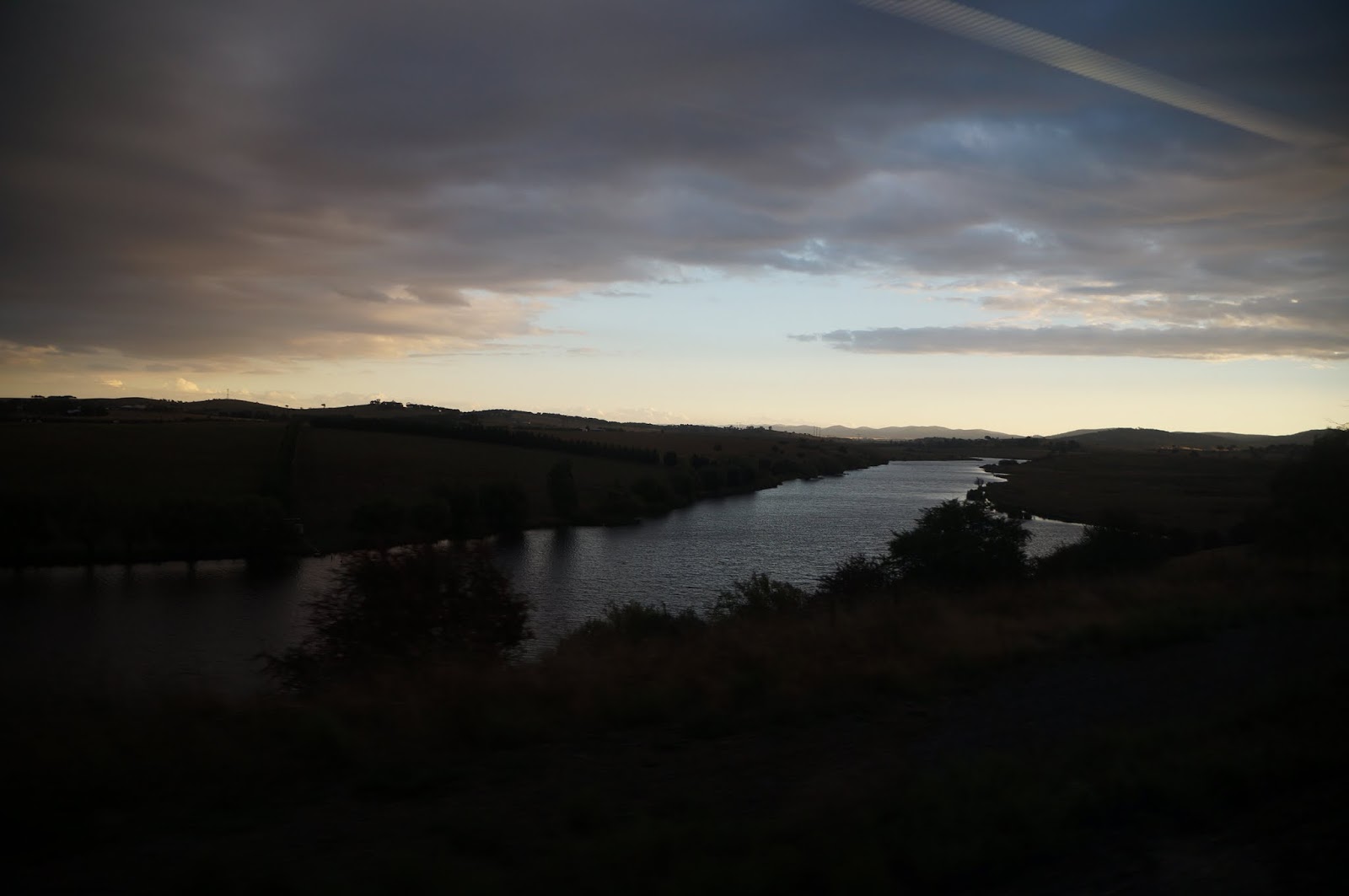 Goulburn River
The sun was setting as we reached Goulburn, home of so many varieties of diesel locomotives on heritage rollingstock, casting the land in a bright red glow. As darkness fell I relaxed, worked a bit on the computer. I could have read or watched a video on my phone, but I was content just to dream.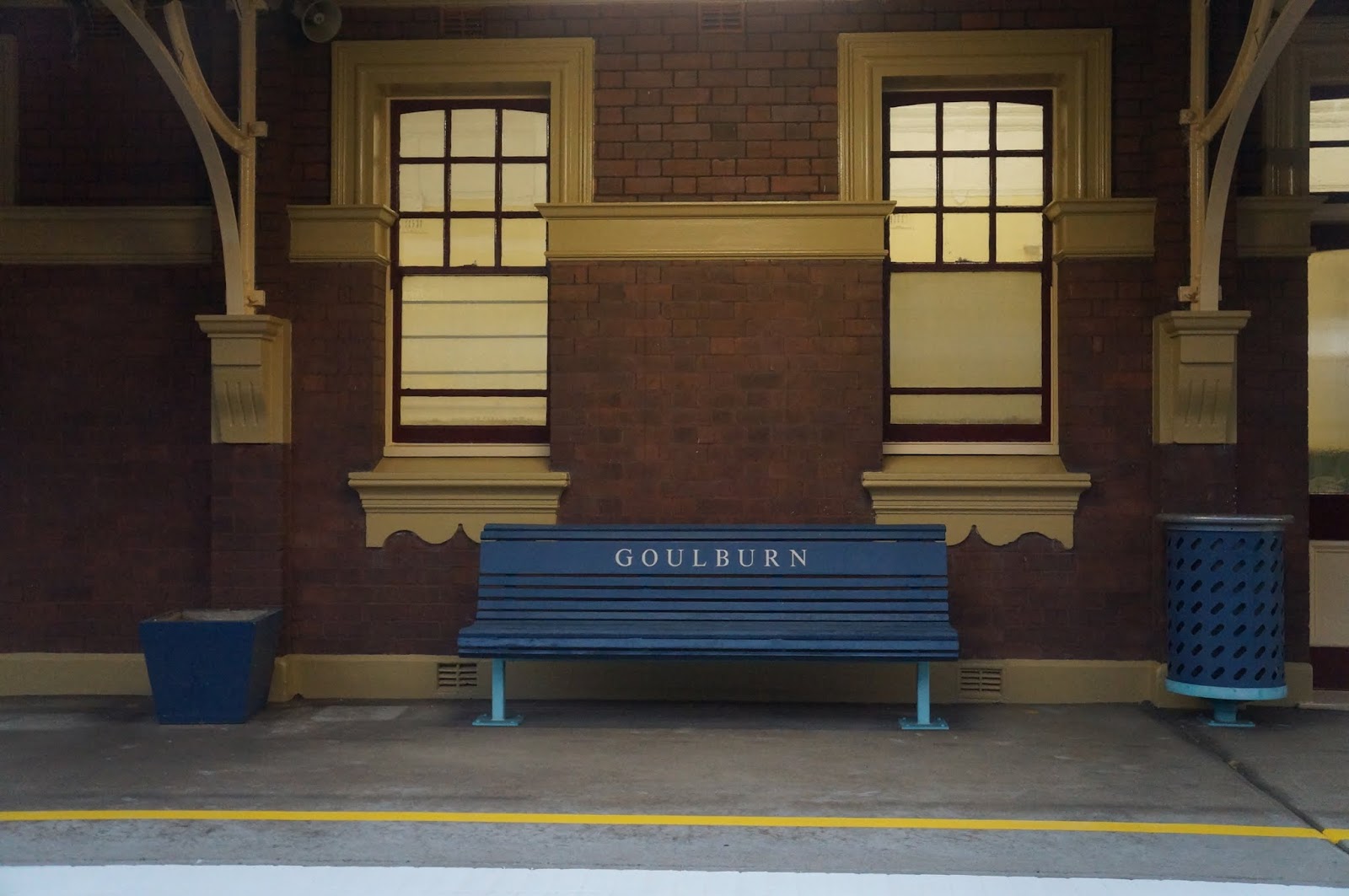 Goulburn Station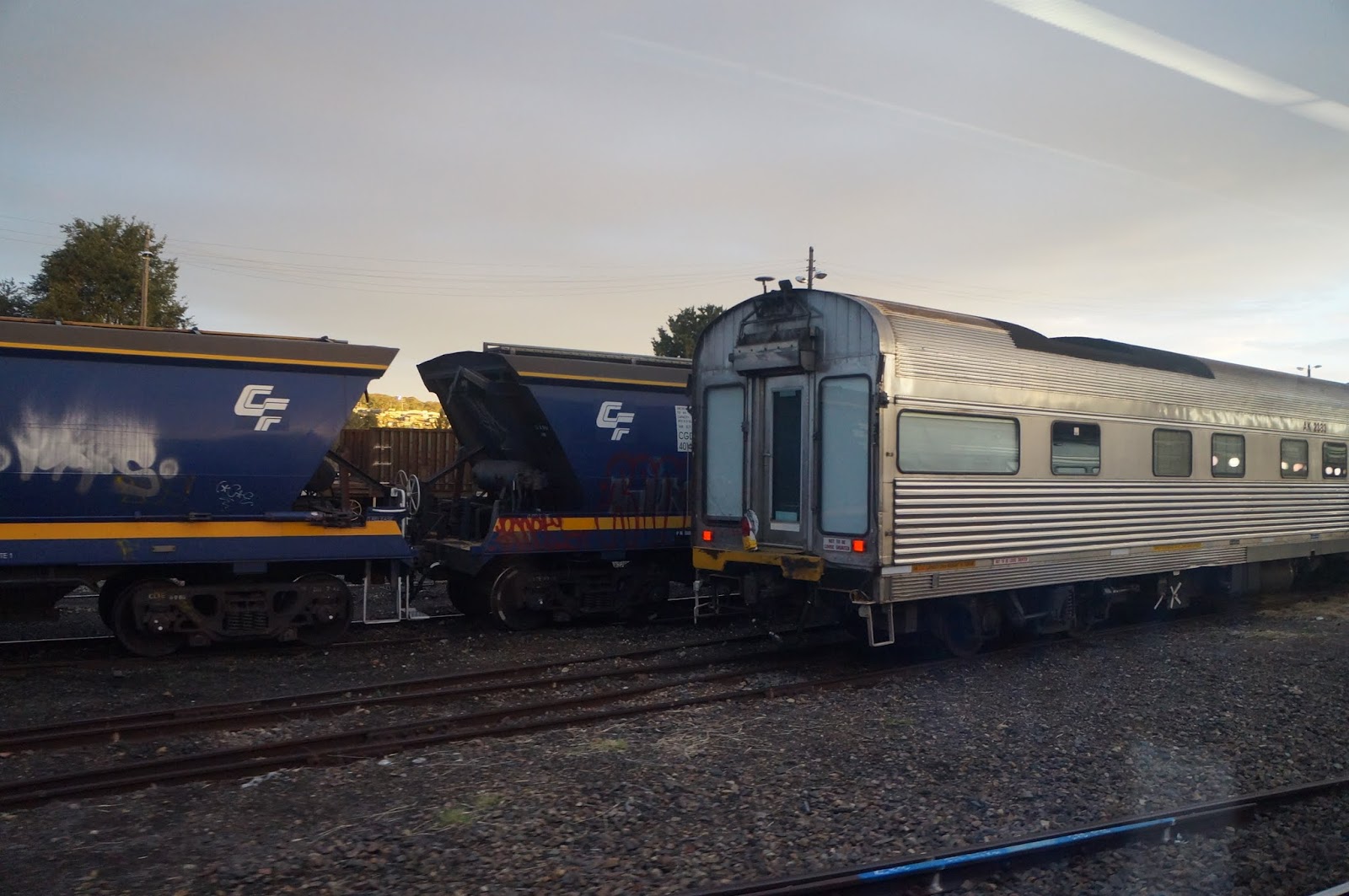 .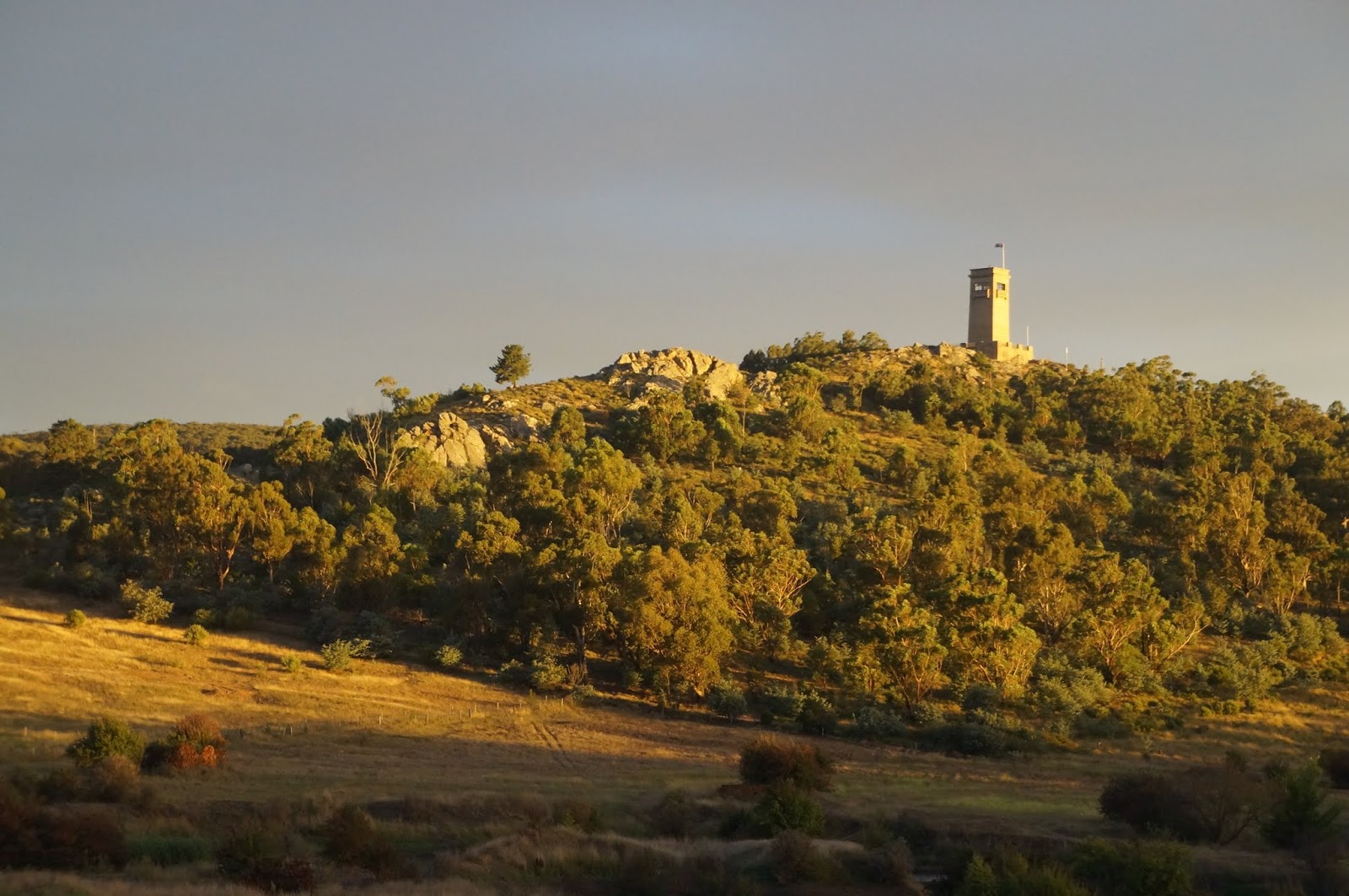 .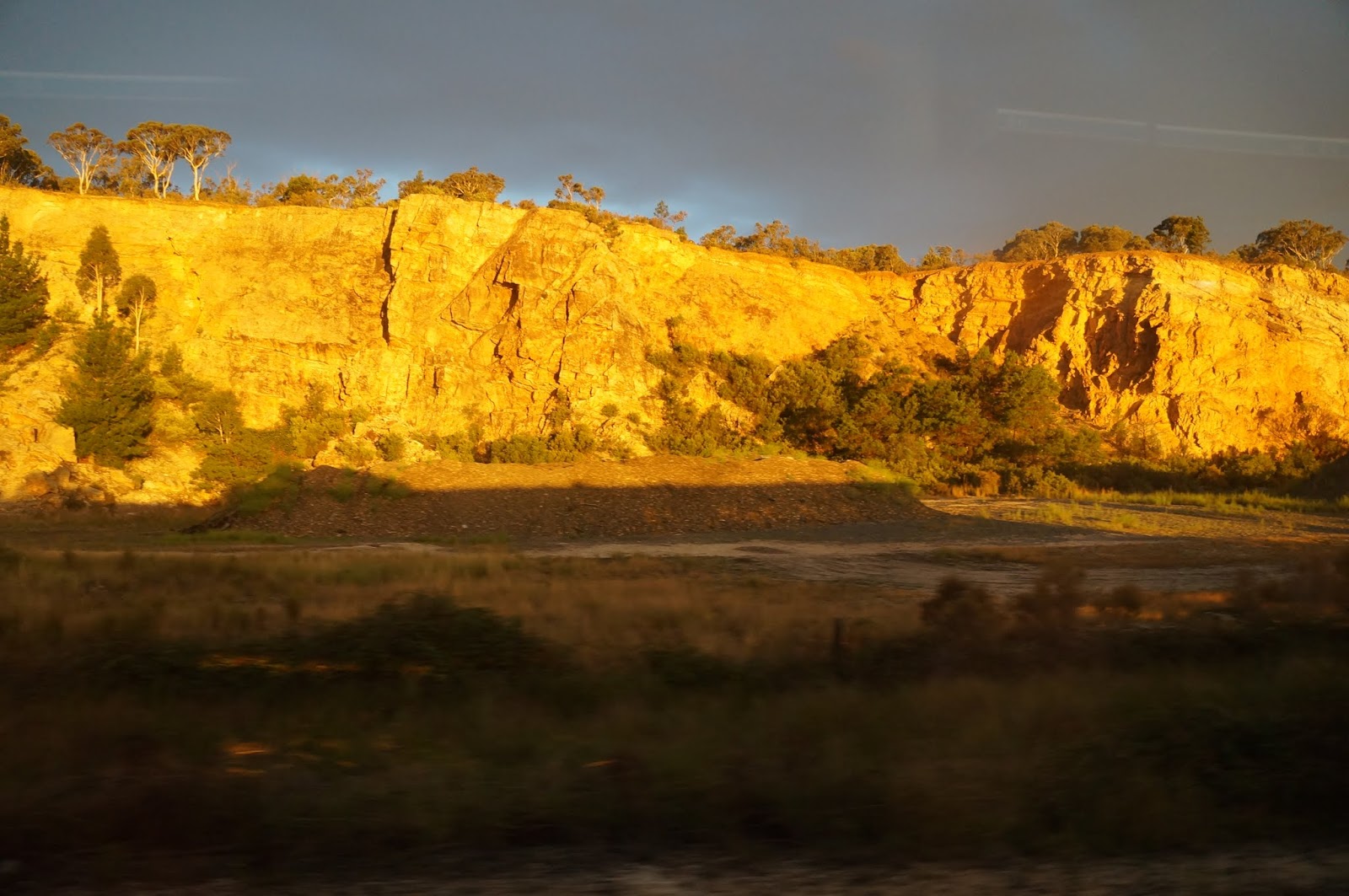 .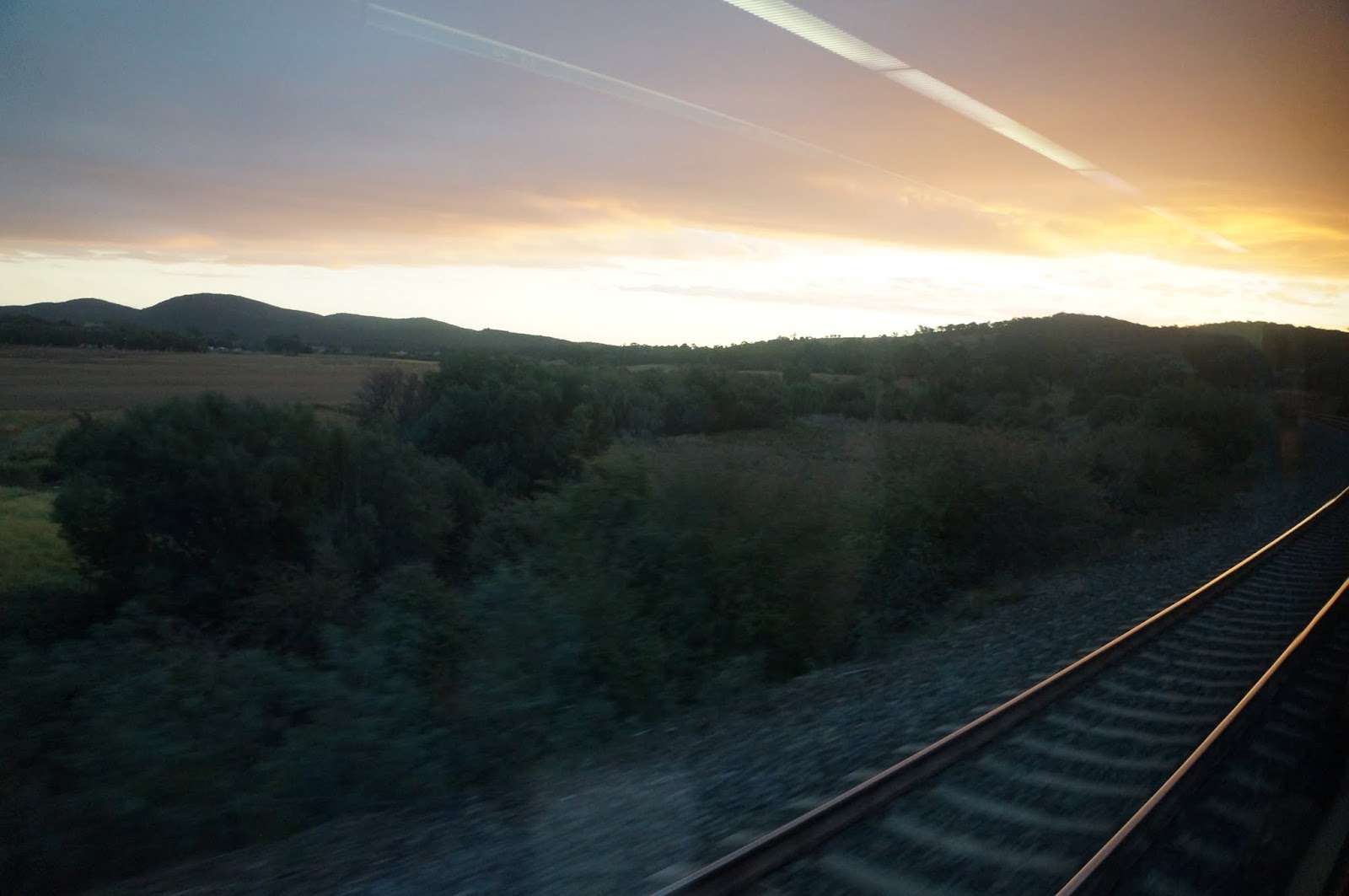 Sunset
Near Wingello the towns and surrounding bushland were permeated by fog, trees silhouetted against the grey, lending an air of mystery to the landscape.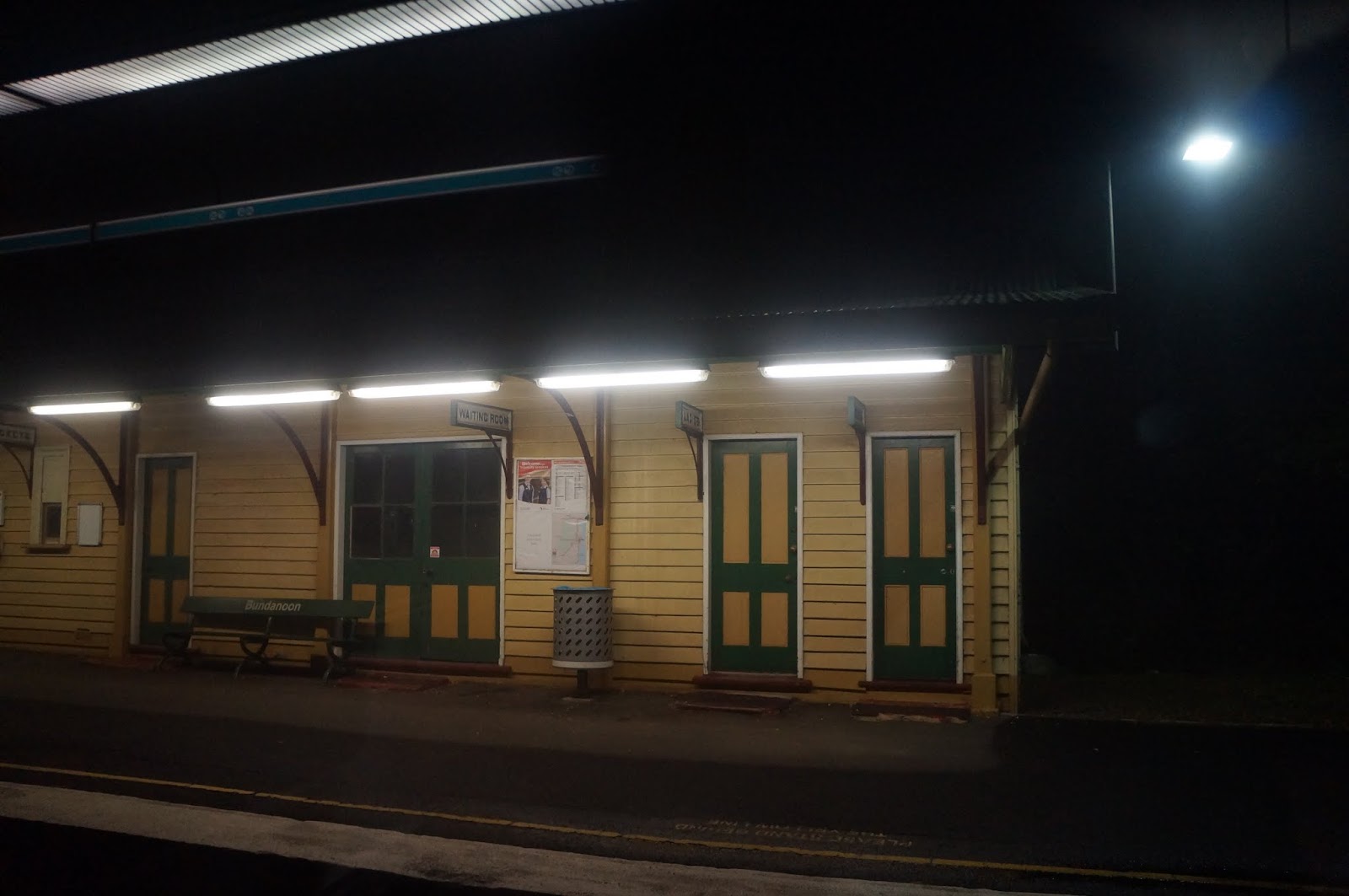 Bundanoon
I was on the night train once more, chugging past timeless towns with lights glowing from restaurants serving hot soups and station waiting rooms where passengers warmed themselves against the cool and damp outside.
I got off at Campbelltown, for though the Xplorer passed through my regular station it didn't stop there. Then I caught a suburban train to Padstow and was lucky to spot a passing taxi for a ride home.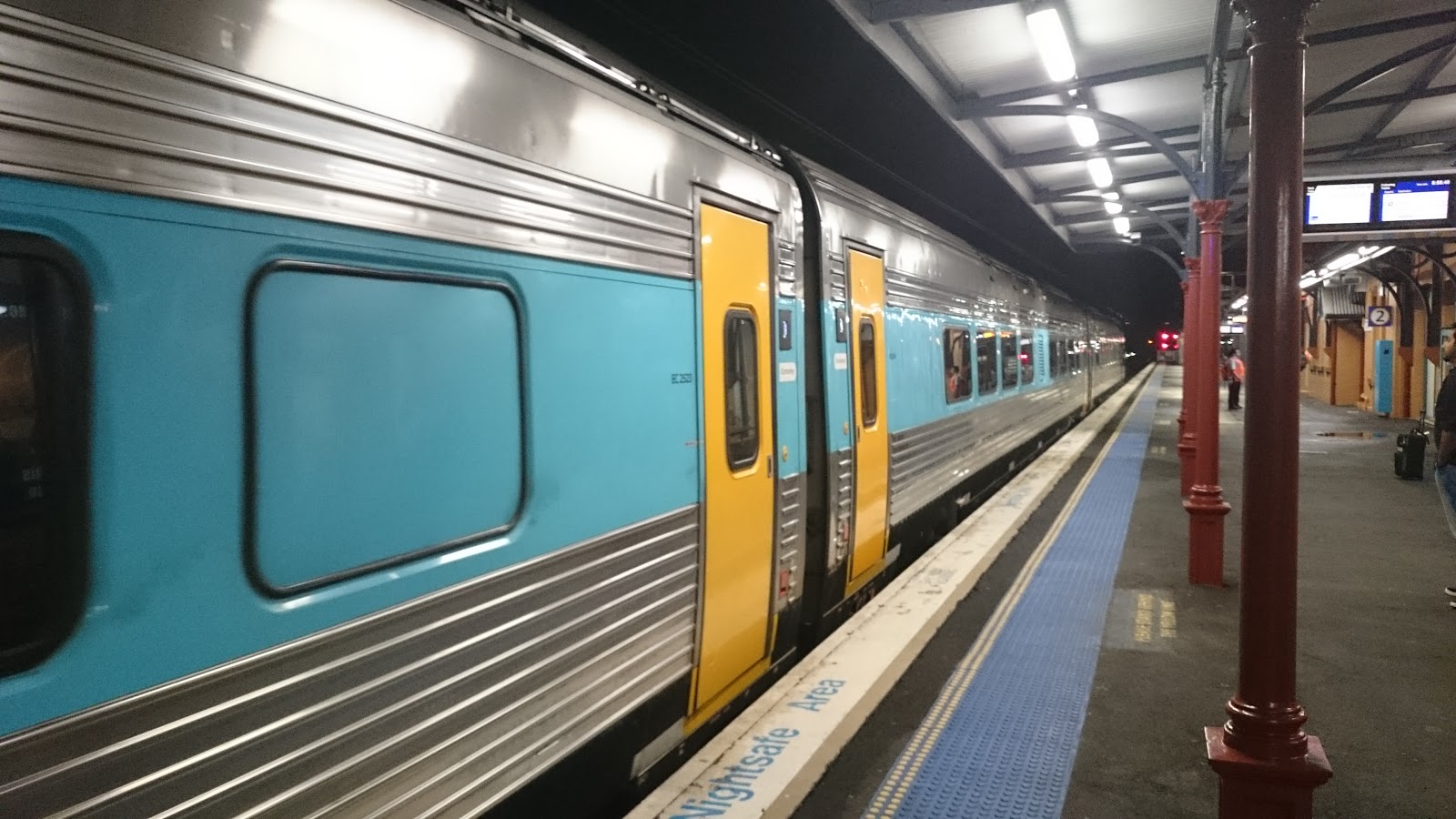 Campbelltown Station
So I arrived home much later than on the flight, but unlike last time I didn't feel a sense of failure at not challenging myself in the air. Instead I felt satisfied, fortunate that I had experienced the train ride as I had. With the constant lengthening and quickening of daylight, the ever changing weather, what I saw was unique and beautiful. It may be the slow path to take, but sometimes that's the best way.