I think Alex's first word will be kawaii! It's Japanese for cute and it's all he's been hearing lately. Even before we left Australia the other Japanese passengers came up and exclaimed "kawaii!".
Alex may be a big drawcard here in Japan, but sadly he's not the happiest little fellow. The poor guy seems to have a cold and he's coughing and sniffling away. I made use of my credit card's travel insurance to call their medical service and they agree with us; he's off to the doctor today.
We had planned to head up as far north as you can go on the Shinkansen line in the afternoon, to Hachinohe. But what is the likelyhood of finding an English speaking doctor up there? Unknown. So we elected to book another couple of nights in the Touganeya Hotel. The big hospital (Japanese doctors work from hospitals) is only a couple of minutes away.
No Kappa spotting for us this trip.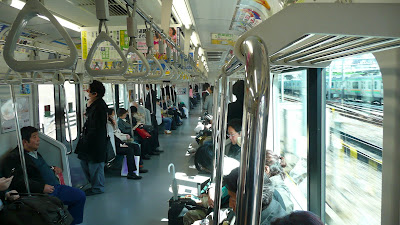 In the morning we had checked out of our hotel, left our luggage and taken the Yamanote line all the way around to Gotanda. There, the web forums had informed us, was a branch of Akachan Honpo, a baby store.
It was a little bit of a walk under fresh blue skies, but we located the store on the fourth floor of a nondescript shopping complex. The clothes were sadly not as impressive as we had hopped, but what amazed us were the strollers. So light – under 5 or even 4 kilograms! Sadly, they were also expensive and you could tell they wouldn't cope with long walks on rougher surfaces. But still…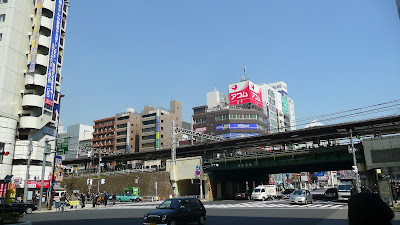 We purchased little from Akachan Honpo, only a dummy and some foamy baby soap. It was already quite late though and Alex was coughing away, so I began wondering whether it was worth travelling to the cold north.
Far past lunchtime, we were hungry. We couldn't find much to eat adjacent to Gotanda station, so in desperation went for the western-styled food of the Wired Cafe. What I love about Japan is that even a seemingly innocuous cafe can turn western dishes into really high quality meals, rather than the bland same-old same-old of Sydney. B's vegetable soup based pasta, was delicious and my spaghetti and shrimps was cooked to perfection. Not too shabby a price either.
By the end of the meal we had decided to return to Ueno and cancel our trip north. It took me a few goes before I could dial the hotel in Hachinohe to cancel the booking, but, thanks to my tutor Noriko, I had the script.
We wandered through Ueno Park searching for the tourist information centre and advice on seeing a doctor. The park was preparing for the cherry blossoms to open, with workers stringing lanterns and decorations around. Unfortunately, the tourist office was basically Japanese only, but they did draw us a map to the hospital.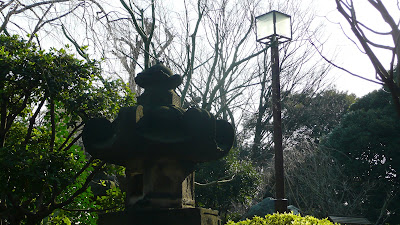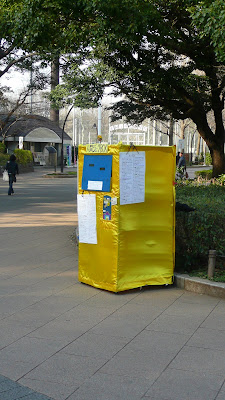 There was a guy with a trumpet inside

Crossing over to the other side of the railway lines, we returned to the hotel and booked another couple of nights accommodation. They were more helpful with the hospital questions and we discovered how close we were.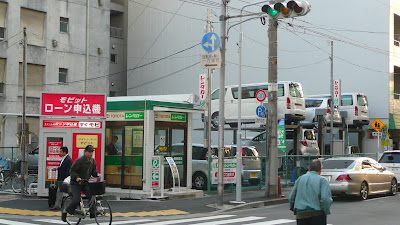 After feeding Alex we thought that we would duck out for a quick meal and then return to let him relax. But we got stuck shopping for baby clothes in the Gap section of the Ueno OIOICity (Marui). Thankfully, Alex spent most of the time asleep on my chest.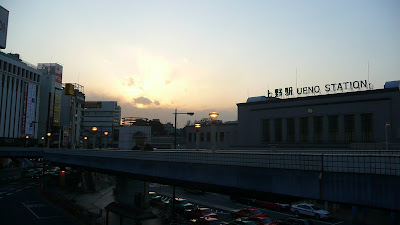 Then when we walked out to search for food we discovered Ameyoko, streets lined with shopfronts selling clothes, bags, fresh seafood, dried foods and all sorts of other items. It was like Hong Kong. We bought some cherry blossom and green tea (B even got cherry blossom moisturiser from Body Shop and the night before I had Sakura Mist soft drink).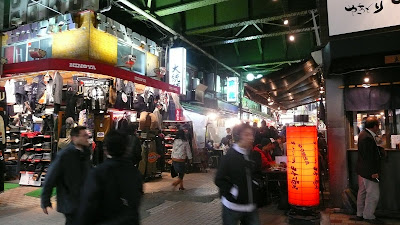 Alex was beginning to stir, so we finally found a place to eat, an open shopfront selling sashimi on rice. B had salmon, I ate cooked eel (unagi and sea eel) with some warm miso soup. Very nice, very cheap.
We still made it back to the hotel early – for us – and spent the next while on the phone with International SOS. This laptop of mine is playing up, very frustratingly, so posting is difficult at times.
Oh, and I found Gokuri juice – this time it is peach. Yum!